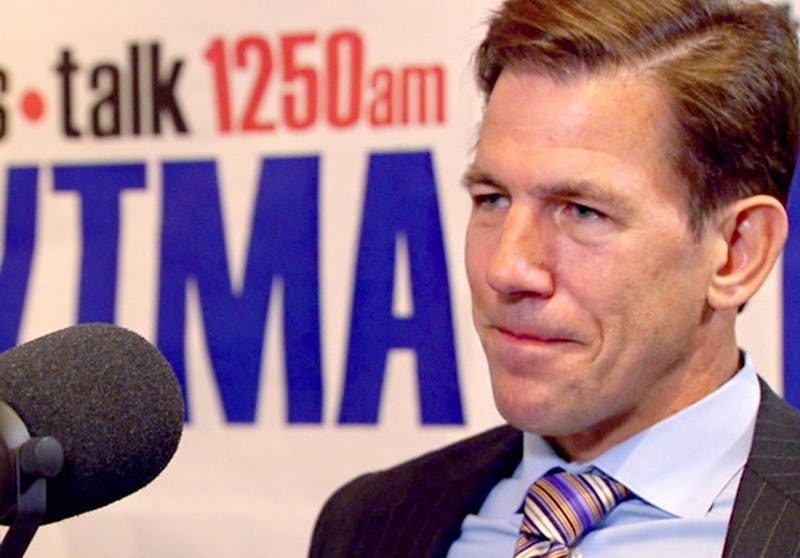 Please forgive me, for I fell asleep at the Bravo wheel and missed a hot scoop o'news. Last Thursday, the Charleston City Paper and the Post and Courier reported something MAJOR: Thomas Ravenel says he's done with Southern Charm. [Drops an antique crystal bourbon decanter on marble tile floor.] AHHHHHHH NOOOOO! WHYYYYYY????? According to T-Rav, Bravo crossed him for the last time. Uh oh. What happened? The U.S. Senate candidate says he told Bravo they could not film last Monday's debate against Democratic candidate Brad Hutto, but the camera crew showed up anyway:
They wanted to film me going up to the debate, and I told them, 'Absolutely no,' and they said, 'We'll just send an NBC affiliate.' I'm thinking it'll be the local television station. Well, instead they sent the entire Bravo crew, so the story the next day was that the Bravo crew tried to gain entry into the debate and were denied entry. They lied to me. So I just sent them a note saying I'm not going to participate in any more Bravo shows.
Augh, fiddlesticks. But wait! There's more:
I just told them I'm not going to participate anymore, because after that last lie, the whole story is about Bravo trying to gain entry, which furthers the [Lindsay] Graham narrative that it's all about Bravo. It's not. I'm dead serious about this campaign, and I have been from day one.
I guess you really can't have it all. ("All" = "a Senate campaign and a reality show.")
Wait, what does he mean by "last lie"? Well, as you may recall, the Season 1 cameras caught a clear shot of T-Rav's behind as he stepped into the shower. But (heh heh heh) according to Ravenel, Bravo assured him they'd only show him from the waist up.
They're liars. They just flat-out lied to me.
Eesh.
No, this isn't the first time T-Rav has said he's moved on from the show, but this time around, it could be for real. But fear not, fellow Charm fans, for Season 2 probably won't be totally sans-Ravenel: The show's been shooting since August. So unless last Monday's debate was supposed to be T-Rav's first day of filming, I reckon Kensington's dad will still be a big part of the new season... up until the final few episodes, that is.
WARNING: I'm about to get ahead of myself. If SC gets a third season and T-Rav doesn't sign on, will the show be different? Uh, duh. The series would be losing one of its main characters. Of course it would be different. Would it crumble without him? Nah. I'm not terribly worried. The rest of the cast is pretty spectacular. I'd undoubtedly miss T-Rav and his words of wisdom, but the rest of the Charmers hath Charmed me.
Let's be real: As long as Patricia Altschul is on Southern Charm , the show is good as gold.
Image: Bravo