Should You Drink Wine or Beer Tonight? A Guide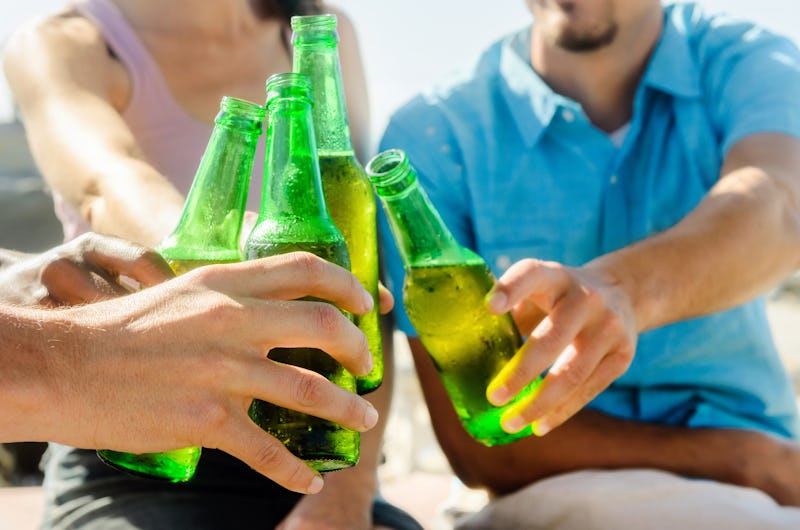 There's a big difference between what makes for a wine night and what makes for a beer night. A wine night is reserved for more low key plans, perhaps an evening dedicated to introspection, some poetry writing, or digging through that box under your bed that contains the contents of your past relationship. It's the type of evening in which you have friends over for "girls' night" even though everyone has to work in the morning. A beer night, on the other hand, is completely different.
A beer night involves more beer than laying low. You don't just drink one or two beers, even if they're an extra strong IPA. No, you go into a beer night knowing that the drowsy and relaxed feeling that comes with wine is a distant memory, and that you're not sure where the night will take you, or how many bars it will involve. Beer creates a different sort of energy in your blood that makes you want to go out and do things, be social. It's easy to stay home alone and drink an entire bottle of red wine over an evening, but when was the last time you drank an entire six-pack in one sitting? Exactly.
So how does one know what kind of night it's going to be? Here are 20 scenarios, and what you should drink.
you're going on A FIRST DATE WITH SOMEONE YOU MET ON TINDER
VERDICT: BEER NIGHT
Although you swore to yourself you'd never go the Tinder route, here you are. You don't really see the point on wasting time and cash on wine, when you can get a PBR for $3. You also need those beer goggles, stat.
your're going on a FIRST DATE WITH SOMEONE YOU MET THROUGH A FRIEND
VERDICT: WINE NIGHT
You want to seem like you have your act together. Not just because your friend told you couldn't drink too much and get sloppy, but because you're finally looking for a serious relationship. You might even sniff the cork after the waiter pours you a glass.
YOU'RE WATCHING MEAN GIRLS FOR THE UMPTEENTH TIME
VERDICT: WINE NIGHT
Mean Girls and wine just go together. It's simply not the type of movie or situation that calls for beer. I mean, seriously, WWRGD? She'd drink wine.
YOU WERE JUST PUT ON NOTICE AT YOUR JOB FOR BEING LATE
VERDICT: BEER NIGHT
Hell, it should be a beer pong night in an ideal world. Damn the man. Damn that job. You're hitting up the bar and drinking whatever pale ale they have on tap, and you're going to be late to work again. Screw 'em.
YOU FEEL LIKE STAYING IN AND REORGANIZING YOUR APARTMENT
VERDICT: WINE NIGHT
It just feels like the kind of night where things need to be shifted. You want to weed out your closet, downsize your shoe collection, and finally put up some proper artwork. You also get to drink from the bottle.
YOU HAVE A 9 A.M. DEADLINE
VERDICT: WINE NIGHT
You know, for a fact, that if you consume the entire bottle before midnight and follow it with lots of water, you will absolutely have your project done on time. You're practically a pro at wine-drinking and reaching deadlines, and tonight will be no different.
YOU HAVE A THREE-DAY WEEKEND
VERDICT: BEER NIGHT(S)
Three-day weekends usually mean holidays, and holidays mean cookouts, which, of course, means beer. How else does one properly celebrate an American holiday? It would be uncivilized to opt for wine on such an occasion.
YOU'RE SEEING YOUR FAVORITE BAND AT A DIVE BAR
VERDICT: BEER NIGHT
The first rule of going into a dive bar is that you just don't order wine. For starters, they only have one red and one white, and since the last time that bottle was opened was for someone who had never been to a dive bar and didn't know this rule, you're going to be walking straight into a vinegar situation. No one wants vinegar in their belly when they're dancing around and trying to seduce the lead singer into their clutches.
YOU'RE COOKING DINNER FOR FRIENDS
VERDICT: WINE NIGHT
It's like being in the kitchen and standing over a stove just calls for wine. You're putting it in the dish you're preparing, you're pouring glasses for your friends, and you're having one of those nights that just makes you feel like a grown up.
YOU JUST FOUND OUT YOUR SISTER IS PREGNANT. AGAIN.
VERDICT: WINE NIGHT
Oh, yeah! Go her! No, you're not worried about your eggs! Women are still making the babies into their late 40s! It's cool! Totally. Effing. Cool.
YOU'VE JUST PURCHASED SOME FIVE-YEAR AGED GOUDA
VERDICT: BEER NIGHT
If you've ever been to Amsterdam, you will know that, aside from their awesome "coffee" shops, they are a haven for proper gouda and beer. You can't eat gouda without beer, and since you did just drop $25 on this half pound of glory, only beer will do. You so fancy.
YOU'VE JUST PURCHASED SOME BRIE AND CAMEMBERT
VERDICT: WINE NIGHT
Similarly to gouda, soft French cheeses also have their own accompaniment, and that wine, ideally, is red. At least that's what your snobby wine connoisseur friend tells you, and you always listen to your snobby wine connoisseur friend. Always.
YOUR FIRST STORY WAS ACCEPTED BY THE NEW YORKER
VERDICT: WINE NIGHT
And to quote Carrie Bradshaw, "What do winners order?" Well, I'll tell you: wine. The expensive stuff. The stuff you can't even pronounce and probably can't afford just yet, but you're quite certain that you're going to get your book deal, finally, out of this winning moment.
YOU JUST GOT YOUR STUDENT LOAN BILL after months of deferment
VERDICT: BEER NIGHT
Is it even possibly that interest can add up to THAT much? Is this even legal? Looks like you need a drink, and it's certainly not going to cost more than five bucks.
IT'S HAPPY HOUR WITH YOUR WORK 'FRIENDS'
VERDICT: Wine Night
The goal here is to pace yourself and not have too much to drink. You know that you tend to drink beer faster, because who likes a warm beer? And you really don't want to lose control and tell Marsha your thoughts on her accounting ability to her face.
IT'S happy hour with your real friends
VERDICT: BEER NIGHT
There's nothing like sitting back with your friends and having a couple of cold ones while you complain about Marsha in accounting once again messing up the paychecks. Marsha is a good person, even funny, too, but, man, does she ever force you to drink. And since you don't have your paycheck, you're forced to drink the cheap stuff, too.
YOUR FRIEND WITH BENEFITS IS COMING OVER ... 'TO WATCH A MOVIE'
VERDICT: BEER NIGHT
Watching a movie is, of course, a euphemism. However, it's more fun to hide behind the movie and a couple beers and pretend you don't know how the evening will end. Or how you'll both swear it's the last time in the morning.
YOUR BFF WAS JUST DUMPED BY THE JERK YOU NEVER TRUSTED
VERDICT: WINE NIGHT
You find it's much easier to refrain from doing the "I Told You So" dance when you drink wine. Besides, she's hurting and wine has a lovely numbing effect to it.
YOU'RE HAVING SOME MUCH NEEDED Alone TIME
VERDICT: WINE NIGHT
You're exhausted. You just want a night alone where you can wear your pearls and your underwear, and think about life. Only wine will do. You even splurge for the top shelf stuff, forcing your wine store dude to question if you've won the lottery. And you have: You're going to be sans pants and people all night.
YOU RAN INTO YOUR EX AND Found OUT HE'S YOUR NEW NEIGHBOR
VERDICT: VODKA NIGHT
Is this a joke? Are you on some weird candid camera show? Are you being punked? Where's the vodka? Someone get the vodka!
Images: Fotolia; Giphy(22)