Max Lloyd-Jones Goes Back to School in 'The Dorm'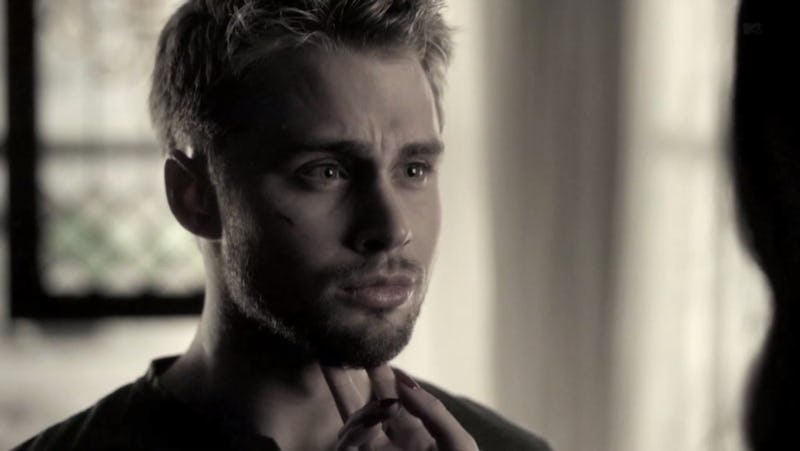 The Dorm, MTV's newest TV movie, looks like it hits all the right slasher film notes, especially for a freaky film set in college. There's the haunted dorm, the recent murder, the freaky unexplainable occurrences. And, of course, the cute guy. That guy is Phillip, played by Max-Lloyd Jones. That actor looks awfully familiar, which makes me wonder, who is Max-Lloyd Jones, besides The Dorm 's male lead/potential murderer? (That dual role is not so uncommon in horror movies, it turns out.) You may remember him from a very different TV performance, one set in high school, not college. But before we get into all that, what is Lloyd-Jones' latest project all about?
Set on a fictional university campus, The Dorm stars Alexis Knapp (whom you may know from a little film called Pitch Perfect) as Valerie, a shy freshman. Over the course of the school year, Valerie's new friends and boyfriend Phillip take her on as their personal project, transforming her into a sexy, popular woman. The only problem is, Valerie begins to notice that she's looking more and more like Phillip's ex... who used to live in her dorm room... and who is now dead. Oh, and her new friends may have had a hand in her murder.
Still can't figure out where you know Lloyd-Jones from? Let me help you out.
Switched at Birth
The actor (who looks like he seriously grew up since he appeared on Switched at Birth last year, though maybe it's just the hair) played Noah, one of the first hearing students at Carlton, the school for the deaf that Bay and Daphne both attend. Except Noah isn't actually fully hearing. He's going deaf as well, from Meniere's Disease, which also gives him frequent dizzy spells. Noah struggles with accepting his condition and that inner conflict made him all brooding and sensitive — exactly Bay's type. The two ended up kissing and sharing a brief romance, but it ultimately didn't last (because Bay and Emmett are endgame, obvs).
Stone Markers
The Dorm is not Lloyd-Jones' first experience with horror movies. In this 2012 film, the actor played Len, a high school student whose little brother goes missing after a child murderer escapes from a nearby sanitarium. Hey, I never said Stone Markers wasn't cheesy. Because this is a movie made to scare you rather than be realistic, Len and his teenage friends decide to go searching for Len's little brother all by themselves. They find the child murderer's super creepy cabin in the middle of the woods, and dozens of stones marked with crosses all around the area. What does it all mean? Probably that they should have just let the police handle this one.
Restless Virgins
Just before his arc on Switched at Birth, Lloyd-Jones was in another project where he got to make out with Bay (or at least the actress who plays her, Vanessa Marano). Restless Virgins also stars Charlie Carver (of Teen Wolf, which Lloyd-Jones also appeared on). The Lifetime movie is set at an elite boarding school, where the seniors decide to have some fun by making a sex tape. Marano's character, Emily, is the head of the school newspaper, so she breaks the scandalous story and uploads the tape to the web. Unfortunately for Emily, what she doesn't know is that her boyfriend Luke (Lloyd-Jones' character) was involved in the making of the tape. Oops. Restless Virgins is loosely based on a real life sex scandal. According the the New York Post, the story it (again, loosely) borrows from happened at Milton Academy in 2005.
Unlike Restless Virgins, The Dorm doesn't claim to be based on a true story, so if Lloyd-Jones' character really freaks you out, hopefully knowing that will make it a little easier to sleep on Sunday night.
Image: MTV