Who Dunnit on 'Death Comes to Pemberley'?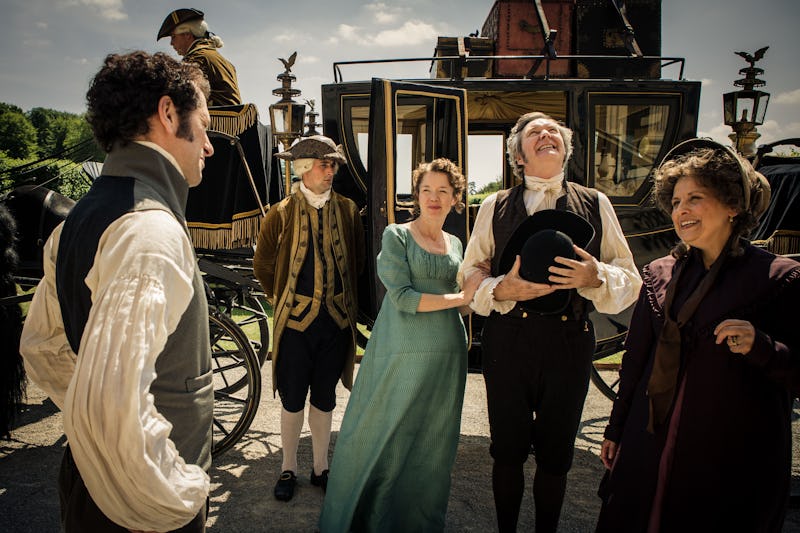 I'm not sure what I was expecting. But Death Comes to Pemberley was a lot... darker than I was prepared for. There are ghosts in the Darcy family woods? Mr. Darcy sings? Has marriage changed him that much? This was all a lot to take in. But at least I have one question answered. Captain Denny is the victim. If you remember from Pride and Prejudice (or I beat you to the Sparknotes), Denny was an officer in the militia that visited the balls and preoccupied Lydia and Kitty's boy-crazy hearts. It's so funny watching period characters play out a typical scene from Law & Order or CSI where they examine a body or a crime scene, yet without technology can't come to too many conclusions. "This pistol has been shot" — what news! So who is the Pemberley murderer? Did Denny die in a duel, as Mrs. Bennet hoped? You can always count on the Pride and Prejudice matriarch to have her priorities in order.
Was it one of the new guys? Georgiana's beau seemed to be at Pemberley during the time of the murder, so I'll rule him out for now. Though he did bring up something suspicious about the case, and if years watching Columbo with my parents have taught me anything, it's the ones that offer their own opinion that are not to be trusted. This Hardcastle guy also seems a mite suspicious. That, or I just find his long hair creepy. The first episode of this Masterpiece Mystery gave us reason to believe it was two characters we need keep our eye on when the story concludes next Sunday on PBS.
The Usual Suspect
George Wickham is, and always will be, a hot mess. But is he a murderer? He did chase Denny off into the woods. They were fighting, which suggests motive. He did blame himself for the murder. But I do think I have to take Lydia's side, and not just because she has fantastic hair. It's too simple. There's no way he killed him on his own. Lizzie's father had the right idea. He's inconsistant.
The Jealous Friend
The other suspect is a pal of Darcy's, Colonel Fitzwilliam. In the opening scenes of the mini-series, we learned that the Colonel had his sights on marrying Georgiana. (Which fans of The Lizzie Bennet Diaries should get a kick out of, as the two characters based on them, Fitz and Gigi, were besties and earned the nickname "Figi".) However, she was more interested in the sunny newcomer Henry Alverston. A Pemberley love triangle. How exciting.
Anyway, the Colonel rode off into the grounds and appeared well after Denny was killed. Lizzie found a note in the fire with the words "meet me" not quite as well burned as the writer would have liked. He confronted Wickham in jail. They are definitely conspiring together. "We depend on each other more than we did yesterday," Wickham snarled. His alibi seemed to check out. However, what was up with that baby in the woods? Was it his? Was it Wickham's? Luckily, Lizzie Bennet is on the case.
Image: Robert Viglasky/Origin Pictures 2013 for MASTERPIECE, Giphy (2)