Brett Dier Is More than Prepared To Play Michael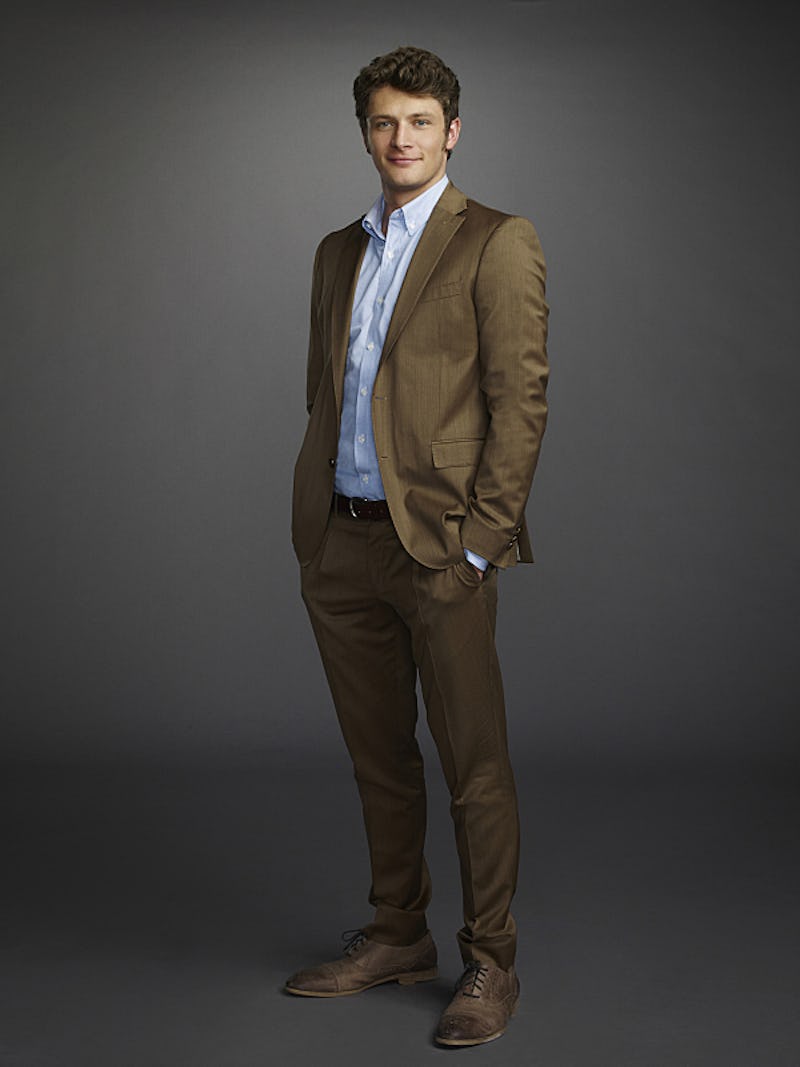 Characters with secrets often become the most intriguing in any successful television series and in Jane the Virgin's case, the male characters seem to be at the center of a ton. Things are quickly picking up on The CW's new series, the drama is at its highest peak so far, and one character is only becoming more suspicious. You'd think Jane would have the most to worry about and the most to lose, what with the accidental insemination, resulting pregnancy, and all. But on Jane the Virgin , Jane's boyfriend Michael has the most secrets, and his character is played to sketchy perfection by The CW veteran Brett Dier.
According to preliminary ratings for Jane's premiere, The CW managed to achieve their most-watched Monday night in three years, and I'm willing to bet viewership will only go up from here. Michael's secrets are at the top of the list of reasons to keep watching, and if not for his secrets, then for the simple fact that he is so dang cute. Cute enough, at least, for me to look him up and finally figure out why he seems so familiar. It looks like Dier is no stranger to the spotlight.
HE PROVED HIS LOYALTY ON PRETTY LITTLE LIARS & RAVENSWOOD
After a brief moment sharing screen time with the girls of Pretty Little Liars, Dier's PLL character Luke Matheson was recast for the ABC Family spinoff Ravenswood. Luke was introduced during the PLL 2013 Halloween special, and even though the spinoff only lasted a single season, his character was the pessimist of a fairly relatable group of friends — despite the supernatural aspects.
Ravenswood's Luke was also adorably close with his twin sister, who he would undoubtedly do anything for. His pessimism makes it difficult for him to trust, but he is loyal until the show's very end. Hopefully Dier can hone in on that unconditionally supportive side when it comes to Michael helping Jane through her pregnancy.
THE L.A. COMPLEX PREPARED HIM FOR LOVE TRIANGLES
The CW fans will also remember Brett as the third party of The L.A. Complex's secret three-way relationship, Brandon Kelly. Brandon is an actor who has a friends-with-benefits relationship with both the show's primary female character Abby Vargas and his other on-screen costar Laura Knight. Brandon's relationship with Abby is crucial to the series because it could potentially threaten the future of her career and her life. She develops feelings for both Brandon and Laura, but quickly realizes the effect her personal life can have on her career. So it's safe to say Dier is no stranger to onscreen love triangles, which could prove to be helpful once Rafael inevitably joins the picture on Jane the Virgin.
HE SHOWED OFF HIS SOFT SIDE IN MR. YOUNG
Dier's recurring role as Hutch Anderson in the 2011 comedy series Mr. Young arguably marked the start of his well-deserved success. The series is a bit out there, telling the story of a child prodigy who graduated college at only 14 and decides to go back to high school. Not surprisingly, Dier's character was once again the object of one of the protagonists' affections.
He'LL FIT RIGHT IN WITH JANE'S Performer MOTHER — HE WAS A DANCER IN DIARY OF A WIMPY KID.
An actor first and foremost, Dier is finally making a name for himself, but this charming young man has other talents. According to ABC Family, he's a talented musician, an accomplished athlete, and loves to break dance when he's not on screen. It wasn't particularly a big part, but Dier took his side talents to the big screen in Diary of a Wimpy Kid in 2010. He played an '80s breakdancer, an experience that could come in handy if Xiomara ever needs some talented backup entertainment.
Images: JSquared/The CW; ravenswood-onabcfamily, laiscomplex, harrpotter/Tumblr