Everything Cher Wore In 'Clueless' In 60 Seconds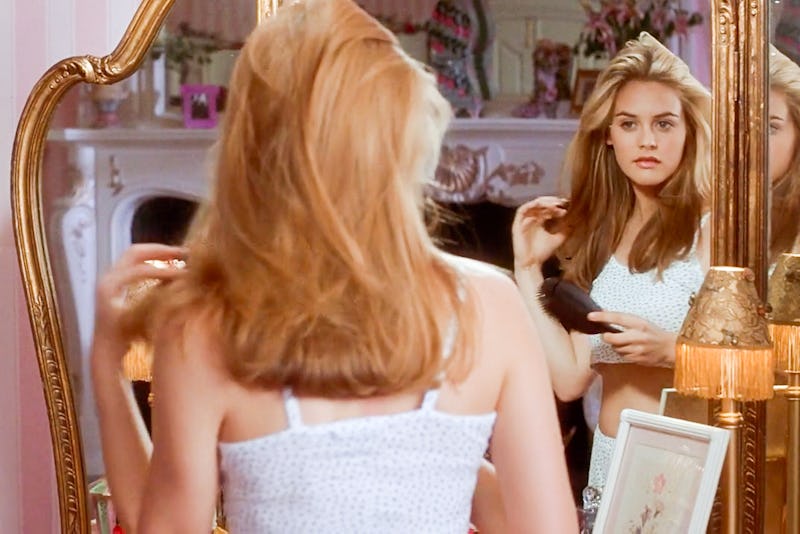 When I was a teenager, all I wanted was Cher Horowitz's gloriously massive closet (and Paul Rudd to be my boyfriend, but that's a different story). But let's not kid ourselves: we ALL wanted Cher Horowitz's closet (...and for Paul Rudd to be our boyfriend.) And we still do, largely because Cher's sense of style is timeless and infinitely on point. As much as Clueless was one of the most important satirical rom-coms in cinematic history, it also served as a reminder that '90s fashion ruled all. This video (aka a blessing from the gods), which reacquaints us with every single outfit Cher wore in Clueless in under 60 seconds, solidly proves that.
It's all pretty perfect. I mean, do you remember all of Cher's school outfits? The button-up collared shirts, the plaid skirts, the argyle, the tartan coats? Girl knew how to work it, and she didn't let any dress code stop her. (Actually, I'm not sure that Bronson Alcott High School even had a dress code.) This compilation even showcases one of the best scenes in the universe: when the mugger is telling Cher to lie down on the ground, and she stops him, pleading, "You don't understand! This is an Alaia." We also get a quick glimpse of her dad, Mel, who had the best reaction to his daughter when she walked into his office wearing that tiny, white dress:
"What are you wearing?"
"A dress!"
"Says who?"
"Calvin Klein."
"It looks like underwear!"
God bless you Mel, and your tremendous eyebrows.
And let's not forget Cher's silver mary jane heels, which she stomps around in when she's looking for her white collar-less shirt from Fred Segal. Those were the greatest.
Image: Paramount Pictures