So Where Does Taylor Hang In New York?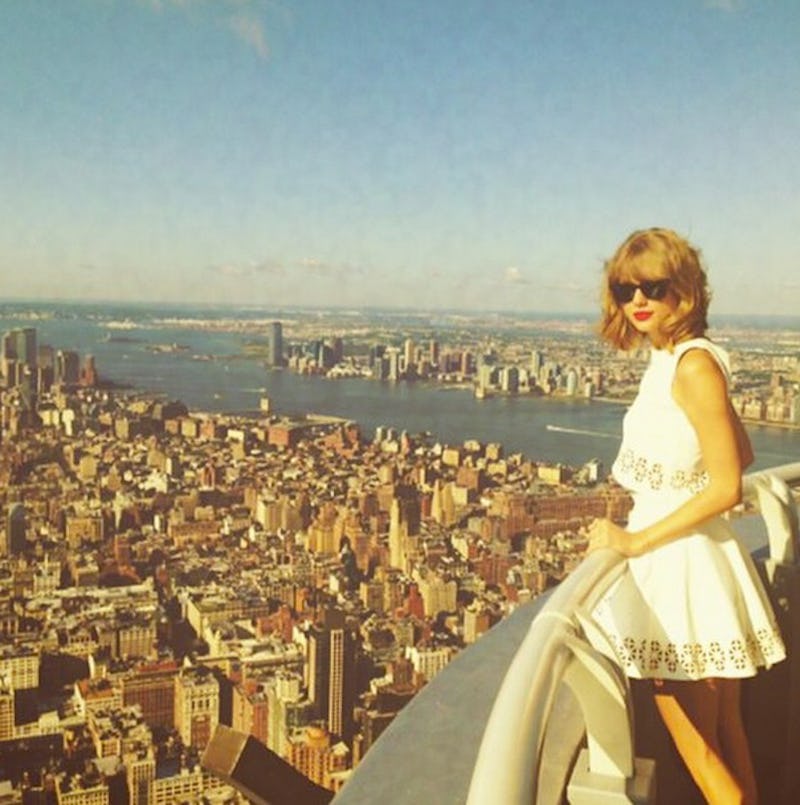 Our lady of perpetual red lips, Taylor Swift has been quite the busy bee lately. Not only did her album drop late Sunday night transforming everyone's Monday morning commute into a T. Swizzle party like no other, but Swift's also been named New York City's Global Welcome Ambassador for Tourism, because, like Frank Sinatra and Jay Z, she too has been overcome with major feelings for NYC and has let it out in a catchy song. It makes sense seeing as Swift has come into her own since she moved to the Big Apple seven months ago. In fact, she loves NYC so much she wants to kidnap BFF Selena Gomez and bring her here, but in the meantime, Swift will just have to exercise those hardcore feels in her cute how-to videos on the NYC Go website and through performances of her ode to the city, "Welcome to New York." Granted it might be my least favorite track from the country-turned-pop-star's newest pop album, but hey! I can't knock Swift for enjoying my favorite place in the world either, can I?
As Gothamist pointed out, it's Taylor Swift's New York, and we're all just living in it. The $19.9 million penthouse is unfortunately not included, but it has been rather sweet watching Tay-Tay get used to her new neighborhood. In fact, it's opened up my eyes to the beauty and food that's been around me all along, so here is a handy guide to Swift's New York so far using the areas where she's been spotted.
Upper West Side
If you are ever in the Upper West Side, you probably should stop by Levain Bakery as Tay-Tay did a week ago. After giving everyone a taste of her new single "Welcome to New York," Swift apparently needed something to savor too, and she opted for these two cookies which she shared on her Instagram account. I'm still kicking myself that I could've run into her, because I, too, frequent that bakery for their cookies.
Seriously, if you've never been, please get their chocolate peanut butter cookie. It'll take you all day to finish it, I swear.
Central Park
In Central Park? Why not try a boat ride? It's quaint and picturesque, and maybe an international pop star will help you out of the boat to take a photo! Because that's what happened when Taylor Swift ran into a fan in Central Park and gave that lucky girl some money. Well, it was the girl's birthday, and as if running into the "Shake It Off" singer wasn't enough, Swift gave the fan the contents of her wallet — $90 in cash — to go treat herself at Chipotle. Sometimes an opposite exchange of money happens in Central Park (because ruffians), but this scenario is much sweeter. It certainly doesn't sound like the typical New York thing to do, but maybe we should all catch on to Swift's neighborliness. OK, maybe in a giving-away-$90-in-cash sort of way, but we should at least hold open doors more often.
Meatpacking District
Shopping at Theory, grabbing coffees at Le Pain, partying with models in the Meatpacking District is so typically... well, romcom heroine is what comes to mind, but it is very much part of the real life of one Taylor Swift. She was spotted hanging out in the area with Cara Delevingne at the model's apartment.
TriBeCa
Next time you're in the neighborhood, the hottest spot is obviously the singer's apartment. I'm sure Swifties know the place well as we like to check out photos of her looking rad as she exits her building, with or without Olivia Benson on her arm.
Swift lives in Peter Jackson's old abode in a fancy loft in TriBeCa. She lives on the top floor and has neighbors like Steven Soderbergh and Orlando Bloom. Plus, she has extra rooms for constant guests, like best friend Karlie Kloss, and she keeps an assortment of white night gowns for her and Lena Dunham to wear while pretending to be on the Oregon Trail. She even stocks her kitchen with pastries from The Smile in the East Village, because she loves their banana-quinoa muffins.
And if that wasn't enough to convince you that you should visit New York, you should know that Swift also treated her fans to a surprise pizza party at her home. You can't go if you aren't here.
I can see why she's been named the NYC's Global Ambassador actually. I live in New York and suddenly I crave all of the food she's mentioned from the Levain cookie to the banana-quinoa muffins. That or I'm just hoping to run into her and become her foodie best friend. Hmmm, maybe she should be NYC's Global Ambassador for food tourism specifically? It sounds like it would be right up her alley actually, and it might up my chances of running into her on my next cookie run.
Image: Taylor Swift/Instagram