The 'Below Deck' Boat Is Still Chugging Off-Season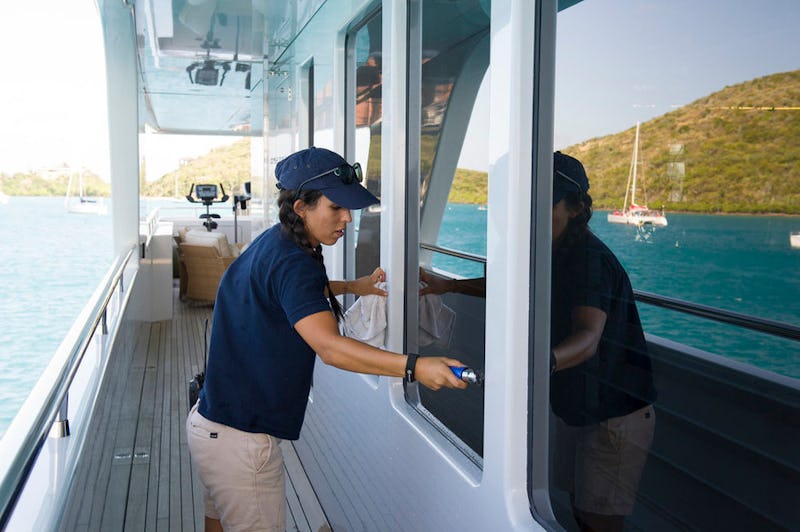 Every Below Deck addict is in a period of mourning right now, as another season comes to a close. Just like summer, every charter season must come to an end… at least in the world of the show, where after five or so weeks everyone goes off on their own way. But who runs the Ohana when Bravo isn't filming? The TV crew stays busy by taking other yachting jobs, and so does the boat. For the super rich Below Deck fans among us, of course there's the option of chartering the Ohana, the yacht where our favorite TV crew serves their wealthy charter guests.
Bravo chooses a boat and rents it out for the duration of the season, keeping on only the behind-the-scenes engineers and crew. So if you show up at the Ohana, you won't see Ben throwing pots and pans around the kitchen or spot Kelley and Jennice flirting on deck. Instead, you'll have ten crew members hired by Churchill Yacht Partners, the company that currently owns the Ohana. Oh, and the owners have renamed it the Rhino (like last season's Honor, the owners of these mega yachts really want to distance themselves from the show… can't imagine why). But even with the name change, I'd recognize that slide anywhere. Alas, no charter for me. We all can't fit the profile of a Below Deck charter guest. Meaning, we all can't be both incredibly rich and incredibly demanding and picky.
The Ohana was bought in 2011 by Northrup & Johnson, a leasing and company that acquired the ship and did extensive updates and repairs. And then, when resold to Churchill Yachts, they did a total overhaul and completely updated the entire ship. So even though it was built in 1998, it feels brand new. Yachts bounce around frequently from company to company, subjected to name changes, and change crew as often as they change port — a yacht based in Florida is probably not recruiting deckhands from Newport Beach, and vice versa.
Chartering, as we've seen on the show, is like renting: a series of guests get their reign of the boat for a fixed period of time. I'm assuming buying a yacht is for those so rich, so fabulous, so Leo DiCaprio, that simply having a super yacht for a few weeks won't do: that boat needs to be ready to get fired up at a moment's notice. Right now it doesn't look like the Ohana is currently for sale, so no need to bust out that A-List checkbook and hire a permanent crew.
Interesting side note: have you found yourself admiring the grace and beauty of the Ohana and its spacious bedrooms (for a yacht) and huge bathtubs (for a yacht) all season long? Well, you can thank the designer, Donald Starkey. I only mention this because apparently this guy is a rock star in the yachting design world. Also, please, please, please watch this video tour of the Ohana. This video makes it feel like the Titanic. Basis-for-a-classic-90s-romance-wise, not about-to-sink-wise.
From falling in love too damn hard! Seriously, that video.
Image: Virginia Sherwood/Bravo; Giphy (3)