You Can Get the Boat, But Not the Crew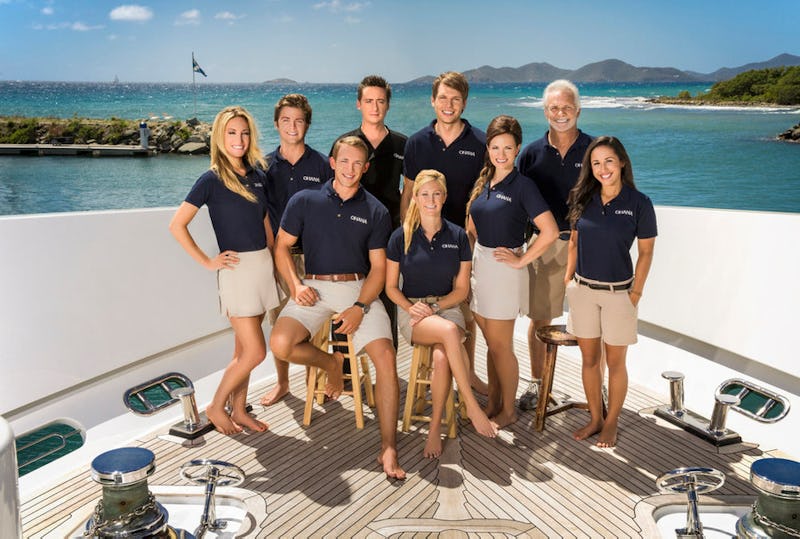 If you're watching the second half of Below Deck Season 2, you're probably having flashbacks to 2009 when the idea of "Bitchy Resting Face" first became popular, but you may also be feeling like recapturing one last burst of summer vacation before we're permanently in pumpkin spice territory. And if you're looking to relive the show more literally, you can charter the Ohana super yacht from Below Deck, is available for charter. If you happen to have $140,000 per week, you, too, can relax in one of the five bedrooms or lounge in the multiple hot tubs and decks as the stewards and deckhands race around behind closed doors to do your laundry and make your bed. But can you sail with the Below Deck crew when you do so?
Unfortunately, you won't get to enjoy Ben's cooking or have Kat bring you a drink anytime soon. Bravo isn't yet filming Season 3 of Below Deck, so for the time being, the cast is on shore leave. During Season 1, the producers rented the yacht featured on the show for a five week charter so they could replace the crew with their handpicked cast members for the duration of the shoot, so the guests, while real charter guests, were surprised with the idea that they'd be on a reality show.
For Season 2, things were a little different. Bravo allowed guests to sign up for Below Deck and charter the Ohana if they paid a discounted version of the typical $140,000 fee. So far, they've left up their website looking for new Below Deck crew members, but haven't sent out another casting call for charter guests — it doesn't seem as if they've gotten that far yet. Below Deck is having a great season, but it hasn't even officially been renewed for Season 3, so it seems pretty unlikely that they're shooting, and since the seasons are only filmed over five weeks, chances are pretty slim that if you call up the Ohana that you'll be seeing Bravo cameras.
Judging from the many pictures of football, beer, and brunch on second steward Kat Held's Instagram, she hasn't been working as a stew for about a month, and her last gig was in Newport, Rhode Island — not the cushy Caribbean locales Bravo usually picks for the show. The rest of the crew have been posting decidedly landlocked pictures as well, posing for fan pics or posting travel photos.
While it's disappointing that you won't be able to catch the latest flirting between Kelley and Jennice on your own personal cruise, at least you can be assured that Andrew won't be on your ship — according to his Twitter, he's been too busy doing important stuff like filming a web series to get back on the high seas.
Image: Tommy Garcia/Bravo