They Might Be Starting Another Huge Family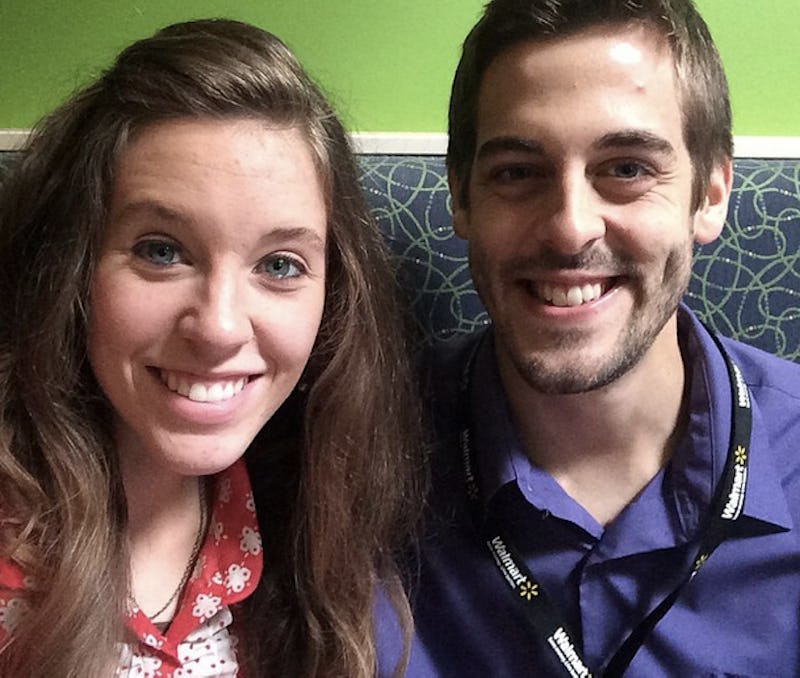 It's official: 19 Kids and Counting's Jill Duggar and her husband Derick Dillard are expecting a baby boy in March 2015. They wasted exactly no time starting a family after getting married this June and obviously, the fact that Jill comes from a family of 19 children begs the question of whether or not she plans to follow in her parents' footsteps. Will Jill and Derick have 19 Kids and Counting too? The way the couple sees it right now, they are totally game for pulling a Jim Bob and Michelle and having a reality show-worthy amount of babies. From everything they've said so far, it sounds like they're up for as many kids as fate is willing to hand over.
"Both of us want as many kids as God will give us, and we've talked about adoption," Jill told Us Weekly back when she and Derick first made their engagement official last spring. "My parents have kept popping them out so we'll see how [our] fertility is!"
However this doesn't exactly comes as a surprise. Not only has Jill taken great pride in being the captain of her buddy team at home, but she's chosen to spend her time around babies even in her professional life. Jill's been training to become a midwife for the past couple of years, so it definitely sounds like babies are her passion. And obviously, Michelle isn't trying to pull over any tricks on us when she talks about how well organized and behaved her kids are. I don't know if Jill would have decided to have a huge family of her own had it been a nightmare to deal with 18 siblings (most of them younger than she is).
I'd personally never even dream of having that many kids, but if anyone is going to do it, I think Jill is the right person for the job. After all, she has years of experience in child wrangling... and doing pounds of laundry on a daily basis.... and cooking for a billion people, too. Derick may be in for a shock after having grown up with just one brother, but luckily, his new wife should be able to help him get the hang of it.
First things first, though: Let's meet this baby. He will undoubtedly be adorable (with fabulous hair like his mom, I hope) and should he help spawn a Jill-centric spinoff, I won't complain. She is easily my favorite Duggar, and being that she and Derick are totally adorable together, I kind of can't get enough of them.
I only ask one thing of Jill at this point — if she's going to keep having babies, I will need her to learn what a realistic baby registry is. Spoiler alert: It doesn't involve Coke.
Image: JillMDillard/Instagram