Amber Looked a Little Different on 'Parenthood'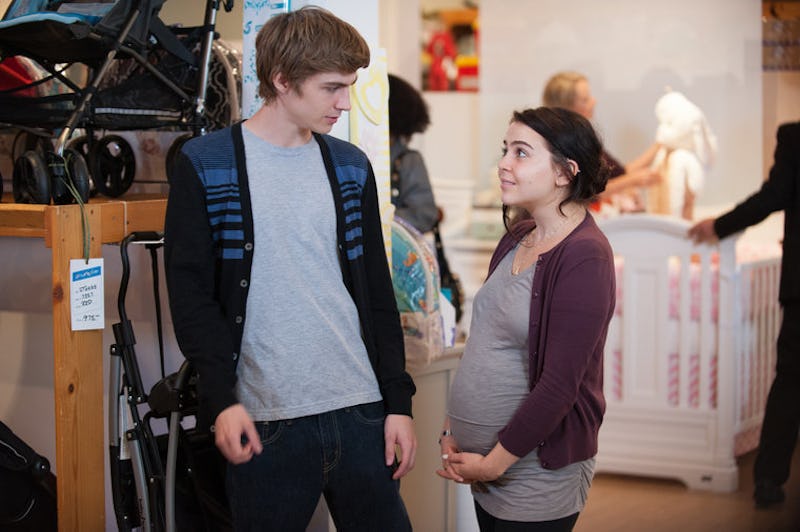 Get your LOST-esque theories lined up, Parenthood fans, because the show just did a time jump! Thursday night's new episode, titled "Too Big to Fail," kicked off three months from where we last left off, with a very visibly pregnant Amber going shopping for baby things with her eternally patient brother Drew.
Turns out, baby things cost a lot of money, even for Bravermans, so Amber asked her uncles/bosses for a raise at the Luncheonette. And, just as it's been proven time and time again...you don't do business with family, people! Adam and Crosby denied Amber her well-deserved raise, which really should have resulted in Mae Whitman turning on her famous tears, because her wildly impressive crying could move mountains. (To be fair, the Luncheonette is probably going under, but that's entirely the fault of Ashes of Rome. Stupid Ashes of Rome!)
Of course, the only thing worse than not getting a raise, while you're pregnant with your mentally unstable ex-boyfriend's child is having a game night with your mom, your mom's boyfriend, and your mom's boyfriend's very bratty daughter. (Someone cut Amber a break, already!)
Amber later wakes to find said mom's boyfriend's very bratty daughter sneaking in drunk, and jumps into action to help her. She probably sympathized being a former wild child herself, but mostly it just seemed like Amber's motherly instincts are already starting to kick in. Heck, she even made her coffee in the morning and gave her some tough, but fair love about the perils of partying and opened up about dealing with parental woes. Between that moment and when she laid down the law at the Luncheonette with her uncles regarding her future, it's obvious she's going to make for an awesome mama.
If Parenthood is willing to give us a preview of pregnant Amber, hopefully they use the remaining episodes to flash forward even further to allow viewers to see her in full-on mother mode. Otherwise we may just cry, Mae Whitman-style.
Image: NBC