Yet Another Rough Week for Poor Crosby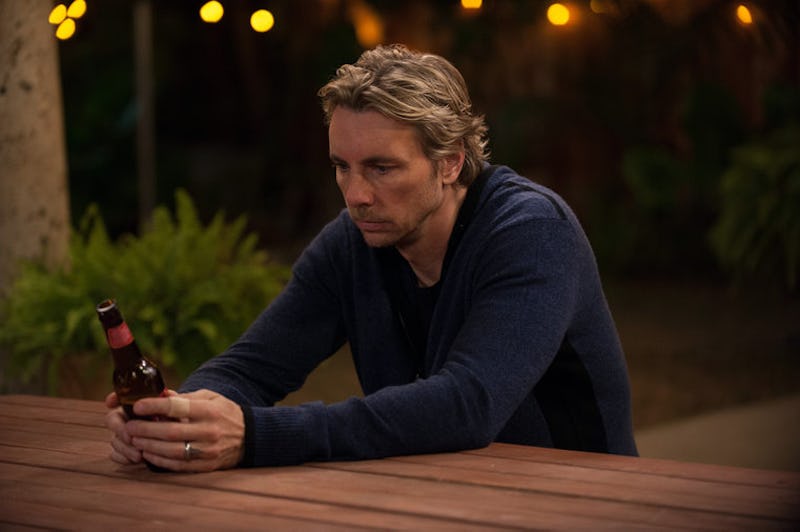 Man, the sixth and final season of Parenthood has been an especially tough one on the typically jovial and free-spirited Crosby. The baby of the Braverman bunch has already been in a motorcycle accident, faced the possibility of his father's passing, driven a wedge between himself and his wife, and now he may lose his business. Yeesh.
During Thursday night's new episode, titled "Too Big To Fail," Crosby had to let down both his pregnant niece Amber and his bright-eyed son Jabbar because of his financial woes due to the Luncheonette's shaky fate. Mom-to-be Amber asked Crosby and Amber for a long-overdue raise at the Luncheonette, which her uncles had to deny (for the time being, anyway) because of... well, Ashes of Rome royally screwing them. I blame everything on Ashes of Rome, up to and including Zeek's health scare.
But the most devastating moment of "Too Big to Fail" came when a hopeful Jabbar asked his dad if he could go to the Wizarding World of Harry Potter for his birthday. Crosby and Jasmine quickly realized that they would not be able to afford such a trip, despite Jabbar sweetly offering to pay for a portion of it. (Lucky for them, we here at Bustle already solved that problem for them by determining which Hogwarts houses the Bravermans would belong to.)
Crosby was, understandably, down in the dumps and finally came clean to his wife regarding his recent whereabouts and mood swings, not to mention what's really going on at the Luncheonette. Crosby finally expressed his fears about losing his business, his house, and worst of all, his family, to which Jasmine sweetly assured him, "You're all we need."
While their future is up in the air, Crosby and Jasmine were still able to mend their son's broken heart by throwing him a surprise Harry Potter-themed birthday party in their own backyard. All together now: awwwww.
Image: NBC