We Need These 7 Cartoons Back In Our Lives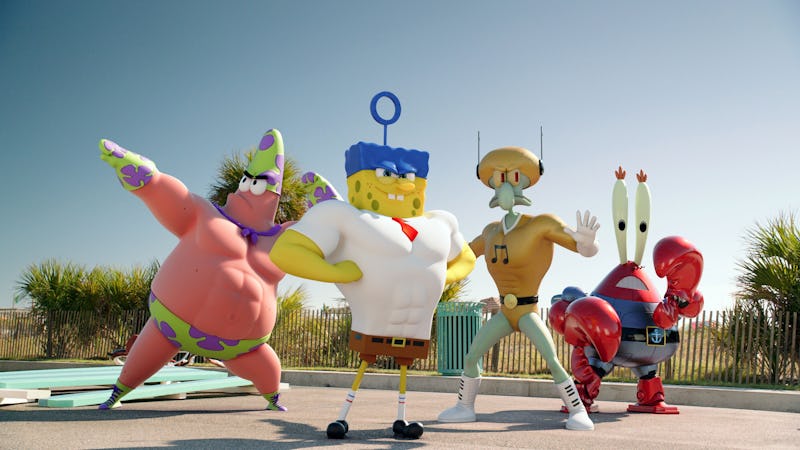 Every once in a while, it's nice to escape to a world where you can live in a pineapple under the sea, indulge in a Krabby patty, or have a snail tuck you in at night. Thankfully, Nickelodeon is bringing the massively popular cartoon Spongebob Squarepants onto the big screen... again. But this time, they're on land and in 3-D. A brand new Spongebob Squarepants trailer was just released and it looks like it just might be the biggest underwater saga since Finding Nemo. Sorry In the Heart of the Sea , better luck next time. Not only do we see Spongebob, Patrick Squidward, Mr. Krabs, and Sandy transformed into land-faring superheroes, we also meet Antonio Banderas as the dastardly Burger-Beard. He's stolen Mr. Krabs secret recipe and nothing will stop him! Except a few fearless marine crusaders.
There's one particular segment in the trailer where Spongebob and Patrick trip out on a sugar high that's just as funny as Channing Tatum and Jonah Hill "getting the giggs" in 21 Jump Street. In case you were wondering if this new Spongebob movie was going to be suited for adults, wonder no more. It's clear this is for the kids at heart as much as it is for actual kids.
The trailer for The Spongebob Movie: Sponge Out of Water definitely has me jonesing for some of my other favorite classic Nick Toons. Here are seven old-school Nickelodeon cartoons that need to come back bigger and wackier.
But first! The trailer:
Hey Arnold!
Arnold was the original hipster. He wore a kilt, listened to vinyl, and spent a lot of time pontificating. He also lived in Brooklyn with a house full of elderly pranksters. It's the perfect time to bring back our favorite foot-ball headed post-Charlie Brown leading dude with a conscience. There was an animated Hey Arnold movie in 2002 that had Arnold, Gerald, Helga and Co. take on developers trying to take over their neighborhood. Who knew Nickelodeon predicted the commercialization of Brooklyn? Let's see how Arnold and the real kids from the neighborhood deal with the posh coffee shops and yoga studios that have turned their playground of bricks and stoops into one big trendy mall.
Rocko's Modern Life
First things first: this show was never really meant for kids. Calling a restaurant the "Chokey Chicken" and littering the show with Citizen Kane references went way over my elementary school head when the show first came out. But now that we all know how twisted this little wallaby and his crew of heffers and fish heads are, let's just go all out. Let's get weird, Nick.
Aahh!!! Real Monsters!
This is just begging for a claymation re-make. Come on Tim Burton, get on board.
CatDog
If for nothing else than to have Mumford and Sons/ The Avett Brothers/ Alabama Shakes re-make the theme song.
The Angry Beavers
Deforestation is a huge problem, y'all. Who says a cartoon can't take on social issues? We already know how Hey Arnold took on urban over-development, and Rocko taught us to R-E-C-Y-C-L-E, so now let's use Dagget and Norbert to show us the way to a greener, cleaner Earth.
Doug
It was a travesty when Doug moved from Nickelodeon to Saturday Morning cartoons on ABC. A TRAVESTY. It's time to take Doug, Porkchop, Patty Mayonnaise, and Skeeter* back.
*Creators might want to use his real name, Mosquito Valentine, since the unfortunate popularity of one Lil John track.
The Ren & Stimpy Show
Just make it Rated R.
Images: Nickelodeon(2), omnya53; mmhmmgurlgohead; /Tumblr, wifflegif, uniquelittlewallflower; fuckyeahreactions;gif-database/Tumblr