Almost Everyone Was on 'The Bold & the Beautiful'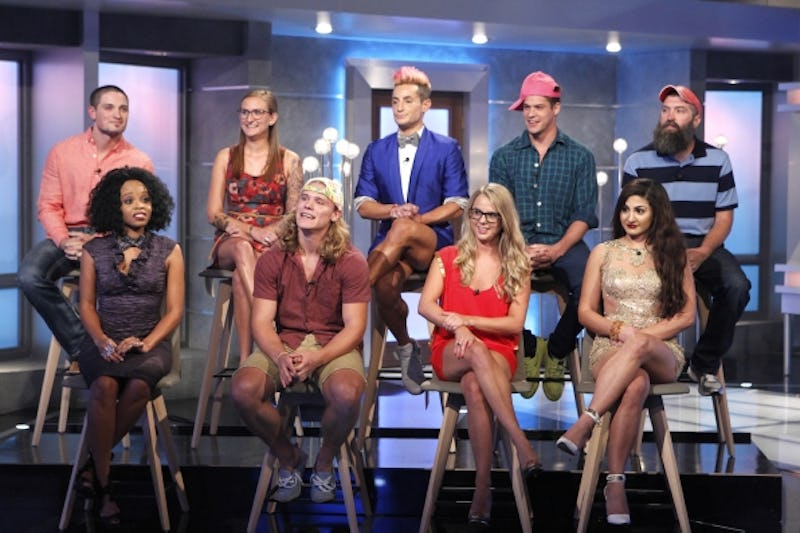 Ever since Big Brother season 16 came to a close and Derrick Levasseur was named the winner of the game — fully justified, considering he made it through the whole season controlling the whole house and never once being nominated for the block — Big Brother fans have had a few small things to look forward to before next summer. One of those things was Donny Thompson appearing on The Bold and the Beautiful. Donny was America's Favorite Houseguest of the season and just generally beloved by pretty much everyone, even if he got voted out by the Houseguests far too soon. However, on Friday, the Big Brother-flavored episode of The Bold and the Beautiful came with a huge surprise. Donny wasn't the only familiar face from season 16 to join the show. In fact, practically half the cast came.
The episode opened up on a Halloween party that was being attended by Ivy Forrester and Liam Spencer, who were pursuing a budding romance with each other. However, as soon as they entered the room, it became clear that this was no ordinary party. It was a Big Brother party because most of the extras attending it were from season 16. In addition to Donny, there was also Zach Rance, Hayden Voss, Nicole Frazel, Caleb Reynolds, Cody Calafiore, Devin Shepherd, and Amber Borzotra all in attendance. Even better, every single one of them got at least one line in the episode.
Amber was there as an attractive waitress that caught the eye of one of the regular characters, flirtatiously asking him, "Can I get you anything?" Donny seemed to be helping to host the party, being there to take a picture of Ivy and Liam at the beginning and then come and get them later to participate in a party game. Zach announced the winners of the game prizes later — and when Hayden and Nicole won second place to Liam and Ivy's first place, they congratulated the other happy couple on a job well done.
We even got an inside joke when Caleb, dressed as a karate student, declared that he would be the winner of the day's games and topped it off with a shout of, "Beastmode!" Devin took it even further by replying with, "No, Cowboy, [the winner is] totally me, bro." Just when you thought you'd never have to listen to the phrase "Beastmode Cowboy" again, am I right guys? There were lots of little Big Brother easter eggs hidden in the episode, from Zach wearing his new pink hat and busting a move to someone being dressed in Cody's dinosaur outfit in the crowd, and all of that combined to make this Bold and the Beautiful episode feel like a fitting epilogue to the Big Brother season.
It was a reunion show that wasn't a reunion show, a Big Brother special that, hopefully for Bold and the Beautiful fans, didn't detract too much from the main plot. I don't know what made me happier, the fact that Hayden and Nicole are still, apparently, together, the fact that I got to see Donny dress up in no less than three different costumes, or the fact Zach Rance is still Zach Rance. I think I'll go with all of the above.
Image: CBS (2)