This New 'Rosewater' Clip Is So Compelling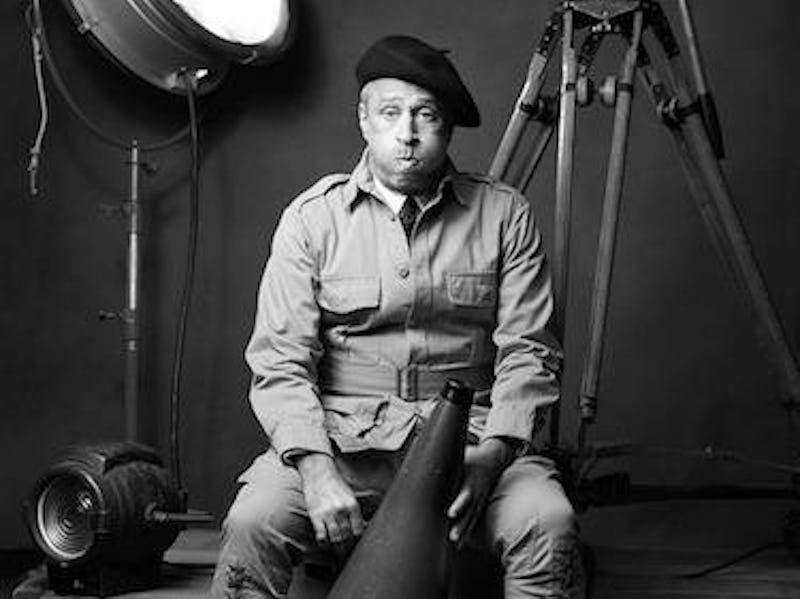 Jon Stewart's Rosewater has been kept tightly under wraps, but on Monday, a new clip from The Daily Show host's upcoming film debuted and it was the first look at the movie since a Rosewater trailer premiered in August. The clip features an interview that Iranian-Canadian journalist Maziar Bahari (played by Gael Garcia Bernal) had with Daily Show correspondent Jason Jones in 2009, which was cause for Bahari's detention during the Iranian elections because he was subsequently accused of being a spy. The clip, less than a minute long, is still incredibly compelling. Bernal as Bahari tries to bargain and explain that the Jason Jones interview was simply from a comedy show. It's extremely meta, but I wouldn't expect anything else from Stewart.
The clip comes along with Stewart's New York magazine cover story (a remarkable interview that deserves a full read), in which he discusses the process of creating Rosewater. It's no secret that Stewart, who has been hosting The Daily Show for 16 years, has a jaded view of the political landscape, but not so much that he won't keep producing comedy (thank goodness). And with the end of The Colbert Report looming, I am desperately hoping that Stewart does not soon follow behind his former Daily Show correspondent. In the New York interview, Stewart took his typical self-deprecating tone when he talked about his involvement in Bahari's imprisonment, which was marked by brutal torture:
If I could draw a linear, rational line to what we had done and the charges against Maziar, I would be really devastated. You couldn't do something more inane and vapid than Jason Jones in sunglasses and a kaffiyeh in a café going, "I am an American spy!" But you can't control what idiots will weaponize. The Iranian regime wasn't just arresting people who'd talked to The Daily Show. Thousands of people had been swept off the streets. We've done other pieces on the show where people should have been arrested. Maziar's memoir was really compelling.
Though The Daily Show is of course still a satirical news show, I've always appreciated Stewart's evergrowing commitment to cutting through the bullshit, more blatantly than Colbert does. John Oliver is, thankfully, on this track too with Last Week Tonight (which features plenty of greatly reported longer features thanks to the HBO format). Stewart's general objectivity—of course, he is liberal, but he is discouraged by the pandering and detritus on both sides of the aisle—is a hopeful sign that Rosewater will be a gritty, excellent effort to expose the truth.
Though the setting of the film is Iran in 2009, the tragedy of journalists being detained and tortured for seeking truths continues, and Stewart's film is bleakly timely with the horrific executions of several journalists by ISIS. It's Stewart's respectful approach, though, that inspires me most about the film; I know that, no matter what, it will not promote Islamophobia, a view which is still running rampant in the United States. No matter how jaded he is, Stewart's perspective is necessary, and I hope he continues with The Daily Show for at least another 16 years.
Images: Splitsider/Twitter; Getty Images