7 New Takes on 'Pride and Prejudice'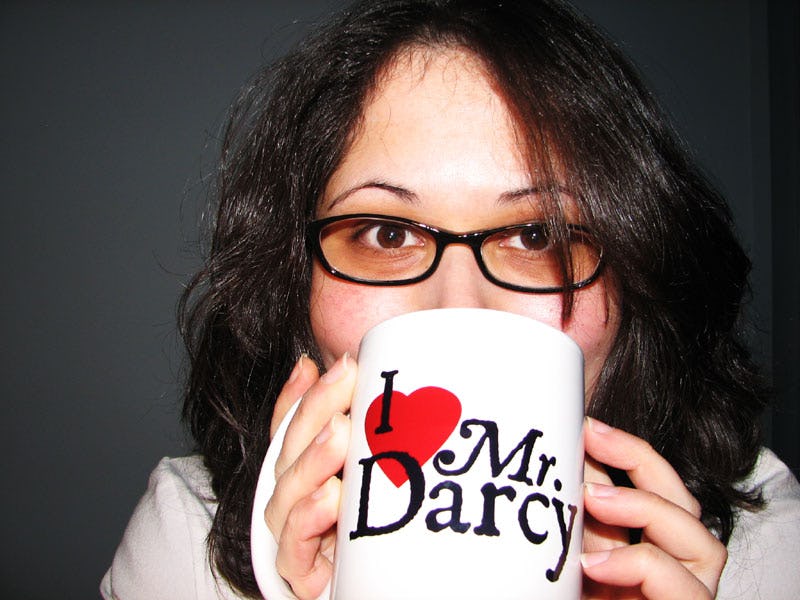 Whether you're a hopeless romantic or a dyed-in-the-wool sceptic, there's a little something for everyone to love in Jane Austen's Pride and Prejudice. Me? I take comfort in the knowledge that I am not the only girl out there to radically misjudge her one true love the first few times around, but truth be told there are really only so many times you can re-read (and re-watch) this romantic classic before blurring the line between love and psychosis. And believe me, after a few more hours on that park bench, dog-eared copy in hand, tears just dripping down your cheeks, you'll be glad of a little romantic relief.
Luckily for you, today there are more ways than ever to follow the exploits of Lizzie, Jane, Lydia and Darcy. So, whether you're looking to share the story with friends (assuming they share your entirely logical obsession with literary romance novels) or simply desperate to find an updated take on your all-time favorite novel (are things getting personal in here?), whip up a batch of crumpets, pour the tea, and dig your teeth into seven brand new ways to relish this timeless tale of love and lust in the English countryside — handkerchief not included.
For a Little Gore with your Gowns, Try:
For those of you who like your love stories with just a hint of bloodlust, consider Pride and Prejudice and Zombies, Seth Grahame-Smith's updated take on Austen's beloved tale, which brings zombies described as the "sorry stricken" to the stately estates and brightly lit ballrooms of the Bennet universe. As Mr. Bennet guides his favorite daughter in the martial arts rather than abandoning her to the trials and tribulations of marriage, Elizabeth Bennet, zombie fighter, is forced to come to terms with the arrogant monster-fighter Fitzwilliam Darcy as soulless brain-suckers threaten not only their love but also the lives of everyone around them.
Go Digital with Your Love of Darcy:
In a world where 140-character tweets triumph over traditional journalism and more than 100 hours of video are uploaded to YouTube every minute, is it really so difficult to imagine that Pride and Prejudice has gone digital? Thanks to the good people at Pemberly Digital, you can enjoy all the witty retorts and hapless romance of the Austen original without ever cracking the spine of an actual book. As the first YouTube series ever to win a Primetime Emmy, The Lizzie Bennet Diaries reimagines Elizabeth Bennet as a video-blogging graduate student stuck at home with a mountain of debt and a Twitter account to kill for.
For the Absolute Anglophiles, Give Bridget Another Go:
For everyone who wonders what happens after he pops the question, she says "I do," and they all live happily ever after, Helen Fielding's new novel in the Bridget Jones series, Bridget Jones Mad About the Boy, brings some serious closure to the tale of Pride and Prejudice. The updated Elizabeth, Ms. Bridget Jones of downtown London, is no longer the hapless diary-keeper of the first two novels but a mother and a widow now that Mark Darcy has passed, experimenting with social media and trying to make it back into the dating game. While the story of true love may have been what brought you to Pride and Prejudice in the first place, the story of what comes next makes it all the more worthwhile, with and without twitter meltdowns and online dating mishaps.
If You Like Your Romance with a Touch of Murder, Don't Miss:
For the Agatha Christie aficionados among us, there was always one thing missing from the original Pride and Prejudice — a healthy dose of murder. So, when P.D. James revisited the cast of Pride and Prejudice back at Pemberley a few years later on a dark and stormy night with a stranger on the moor, the prayers of mystery lovers the world over were answered. And, now that Death Comes to Pemberley has made its debut as a miniseries on BBC One, there are even more ways to love the mystery version of the world's most valued love story.
With the Men in Mind, Consider:
One of the most enduring legacies of Austen's Pride and Prejudice is the strength, wit and wisdom of Elizabeth Bennet; of Mr. Darcy's character, however, there is a bit less to love. Although Darcy does ultimately get the girl through the great reveal of his true and charming nature, most of what we see of Darcy leaves a lot to be desired. And so, when Abigail Reynolds takes up the tale with an updated view of the man himself, there's a lot for Darcy fans to fall for. With a simple premise (what if instead of disappearing from Lizzy's life after making his first proposal Darcy actually staid to try and win her back), Impulse and Initiative brings a whole new breed of masculine energy to the world of Pride and Prejudice.
For A Little Love on the Go, Try:
I'll admit it, I've got a parasol and ball gown stowed away strictly for the purpose of playing Lizzie Bennet any chance I get. Of course, apart from Halloween and the occasional costume party those opportunities are few and far between (unless I'm willing to brave the many scornful stares of my neighbors while I wander my own backyard). These days, however, there is another option—these days, there is an app for that, and anyone who wants to follow in the footsteps of Lizzie, Jane, Lydia, Bingley and Darcy can simply head to the iTunes store and download Pride and Prejudice Hidden Anthologies to play your favorite part without scandalizing a single roommate.
If You're In It to Win It, Pick Up:
It was my mother who first introduced me to the Austen classic, and since that day I've eagerly sought out anyone with a shared passion for the Bennet clan, and found more than a few friends eager to dig into the dirt on Darcy and discuss the relative merits of the wicked Mr. Wickham. These days, however, our conversations have grown a little more heated as we take our true love for Lydia or our disgust with Darcy to the table and throw down in a winner-takes-all, no holds barred game of Marrying Mr. Darcy. So throw on a walz, whip up a quick pot of tea and settle in for the only card game I've ever known where the winner ends up married (outside of Vegas, of course).
Image: Jamelah E./Flickr