Where Is That Speech In Her New Music Video From?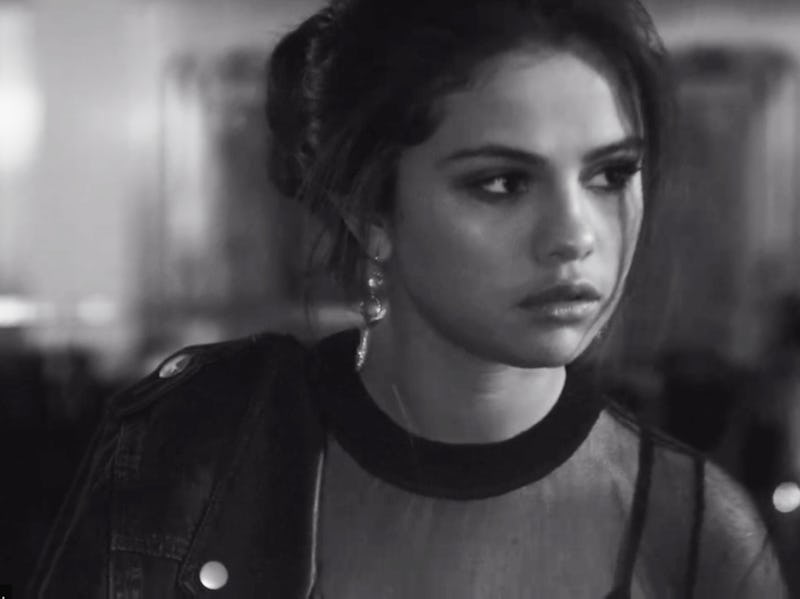 Selena Gomez is back, ladies and gentleman. Quite honestly, for me, she never quite arrived, but I am very willing to admit that she is making me eat my words with her latest musical offering that is also ironically one of the new songs off her upcoming greatest hits album, For You. Thursday morning, Gomez released "The Heart Wants What It Wants" music video and the four minute black and white emotional tale really tugged at the heart strings and made you want to wrap her up in a blanket nest and give her a hug. However, the video opened with a monologue of Gomez talking that might have confused some people. So, where is "The Heart Wants What It Wants" opening monologue from? There are a lot of options.
First things first, the monologue isn't from anywhere. As far as a Google search of its contents will tell you, there are no films or books or previous interviews that Gomez is quoting in her speech. For all intents and purposes, the monologue was written entirely and originally for this music video. As a refresher, here's exactly what Gomez says:
When I was on stage and I was thinking of... I know him, though. I know his heart, and I know what he wouldn't do to hurt me. But I didn't realize that feeling so confident, feeling so great about myself and then it just be completely shattered. By one thing. By something so stupid. But then you make me feel crazy, you make me feel like it's my fault. I was in pain.
It's clear, however, that Gomez must be quoting something here. The voice over sounds like a recording of something, whether intentionally or otherwise. Under that assumption, there are a lot of options for where Gomez could have pulled this monologue from.
It's a voicemail
Is it just me, or did the monologue have the quality of a saved phone call? Gomez breaks down in tears before the speech is even over, which gives me the impression that she was venting to a friend. And that this friend was possibly Taylor Swift. Regardless of whether or not this is a message that Swift has heard before or not, the fact still remains that it's quite possible that Gomez used a voicemail she had left someone as a basis for the monologue.
It's a diary entry
The other alternative is that she was reading straight from the pages of her own diary. I don't know about you, but if I had a relationship as tumultuous as the on-off relationship between Gomez and Justin Bieber then I would need to keep my thoughts and emotions straight with a journal. This monologue could have been pulled from her journal and Gomez, who got her start in acting, completely sold us on the emotions she was going through when she wrote it.
It's from therapy
In a twist that would be absolutely tragic, the monologue could have been part of her therapy. In January 2014, Gomez went to rehab for emotional issues and exhaustion. As we learned from Lindsay Lohan and her sex list scandal, part of rehabilitation is airing confessions like this in writing. Gomez could be sharing an incredibly personal time in her life with us, as her way of healing and of showing the strength that she has displayed since she wrote this monologue.
It's an original piece
The final possibility is that the monologue really was written originally for the video, to go along with the storyline of both the video and of the song. That could be all there is to it and nothing to read into here. However, considering we've all pretty much accepted that this song and video are all about Gomez and Bieber's relationship, reading into things is pretty much our M.O. now.
Check out the video below.
Image: YouTube; Getty Images