A New '50 Shades' Trailer Is Coming — VIDEO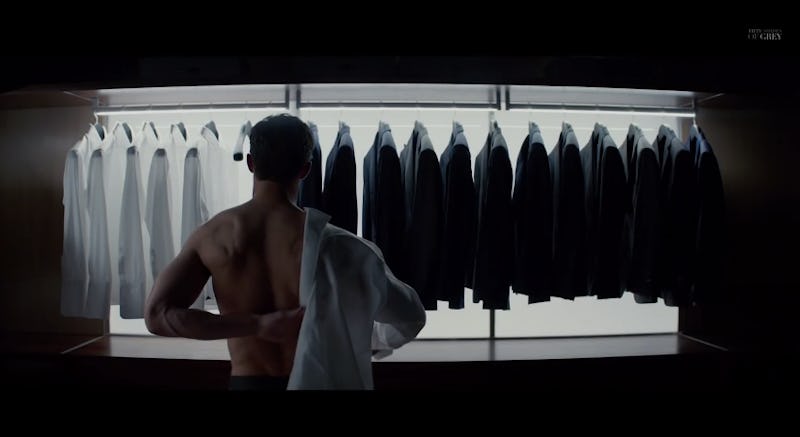 It's nice to see you again, Mr. Grey. The first Fifty Shades of Grey trailer's release in July put fans into a frenzy and the fire isn't going to die anytime soon. Even if Us Weekly reported that, allegedly, Fifty Shades ' sex scenes lacked chemistry and that the film required emergency reshoots with its stars Jamie Dornan and Dakota Johnson. On Thursday, it was announced that a second Fifty Shades of Grey trailer will be released on Nov. 13 on ABC during Scandal's new episode. And, obviously, my excitement was revived — mostly because of the announcement's accompanying clip featured shirtless Jamie Dornan.
Here's the deal, I would see this movie if Jamie Dornan was acting opposite a mop. I mean, Universal dispelled the rumors that Johnson lacked the sexiness required to play Anastasia Steele, but once whispers of bad chemistry are out there into the universe, people are going to believe them. The 20-second preview of the new Ffity Shades trailer, however, seems promising. Or, at the very least, it seems that Universal's realized that the fans of E.L. James' novels that'll go see this film when its released on Valentine's Day 2015 want to see their Mr. Grey shirtless. And that's exactly what we're getting on Nov. 13 with the new trailer.
It might not really matter if Johnson's sexy enough because Dornan's effortless sex appeal, even in a 20-second clip, is more than enough for us all to handle.
Watch the preview of the new Fifty Shades of Grey trailer here:
Image: YouTube