Which 'Voice' Singers Will Make it Past Playoffs?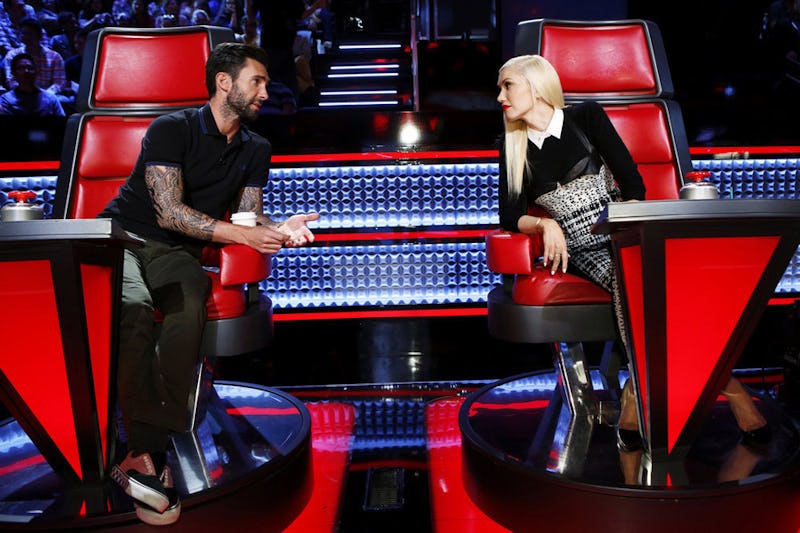 Every season, I watch The Voice contestants battle it out for their spot on the show, and every year I feel more than a little sad when great singer after great singer is told that, unfortunately, now is not their time. Unlike other reality shows like American Idol or The X Factor, competitors on The Voice are compared to just one other singer during each elimination round. If you lose, you lose to one of your teammates, specifically. That's got to hurt. But now, more than two months in, we're finally up to the live playoffs. America gets to decide who stays and who goes home, not Gwen, Blake, Adam, or Pharrell (and what do those pesky coaches know anyways?). So, who should The Voice send home after Lives? I've gone through each Team and determined which singers don't quite make the cut.
At this point, all four coaches still have people who are more than capable of winning this whole season. (If I had to choose right now, I'd put my money on Damien, of Team Adam, but there are still a lot more eliminations ahead.) But everybody (save one) has to go at some point. So let's start narrowing down our Top 20 into our Top 12. Here are the eight singers who should not advance this week.
Team Adam
Matt McAndrew
Matt seems like a really sweet guy. He's said many times that he's competing on The Voice to help support his single mom. And he does have a lot of energy and presence on stage. But unfortunately, his voice isn't as big as his personality. He's a good singer, just not good enough to win against Adam's other picks.
Mia Pfirrman
I have never felt drawn to Mia as a contestant. She just hasn't wowed me, and her voice isn't distinct enough to stand out in this competition. I didn't think Adam should have chosen her over Beth Spangler in the Battles, mostly because she does a lot of shout-singing. All that being said however, Taylor Phelan came very close to taking Mia's spot on this list, based on his Knockout performance — which was rough. Ultimately though, I think Taylor just had a bad day, and he could still go far in this competition. I can't say the same for Mia.
Team Gwen
Ryan Sill
Ryan reminds me a whole lot of Justin Beiber (back when he was a baby-faced phenomenon, before the tattoos and legal troubles). Like the Beibs, this singer has a great falsetto and a persona that's sure to draw in the middle school crowd. But I don't feel a lot of passion or excitement from him. I'm not sure he wants this more than everyone else.
Anita Antoinette
Picking Anita for this list was a hard decision, because Gwen's team is pretty stacked. I think Anita does have a very specific, special sound, and I'd like to hear more from her. But I don't feel that I know much about Anita as an artist, other than her reggae roots. I'd love to see her step outside her comfort zone and sing a rock song — or even a country ballad. Though, when she went pop during her Knockout performance, she didn't perform as strongly as I'd predicted.
Team Blake
James David Carter
Blake and James David have grown close this season, which usually gives an artist an extra advantage. And maybe it did during the Battle and Knockout rounds. But James David has consistently chosen songs that don't display his range or give his voice much opportunity to shine. He doesn't make smart choices, and that will probably hurt him this week.
Reagan James
Unlike several of her Voice competitors, Reagan definitely does not lack for personality. She knows how to make a song work for her. I can't believe this girl is just a sophomore in high school. As with Anita from Team Gwen, it's not a matter of Reagan being bad, just that other members of Team Blake are better. I like Reagan, but I can't imagine her beating out Craig Wayne Boyd, Jessie Pitts, or Taylor Brashiers (though Taylor's live playoff performance on Monday was not at the level we've seen her reach in the past).
Team Pharrell
Elyjuh René
Throughout this season Pharrell has chosen to keep Elyjuh over other, more talented singers. He beat out Maiya Sykes in the Battle round (I'm still mad), and then Ricky Manning in the Knockouts. Yes, Elyjuh is a good singer — and he's got a pop/R&B thing going that is unique among the guys this year. But he's also had pitch problems and seems like too much of a wild card. He's Pharrell's weakest link.
Jean Kelley
I've been a Jean Kelley fan since the Blind Auditions, when she sang "Already Gone." But even I can see that, as the other Team Pharrell members have been growing strong, Jean hasn't really thrived in this reality show setting. I still think she's a great performer, I just don't think this is the right platform for her.
Find out who makes it to the Live Show rounds when The Voice airs the results on Wednesday, Nov. 12, at 8 p.m.
Images: Trae Patton/NBC