Nicki's New Song Has Some Gross Lyrics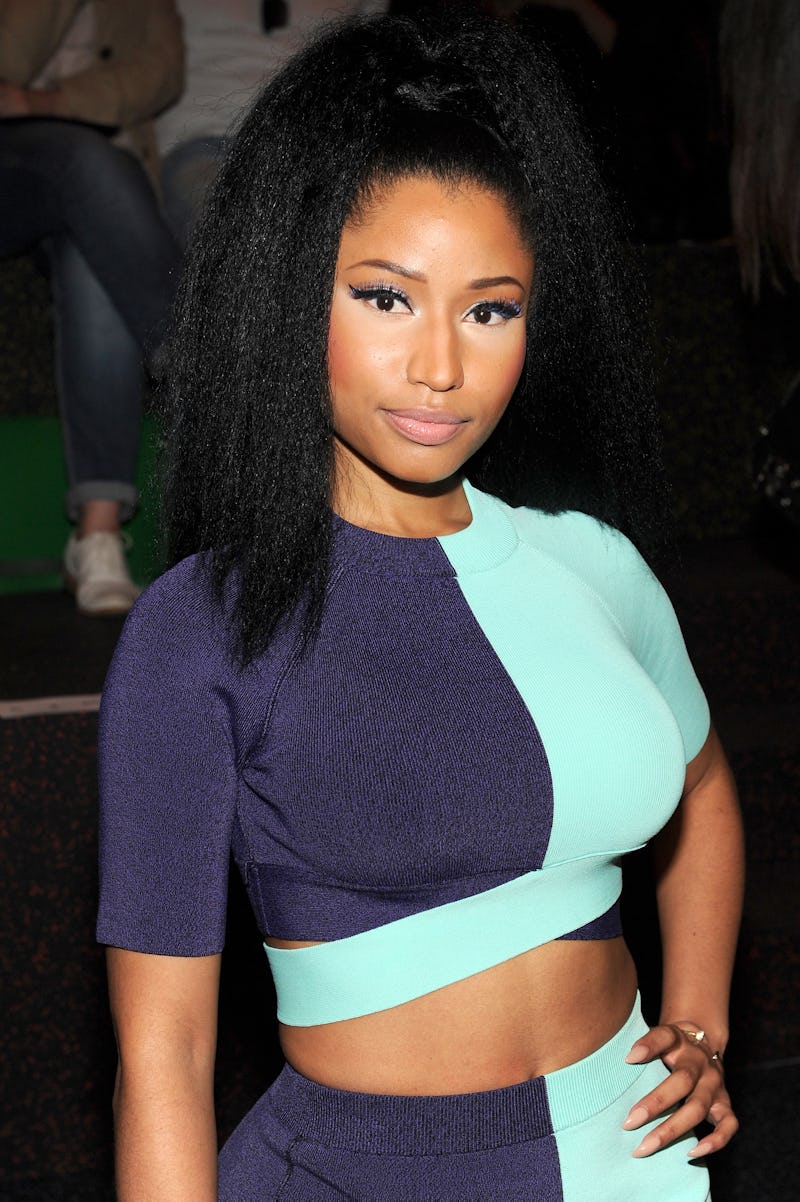 On Thursday, a preview of Nicki Minaj's new song with French DJ David Guetta, "Hey Mama," hit iTunes. Though the track's production is hot (courtesy of Guetta, Afrojack, and Giorgio Tuinfort), it misses the mark in a couple of other key areas. First of all, "Hey Mama," which is rumored to have been co-written by hit maker Ester Dean (Rihanna's "What's My Name") and newcomer Bebe Rexha, features some seriously groan-inducing lyrics. For example, in the preview, Minaj can be heard rapping:
Yes, I do the cooking
Yes, I do the cleaning
Uh, OK? She continues:
Yes, you be the boss
And yes, I be respecting
Whatever that you tell me 'cause it's game you be spitting
Yeah, this doesn't sound like the healthiest relationship in the world. Sadly, the lyrics just get ickier:
Best believe that when you need that I'll provide that
You will always have it
I'll be on deck, keep it in check
When you need that, I'mma let you have it
Really, Nicki? I don't know about you, but the whole "I'll do whatever you want, whenever you want" vibe here is making me more than a little uneasy. Give the preview a listen below and see what you think.
Second of all, as you probably noticed, Minaj doesn't sing the chorus on "Hey Mama" — Rexha does. But why? I love Rexha's voice, and I'm all for her getting more exposure, but Minaj is perfectly capable of rapping and singing on the same track (see: "Super Bass," "Starships," "Turn Me On," "Whip It," "Right By My Side," etc.)... so, why didn't she? I can't say for sure, but Minaj does kind of seem to be "off" singing at the moment. She didn't sing the "Pills N Potions" chorus during her recent set at the 2014 iHeartRadio Music Festival, and singer-songwriter Skylar Grey belts out the hook on her new song, "Bed of Lies." Huh.
Personally, I like it when Minaj sings. It sets her apart from her peers. I think it would be really silly for her to give up singing now, especially if it's part of an effort to rebuild the "rap credibility" she supposedly lost after the release of 2012's Pink Friday: Roman Reloaded. Again, I can't say for sure that's what's happening here, but I wouldn't be surprised.
You know what I say, Nicki? F#@&* the haters. Seriously! Three of your biggest hits in the United States ("Super Bass," "Turn Me On," and "Starships") feature both rapping AND singing — don't run away from something that you're good at! Besides, as I said, it makes you unique.
"Hey Mama" is taken from Guetta's new album, Listen, which is due out on Nov. 24.
Image: Getty Images