Where Have We Seen 'Homeland's Aasar Before?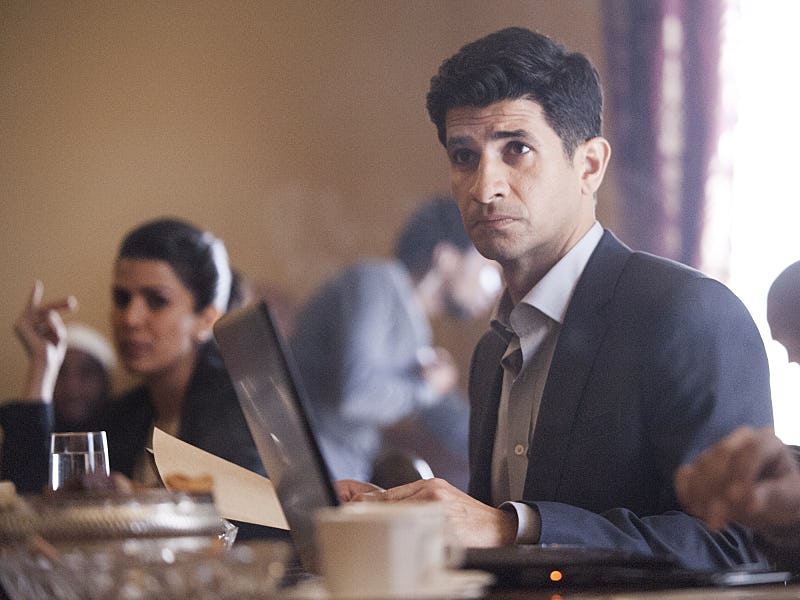 Jaws dropped the world over last Sunday night when Damian Lewis made a surprise visit to his old stomping grounds, Showtime's Homeland, where he played traitorous Sergeant Nicholas Brody for three seasons. Sure, it turned out that he was just a hallucination of Carrie Mathison's drug-addled mind, but it was still a very well-kept and well-executed secret. But then things got creepy when ghost-Brody morphed into Aasar Khan, the Pakistani intelligence agent whose exact shade of evil-ness has yet to be determined. Who exactly is this guy? What are his intentions with Carrie? These are questions I can't answer yet, but I can shed light on one other mystery that may be nagging you after his appearance in three Season 4 episodes: where you know Aasar Khan from.
The operative is played by 39-year-old actor Raza Jaffrey. Born in Liverpool to an Indian father and an English mother, his original life plan, according to the Daily Mail, was to become a pilot with the Royal Air Force. But when he started doing plays while attending Manchester University, that plan quickly changed. He went on to study acting at the Bristol Old Vic Theatre School and then made a successful career appearing on various London stages, fringe festivals, and Shakespeare festivals.
Jaffrey's most acclaimed role was as the lead in Bombay Dreams, the 2002 Bollywood-themed musical by composer A.R. Rahman (Oscar-winner for Slumdog Millionaire) and producer Andrew Lloyd Webber. BBC reviewer Mark Shenton went so far as to herald the budding actor as, "the most exciting new leading man to emerge in a London musical since Hugh Jackman became an overnight star in the National Theatre production of Oklahoma!"
Jaffrey began appearing in American films back in 2007, when he was cast in David Cronenberg's Eastern Promises (with Viggo Mortensen); he followed that up with roles in the 2009 action film Harry Brown (with Michael Caine) and 2010's Sex And The City 2 (with... well, you know).
The actor made a splash in the U.K. with the BBC's popular, long-running spy thriller Spooks when he joined the cast in Seasons 4 and 5 as junior case officer Zafar Younis. His first major role in an American was Dev, long-suffering boyfriend to Katharine McPhee's Karen, in NBC's 2012 musical drama Smash. Jaffrey's character was not brought back when Season 2 underwent a major creative overhaul, although he didn't let the failure of that much-maligned misfire derail his career.
A guest spot on Law & Order: SVU and a recurring role on Once Upon A Time In Wonderland led Jaffrey to supporting parts on not one, but two hit shows. When he's not creeping us out while stroking Claire Danes on Homeland, he's appearing as Watson's new boyfriend Andrew on CBS's Elementary . His character is described as "the anti-Sherlock, an oasis of normalcy in a life that is still rife with strangeness and drama," which sounds just like what Joan needs in her life right now. However, this is the same show where Irene Adler turned out to also be Moriarty, so what are the chances that Joan's devilishly handsome, too-good-to-be-true new boyfriend won't turn out to be some secret criminal mastermind?
It seems like Raza Jaffrey has found his niche: characters with charming exteriors with ambiguously evil interiors. Are either Aasar or Andrew exactly what they appear? Will the Pakistani intelligence agent turn out to be a good guy while the normal-seeming boyfriend turns out to be a psycho killer? Only time will tell. But it's good for Jaffrey that we can't decide for sure yet — the writers will likely keep him around to use his deceptive charms to confound viewers for the foreseeable future.
Images: David Bloomer/SHOWTIME; Frazer Harrison/Getty Images; Warner Bros. Pictures; NBCUniversal; CBS (screengrab)