How Long Until 'Finding Carter' Season 2?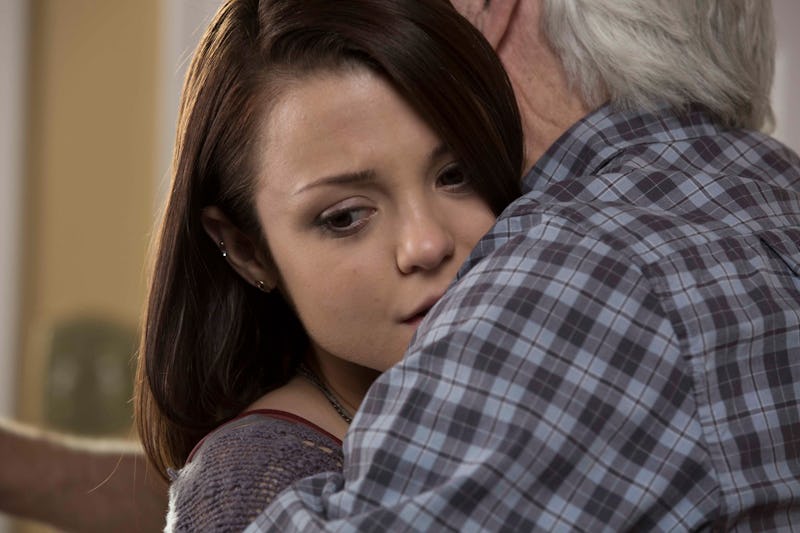 Can you believe it's been two months since the Finding Carter Season 1 finale? Because I can't — I actually have absolutely no idea how I've made it this far. OK, fine, I've made it this far because I know that Finding Carter was renewed for Season 2, because the MTV scripted programming gods are merciful. But, while we know that Max survived being shot and will live to make croutons another day, we still don't know when Finding Carter Season 2 will premiere. But, if we look at Season 1's premiere date, it's almost certain that we'll be waiting a very, very long time to find out where Lori took Carter. Ugh.
Finding Carter Season 1 premiered on July 8, which means we've still got about seven months until we can find out if Max will return for Season 2 or if Carter will find her way back home. SEVEN MONTHS — in case you didn't realize it, that's an extremely long time for one to wait for more Finding Carter. I mean, c'mon, MTV, cut us some slack here. Sure, I could spend my days doing something productive, like watching another series on Netflix. But nothing can fill the hole that Finding Carter absence has left in my heart.
So, for my fellow diehards out there, here are some Finding Carter-approved ways to pass the next seven months:
Rewatch The Series On MTV.com
Luckily for you, you can stream the entire first season of Finding Carter on MTV's website.
Sample Fro-Yo From As Many Places As Possible
Remember when the first Finding Carter promos came out and they were all about Lori and Carter eating fro-yo, loving fro-yo, and working a fro-yo store? Well, get a taste for Carter and Lori's life by visiting all of the fro-yo places in your neighborhood until you've tried all of the flavors. You'll be the culinary expert of fro-yo when you're done and it'll also be time for Finding Carter Season 2.
Make Croutons For Your Family & Friends
Or you could just watch this GIF of Max making croutons over and over again. (But then you'll probably want to eat croutons and then you'll make them anyway.)
Start A Photo Project Where You Only Use Disposable Cameras
And if you really want to get into the Finding Carter spirit, you could take photos of couples like Lori did of Elizabeth and David. OK, don't really do that. But you could use a disposable camera like Lori would've — get in the creepy spirt, people.
Buy A Truly Terrible Wig & Wear It For Fun, Count How Many Weird Looks You Get
This might be my favorite tweet from the Finding Carter finale night and it absolutely inspired this way to pass the time. Just think about how many internal laughs you'll get while walking around wearing a wig like Lori's from the finale? Try it, I promise it'll be fun. (I am not responsible if you get arrested.)
Follow Finding Carter On Twitter
Because they tweet the best tweets. Ever. And you'll want to be prepared for the Season 2 premiere.
Challenge Yourself To Wear An Exposed Bra Strap Under A Cami Every Week
Does anyone else find Carter's exposed bra straps to be out of control? Admittedly, sometimes when I DGAF, I'll let my bra strap hang out. But Carter is the queen of rocking not just the expose bra strap but also the exposed cami strap until a racerback tank top. Challenge yourself to rock Carter's style at least once a week — live a little, before your every waking moment is devoted to theorizing about Finding Carter Season 2.
Images: MTV, finding-carter (3), allissonmccall, findingcartergifs (2)/Tumblr