Johnny Depp Gave the Weirdest Speech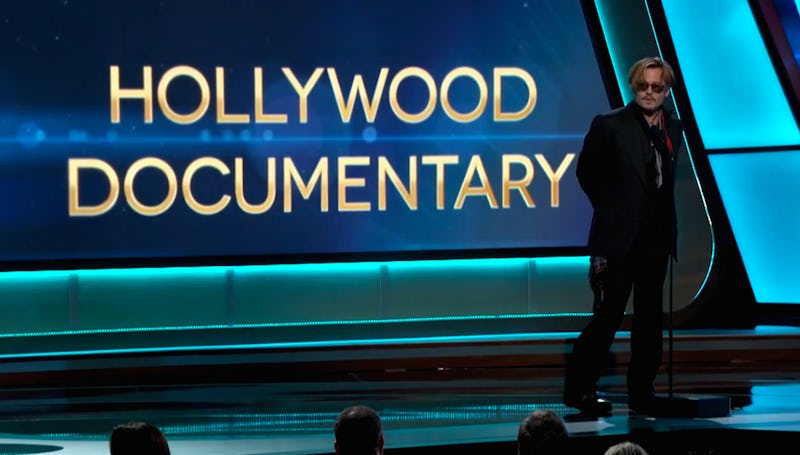 So here's something that may distract everyone from agonizing over exactly when Johnny Depp and Amber Heard are getting married. Either the Pirates of the Caribbean star temporarily slipped back into one of his quirky roles from the past, or he was just really, shall we say, happy, on Friday night: ICYMI, Johnny Depp delivered this super weird introductory speech at the Hollywood Film Awards. No word on exactly what caused Depp's strange behavior, but the audience and award recipient Shep Gordon sure seemed to get a kick out of it.
The 51-year-old actor was on hand to present Gordon with the award for his documentary Supermensch. But instead of greeting the audience and getting on with his speech duties, Depp wrestled with the microphone stand, declaring it "the weirdest microphone I've ever seen in my life," — which, to be fair, wasn't really weird at all in comparison to the behavior that followed.
He then proceeded to nervously fuss over his hair while struggling to read the teleprompter, and dangerously swaying back and forth. At one point, Depp accidentally cursed into the microphone. Finally, after what felt like an endless amount of awkwardness, the documentary reel interrupted him. By the time the camera cut back to Depp, he managed to pull it together and introduced the honoree without any further issues.
Close call there, Johnny. For all the strangeness involved in Depp's off-kilter delivery, it was quite entertaining and full of oddities that, I am not ashamed to say, required me to view the footage multiple times just to get the full effect. I'm not sure if it's any stranger than Mariah Carey's bizarre Palm Springs Awards acceptance speech or, more recently, Matthew McConaughey's space-themed SAG Awards speech, but awards show organizers could definitely save some trouble by having a more cooperative microphone stand available for any future Depp appearances.Watch Depp's bizarre award presentation below:
Image: YouTube