If You Loved 'Selfie', Read These 9 Books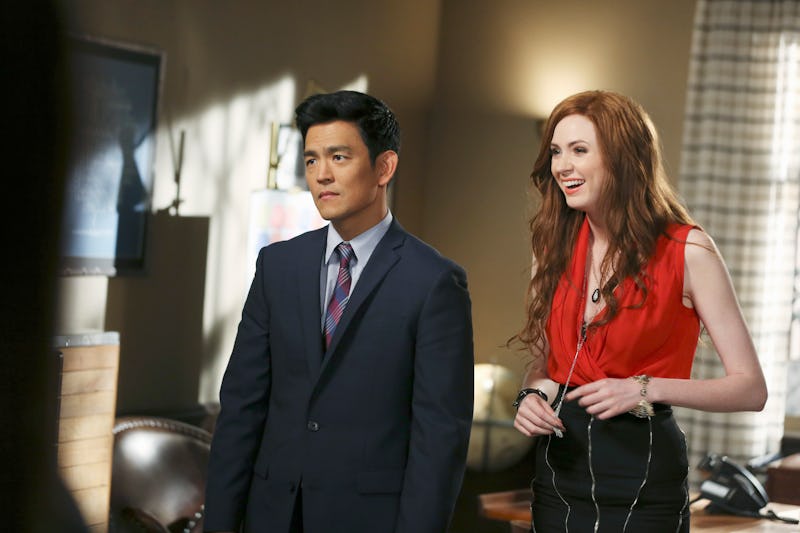 Did you get a chance to take in the glorious, delicious vapidity that was dearly departed Selfie ? Did you fall in love with viewing Eliza Dooley's foibles and good intentions gone awry? It's possible you were already in the camp of cheering Henry and Eliza on to a romantic pairing, made inevitable by the obvious chemistry exhibited by John Cho and Karen Gillan, doing their best to work their way through a 21st century remake of My Fair Lady (which, in turn, was the musical remake of Pygmalion).
Sure, it had its pitfalls, including a few glaring blunders in the pilot and a critical reception that shone a harsh light on the series' ideas of femininity and acceptability. But at the core, Selfie was charming and funny, with talented actors who deserve a showcase for their abilities. It's sad to see it end before it could really work out the kinks and settle into a smoother storytelling method.
Well, I'm not here with the wonderful news that the show's been saved and will live on in a quick swooping Netflix deal. But I have something of an alternative. If you loved the tone, humor, and most of all, main character of the show, here are nine books that will help you weather the post-Selfie mourning period, with protagonists you can't help but root for and leading men at least half as handsome as John Cho.
Queen of Babble by Meg Cabot
This book follows the misadventures of Lizzie Nichols, a bubbly, excitable American up to no good in Europe. Lizzie has the best of intentions, but is a lesson in what happens when a secret is entrusted to someone who can't keep it. She has to figure out how to salvage her friendships, get over an ex, and most of all, the pressing question of what she wants to do with the rest of her life.
The Little Lady Agency by Hester Browne
Follow along on the tale of a down-on-her-luck girl who takes her ability to be a great girlfriend and molds it into a business. Renting herself out as a girlfriend experience to wealthy men seems like a great idea when Melissa Romney-Jones is out of a job and out of options, but things start to get a little complicated when she accidentally falls in love with one of her clients.
I Did (But I Wouldn't Now) by Cara Lockwood
Lily Crandell has a reputation — and not a good one. Known for being flighty and impulsive, she marries a rockstar on a whim. When it crashes and burns, as everything in her life inevitably does, she moves across the ocean, volunteers at a hospital, meets a handsome soccer player, fends off advances from a former lover, and, oh, yeah, the rocker wants her back. Entertaining chaos ensues.
Forget About It by Caprice Crane
This is a tale of a doormat gone rogue, a pushover pushed too far, and a girl desperate to stand up for herself and craft a better life. Jordan Landau fakes amnesia after a freak accident, and slowly her plan starts to work. The problem is she's too far in to help herself when something even more freaky happens, and her wonky plan goes awry.
Accidental It Girl by Libby Street
Sadie Prince is a pro paparazzo, hunting down the celebs of New York with determination. Everything's going well until she crosses one of the highest A-listers around, and he becomes equally determined to give her a taste of her own medicine.
Confessions of a Shopaholic by Sophie Kinsella
Becky Bloomwood has, like Eliza Dooley, been immortalized in film in the popular movie based off the book. But the book's worth a read, too, for the chance to get inside the head of the most irresistible shopaholic around.
Scot On The Rocks: How I Survived My Ex-Boyfriend's Wedding With My Dignity Ever-So Slightly Intact by Brenda Janowitz
Brooke Miller is a successful lawyer from Manhattan, but everything changes just in time for her to have to navigate her ex's nuptials. She's desperate to find a date after things go sour with her live-in boyfriend, and, of course, nothing goes as planned.
Everyone Else's Girl by Megan Crane
A small town, a big city girl, and loads of family drama brim to the surface in this novel. Meredith has to navigate the baggage of her hometown when a family emergency prompts her unexpected return. She's forced to face old wounds, and her image of herself.
Last Chance Saloon by Marian Keyes
Last Chance follows the adventures and trials of three best friends, rudely awakened by the dawning of their thirties and the responsibilities life insists on throwing at them. But at least they'll always have each other... or will they?
Image: ABC