Wait, When Did Penny & Paul Get Together on 'AHS'?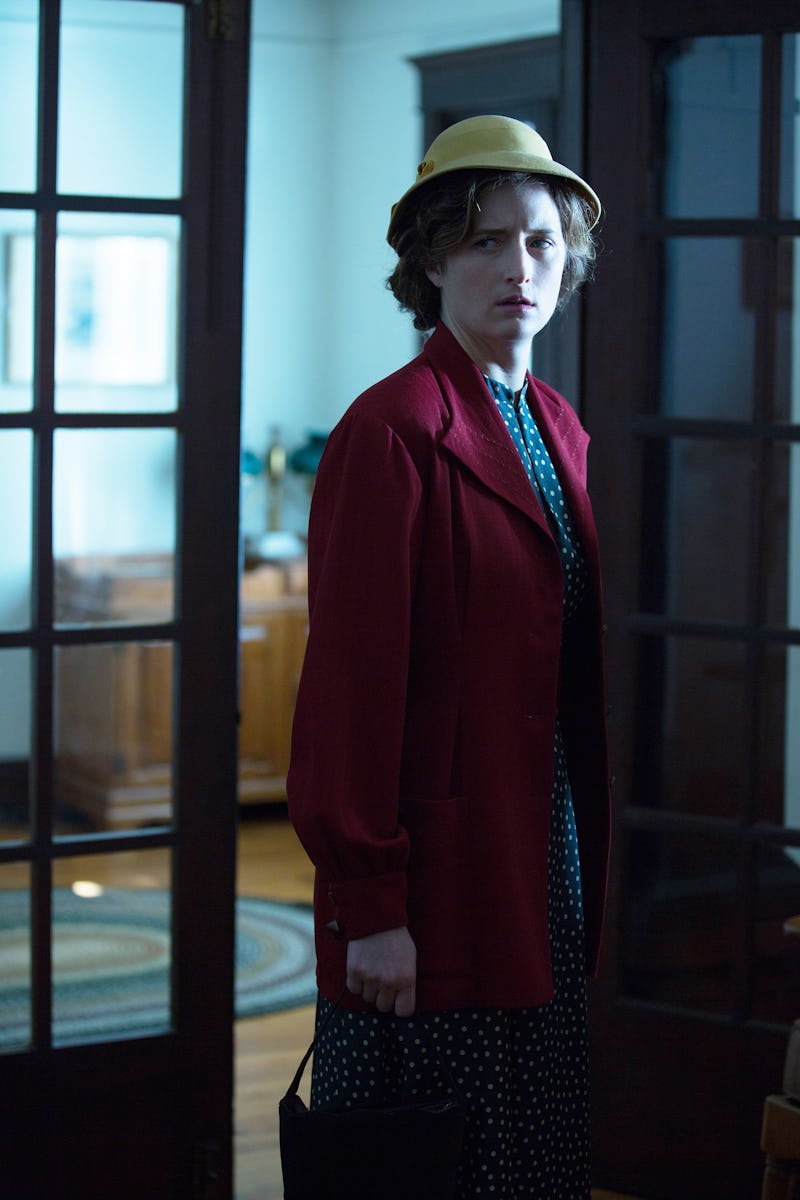 If you were like me when I was watching the "Bullseye" episode of American Horror Story: Freak Show, you were surprised (and maybe confused) at the return of the candy striper Penny (who we haven't seen since the premiere episode). Perhaps the reason it was most surprising is because we saw her in bed (and in love) with Paul — but how did Penny and Paul get together on AHS ? Penny portrayer Grace Gummer is Hollywood royalty (and was in AHS: Coven), so it's not surprising she returned to the show. But after her controversial storyline with being drugged (and potentially raped) in an orgy at the freak show, it was a jump to see Penny in bed with Paul (especially after we had just seen Paul sleeping with Elsa). Paul started unraveling what Elsa did to Dot and Bette — and Elsa figured he was seeing another woman — so of course, she had to bring him down in "Bullseye." Yet, although we got more character development from Paul, we still didn't officially learn how he ended up hiding from Penny's dad in her bedroom.
But the actor who plays Paul may have delivered some insight. Mat Fraser talked to the A.V. Club about having only a few lines in the show and listening to "Evan Peters [Jimmy] and these people do these big, long speeches about how people don't understand what it's like to be a freak." Fraser said:
I had a very intense conversation with the writing team pretty early on in the process and basically I stuck my neck out ... Now I don't know what happened, no one has ever told me, whether my part increased because of that conversation or whether Ryan liked what I did ... And I'll never know what the reason was for it, but my part got bigger, no question.
The return of Penny in Episode 6 is likely a way to develop Paul's character more, but since co-creator Ryan Murphy teased to Entertainment Weekly that in the future, "What happens to [Penny] might be the scariest thing that happens all season," I have to imagine there was more to bringing her back than just for helping to develop Paul.
So, how did this pair end up together? Here are some theories:
Penny Came Back To the Freak Show
It wouldn't be the first time we've seen someone intrigued by the freak show come back. I mean, Dandy did it — but I'm going to say that Penny is nothing like Dandy (plus, her first time visiting the grounds was a bit different than his first visit). After Elsa showed Penny the film footage of the orgy, Penny did admit to liking her sexual experimentation. And when the townspeople came to the grounds to thank Jimmy for helping end the frightening reign of Twisty in "Edward Mordrake (Part 2)," the show was sold out. Once it became more socially acceptable to return, maybe Penny came to see the show and approached Paul. He does have a handsome face after all (which he — and the viewers of the show — are aware of).
Paul Sought Out Penny
After the drug-induced orgy, Paul could have felt bad and gone to find Penny to apologize. Or maybe he liked Penny and wanted to see her one-on-one. Considering he wants to take things slow now that they're in love (I guess I'll accept this), it seems like he legitimately respects her. We've seen him venturing away from the show's grounds, so it's not out of the realm of possibility that he could have waited for her outside of the hospital and their relationship went from there to him climbing into her bedroom window.
Penny Was into Paul's Eating Habits
Perhaps Penny heard about the incident where Jimmy, Paul, and the rest of the group tried to get served at the restaurant in town. Maybe she was impressed by the fact that Paul didn't want to waste food and ate off of a leftover plate. (I am 100 percent with him — if it's just going to get thrown out, why couldn't he eat it?) Although Penny initially had disdain for Dot and Bette (as she made clear when they arrived to the hospital), it looks like she has changed her ways and become more accepting. And she likes her men socially conscious.
I don't think we'll ever find out how the pair actually met back up on the show, but I'm willing to just accept their relationship. With theories going 'round that Paul may survive Elsa's knifing, but get killed by Penny's father, I'm now more curious about what the "scariest thing" coming Penny's way will be.
Images: Michele K. Short/FX; 090722, youarethemorningfear, itsafreakshow, maggiejdarling /Tumblr