Is Annalise Keating Playing Dumb On 'HTGAWM'?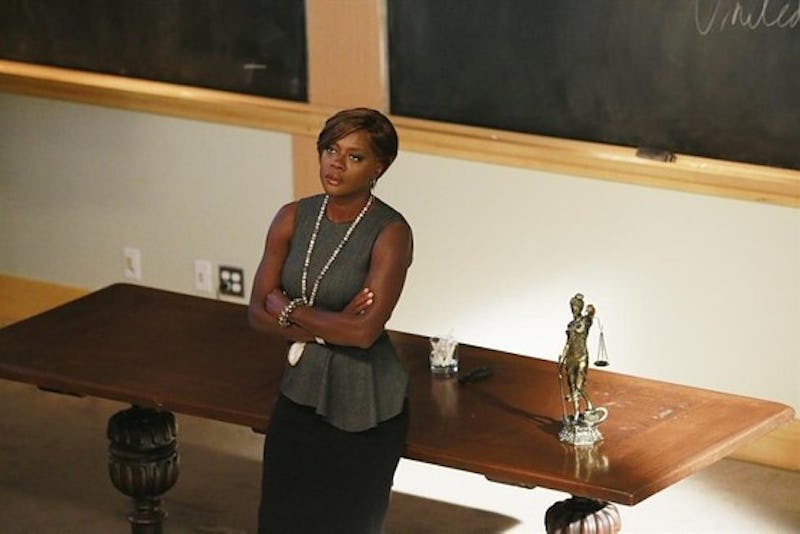 Shonda Rhimes' How to Get Away With Murder got cray cray during last week's episode, and it seems that everything is coming to fruition now that the show is approaching its mid-season finale on Thursday. I feel like I'll finally learn who killed Annalise Keating's husband, Sam, the reason behind his death, and how Professor Keating's students will, as the show's title goes, get away with murder. Then again, maybe I shouldn't get ahead of myself because we all know that this will probably end with a cliffhanger. Yet there is one question that I'm praying is answered, (or at least partially answered) before the first half of Season 1 comes to an end: Does Professor Keating know who killed Sam?
It's likely the question that's been on every HTGAWM fan's mind. This whole time, she's looked and acted pretty innocent whenever the show takes us to the night of her husband's death. There's even one scene where she calls her now ex-assistant, Bonnie, crying as she reveals her fear that something bad happened to Sam. But is Annalise really that clueless? I mean she is the best attorney and law professor out there.
Personally, I think that if she isn't Sam's killer (woah, plot twist), then she probably has some idea about who killed him. Since Rebecca Sutter and Wes Gibbins are pretty much in love and happen to be the only people (aside from Nate Lahey and Bonnie Winterbottom) who know about Sam's affair with Lila Stanguard, I have a hunch that Annalise is going to pin it on them.
So far, we haven't seen whether or not Annalise's other students and clients have been involved with Sam, so at this point, there really aren't any other suspects to go off of. Yet Season 1 isn't even over so I guess there's really no telling what else could be in store. After all, we still don't even know how Connor Walsh, Michaela Pratt and Laurel Castillo got involved in Sam's death. Hopefully though, Thursday's episode will leave us with even bigger clues so we can begin connecting the puzzle pieces.
Image: ShondaLand/ABC