Kenya Moore Called Out Apollo on 'RHOA'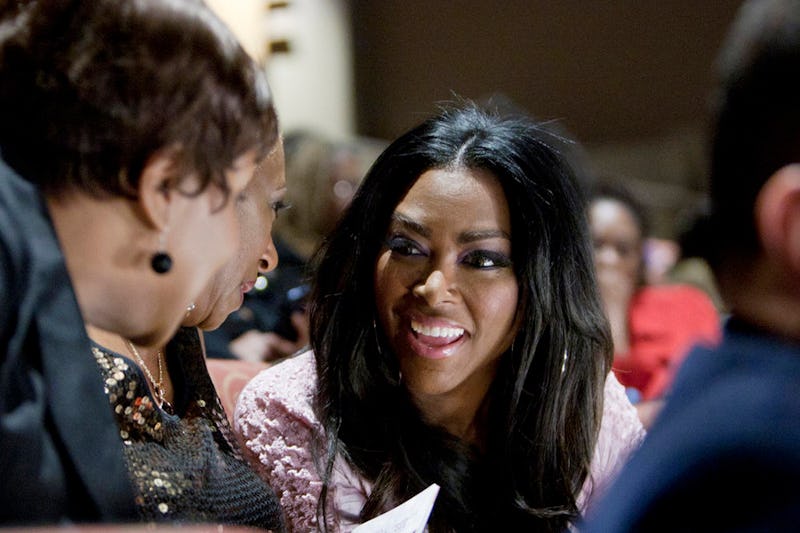 Even though he was just sentenced to eight years in prison on the Real Housewives of Atlanta premiere, Apollo Nida, Phaedra Parks' husband, still had the time to be all over this episode. In the opening, we got to see him at his best, spending time with his two sons. But then, he popped up at Cynthia's magazine event, there to spend time with Kandi, Cynthia, and their husbands Peter and Todd and to apologize to Kenya Moore for lying about Kenya attempting to have an affair with him.
Kenya always has a way of knowing a little bit of dirt or finding the most drama in ant given situation. But she's a classic drama queen, who can exaggerate Apollo's absurd aside about her toenails in the reunion into a "verbal assault." So over the past few seasons, it's been hard to tell if Kenya really was trying to get with Apollo or if he was making things up. But Apollo actually admitted that he was lying about everything all the way back to when he claimed Kenya offered him oral sex. Seriously?! After years of fighting between Phaedra and Kenya, none of it was based on truth.
At first, Apollo tried to pass off a generic apology, but Kenya kept insisting that he needed to apologize for lying about seeing him in LA. And he did! Turns out all those "Kenya Moore-whore" puns were for nothing. As an avid RHOA fan, I also have to say sorry to Kenya — it's easy to root against someone who seems like they're trying to ruin a marriage on national television.
And one of the best parts of RHOA is that the husbands all really like hanging out together, and seeing Apollo go back to his costars after issuing his apology was a delight because they were just as appalled by it as I was! Honestly, I think Kandi had the best read on the situation. She called Kenya out for the Porsha assault charge — and pointedly brought it up only to have it ignored. But, when Apollo tossed off a comment about how he'd been lying for years, she was even quicker to condemn him.
It seems like Apollo is losing any allies he once had on this show, from his wife all the way to his male friends. It's no wonder that he will eventually blow up just before he has to surrender himself — his attempts to "make things right" are exposing a lot of past wrongdoing.
Image: Wilford Harewood/Bravo; RealityTVGifs/TUmblr (2)