Jessie Pitts Proved Blake Made the Right Choice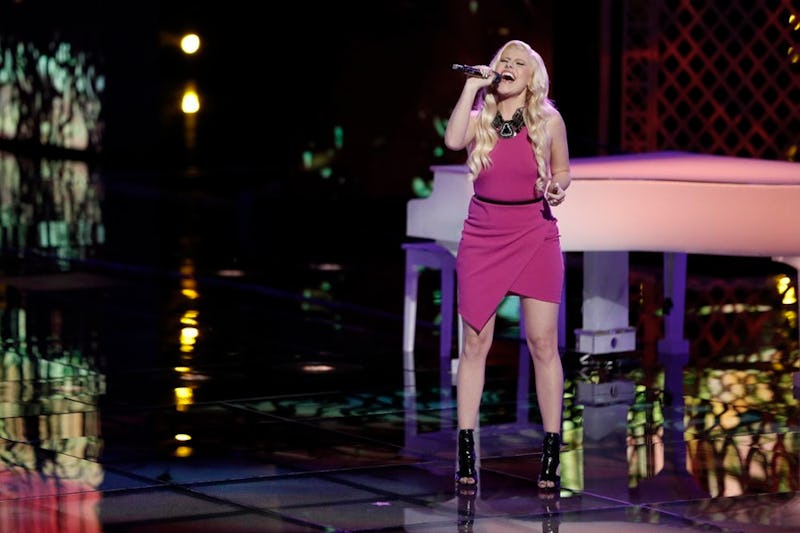 So we're in the Top 12. The Voice contestants are now fighting for America's love instead of the judges', and it's a totally different game. There was a major shakeup last week in the Live Playoffs, where the contestant pool went from 20 to 12 in one night. One contestant that really felt that change was young Indie artist, Jessie Pitts. Pitts was in the bottom three of Team Blake, and only made it through to the Top 12 thanks to a save by her coach. But Pitts came back better than ever this week, playing the piano and singing an emotional rendition of "Don't You Worry Child." If Pitts performance impressed America as much as it did Blake Shelton, she is guaranteed the golden ticket to the Top 10.
Pitts proved she was really an artist and knew what she was doing when she told Blake Shelton she wanted to play the piano during her performance and then open it up into a more upbeat rendition. She missed the mark on cranking it up to be "upbeat," but she really performed a version of "Don't You Worry Child" that has never been sung before. We heard a side of her voice that we've never heard before, and it was awesome. Her need to fight for her spot was extremely evident this week, and it will certainly help take her to the Top 10.
Now, I've been a Pitts fan from the blind auditions. She has impressed me week after week, and has certainly grown throughout the process. Her ability to speak up for what she wants paired with her "won't give up" attitude make her a truly inspirational artist, and I guess her amazing voice doesn't hurt either. Like any contestant on The Voice, she definitely has some things she can improve on, but for such a young artist she has her act together. And if Coach Blake's impressions of her are any of indication of what America thinks, she has nothing to worry about. If Blake Shelton compares you to his amazingly talented wife, Miranda Lambert, then you can guarantee you're doing something right.
Image: Tyler Golden/NBC