There Are Clear Choices for 'The Voice' Top 12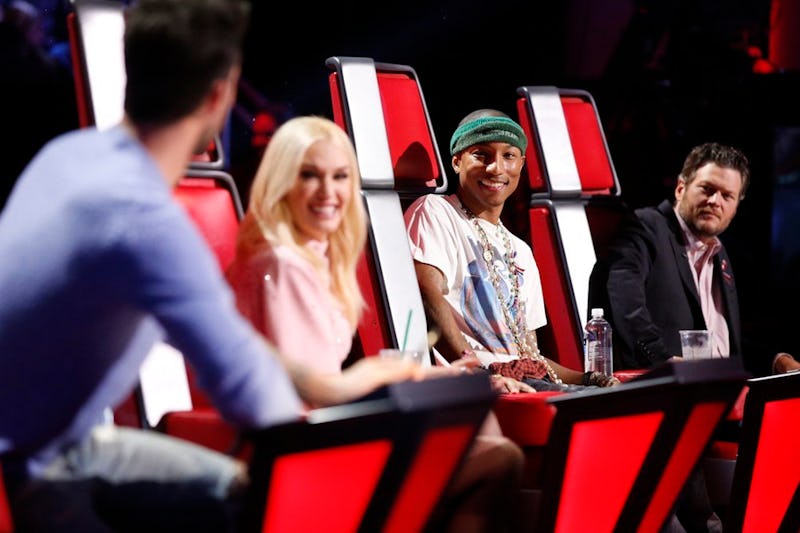 Never before have I seen a group of so many undeniably gifted contestants in a singing competition. Believe me, I've watched my share of American Idol, The X Factor, and The Voice, and there have been plenty of seasons where there were five or six extremely talented contenders but NEVER as many as the 20 remaining contestants on this season of The Voice . I suppose it could just be because I had to handpick them for something more than just my own entertainment, but the Live Playoffs made it harder than ever to decide on who should make it to The Voice 's Top 12.
So many things factor into choosing the 12 talents who should advance to next round — including the show's frustrating rules. In order to advance based on America's votes, contestants need to rank in the top two of their team, leaving the excruciatingly high number of 12 singers in jeopardy of leaving. Each coach can only choose one extra person to advance to the next round, at which point the votes, tweets, and iTunes hits have nothing to do with it. Essentially, it means that even if you were voted into the top half of the group overall, you can easily go home. Considering the real-time standings according to The Voice App, each performance's iTunes ratings, and each individual's relationship with their coach, this is the Top 12 I came up with according to team.
LUKE WADE — TEAM PHARRELL
I'm calling it now — this is the voice I want on my iTunes. I want to run to it, I want to dance to it, I want to cry to it, and sing in the shower to it. Luke couldn't hit a bad note if he tried, because somehow even the pitchy notes sound cool on him. I can't imagine him even tickling the edges of the bottom three anytime soon.
DANICA SHIREY — TEAM PHARRELL
DaNica is a performer through and through, and if America denies it, there's a problem. Her Playoff song wasn't exactly as recognizable a song as Luke's "Let's Get It On," but it certainly showed off her voice in a way that is deserving of the Top 12. Selfishly, I'm just not ready to let her go yet.
SUGAR JOANS — PHARRELL'S CHOICE
Pharrell. Loves. Sugar. There's really nothing else to say — Pharrell should have turned for her from the beginning because this is where she belongs. Under Pharrell's guidance, Sugar was able to tone down the growl and did Aretha Franklin justice, which is no easy feat. I've said it before and I'll say it again: this girl deserves to be here.
JAMES DAVID CARTER — TEAM BLAKE
James is the future of classic country. I have yet to see one note come out of this guy's mouth that isn't flawless and intriguing and everything country music needs right now. James' voice is unquestionably unique, but more importantly, that classic-rock kind of country tone that is so rare that when it's found, it needs to be heard.
REAGAN JAMES — TEAM BLAKE
Reagan is not only the youngest constant, but her voice also reminds me of smoke on water. It's silky smooth with a little rasp and a whole lot of fire. Blake said she is one of the most important contestants he's ever seen on the show, so if for some crazy, inhuman reason America doesn't vote her through, Blake would undoubtedly choose her as the one to stay.
JESSIE PITTS — BLAKE'S CHOICE
In the same way that I believe in Sugar Joans, I believe in Jessie Pitts. Because she isn't a country artist, Blake may very well choose Taylor Brashears or Craig Wayne Boyd over her. But even though Taylor and Craig are unbelievable as well, Jessie brings something totally new to the table. Her "Jessie" version of "I Need a Hero" came at the perfect time.
MATT MCANDREW — TEAM ADAM
Matt McAndrew and Adam Levine, Voice or no Voice, create magic together. It was unbelievably risky to pull out a Beach Boys song on a show like this, and yet it was nearly flawless in both voice and performance. Pharrell definitely got this kid a lot of hits by sending the audience to his website.
CHRIS JAMISON — TEAM ADAM
Female vote, right here. Chris is undoubtedly the heartthrob of the season — I mean, there's a reason he went from having 900 to 9,000 followers on Twitter. He's one of those guys whose buttery sweet vocals just make him that much more attractive. I have faith he'll get through on talent. But, hey, he can also deliver my mail any time.
TAYLOR PHELAN — ADAM'S CHOICE
I am so unbelievably torn when it comes to Team Adam because, quite frankly, Mia Pfirrman and Damien both deserve to be there arguably more than some other contestants. But the show's gonna make me do this. Taylor has a pretty impressive iTunes following as it is, but if he doesn't get voted through, Adam will choose Taylor because they share a special connection that deserves another shot.
TAYLOR JOHN WILLIAMS — TEAM GWEN
That song choice was everything for this street performer. He has the look, he has the high notes, he has the low notes, and it shows some serious artistry to take such an old song and make it sound as new and fresh as Taylor did. Ugh, so many Taylors.
BRYANA SALAZ — TEAM GWEN
Bryana is a powerhouse, a spitfire, the teenage dream of every Voice coach, whatever you want to call her. Maybe not her best performance (since she completely KILLED it in the Knockouts), but her Playoff was plenty enough to bring the audience to tears. Who better to reign in the patriots than the daughter of a vet?
ANITA ANTOINETTE — GWEN'S CHOICE
I have to stick by my guns with this girl. Adam exactly hit the nail on the head when he said she's the girl you want to hang out with and it's because of her effortless Reggae chops. If I'm right about Team Gwen's top two, Anita is the one Gwen will insist on keeping.
Images: Trae Patton (9), Tyler Golden (4)/NBC