Will Luke's Mistake Cost Him the Top 10?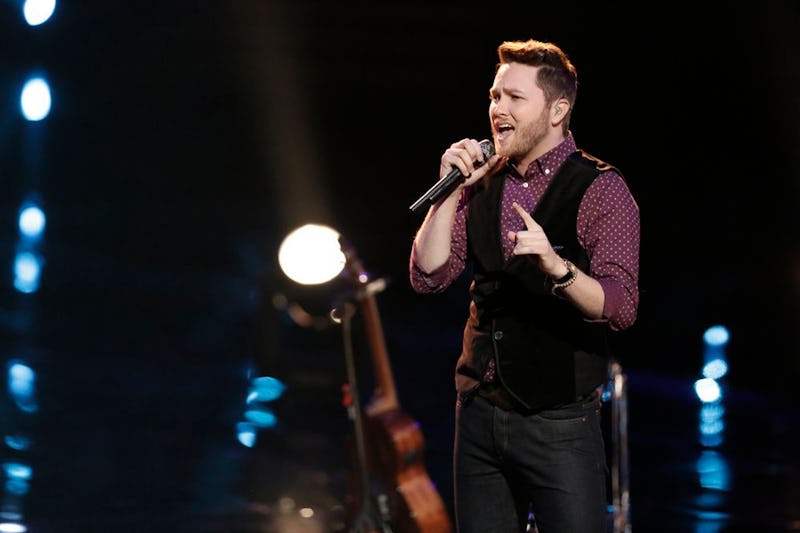 Luke Wade has been the man to beat on The Voice. He wiggled his way into our hearts with his emotional background story in The Blind Auditions, wowed throughout the heated Battle and Knockout Rounds, and made us all want to throw our bras on the stage (or at the TV) with his rendition of "Let's Get It On." He has been an example of perfection throughout his entire run on The Voice. Until now. Wade stumbled at the beginning of his performance of "Thinking Out Loud" in the Top 12, but recovered like a true professional and proved that he is The Voice.
I hate to break it to everyone, but you're favorite artist is not perfect. They fumble the words, they mess up dance moves, they have run-ins with the police, etc. But you don't notice their mistakes (except the ones that are plastered all over your newsfeeds) because they are professionals and know how to cover their mistakes by just carrying on like nothing happened. Wade proved that he was like any other professional artist tonight. His nerves kicked in and he started a few beats too early. Kicking off a performance like that is never easy. A younger or less experienced artist may have been completely thrown off from that mistake and delivered a train wreck of a performance. But Wade noticed his mistake, paused, caught right back up to where he should've been in the song, and killed the rest of the performance.
Wade is certainly one of the strongest in this competition, and I really hope America won't punish him for his mistake. His professionalism, stage presence, and talent make him a shoe-in for winning the title of "The Voice." But no matter the outcome of the competition, he will certainly go on to have a fruitful career in the music industry, because Luke Wade just proved that he has what it takes to be a star.
Image: Tyler Golden/NBC