Denise Huxtable is on 'New Girl' This Week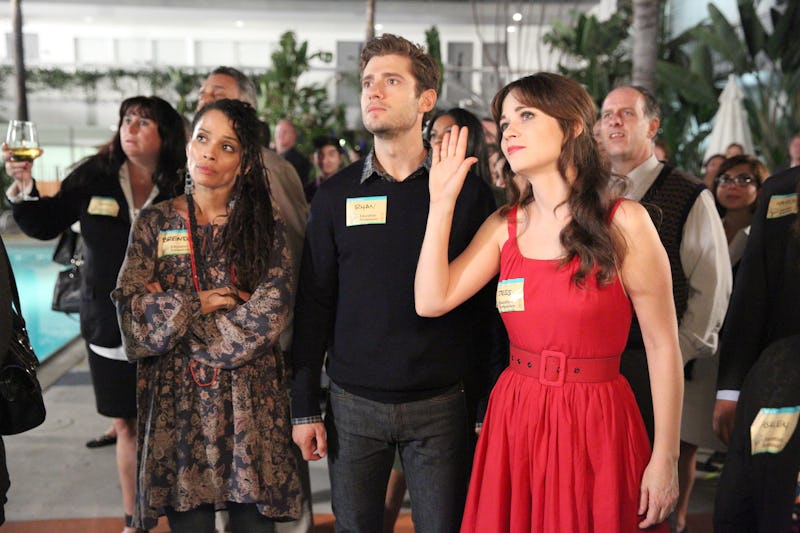 Is it just me, or has New Girl been all about the guest stars this season, especially where Jess's school life is concerned? If that's the case, get ready for the next one: Lisa Bonet, who's also known for playing the second oldest daughter on The Cosby Show way back when. On Tuesday's new episode of New Girl , Lisa Bonet plays a new age-y teaching guru named Brenda.
The best part? Through her teaching, Brenda becomes responsible for (hopefully) encouraging Jess to date the hot new teacher, played by yet another guest star, Julian Morris — who I've been in love with since the first time Jess was unable to pronounce his last name. And after dating all these random dudes who weren't worthy of precious New Girl screen time, Jess deserves a real relationship, right? Thank you, thank you, Lisa Bonet.
From the sound of it, Bonet will be helping the teachers bond, and those exercises will lead Jess and Ryan into a serious lip lock — and in all honesty, if Jess can't be with Nick right now (though, mark my words, she will be eventually), I want her to be with this guy. He's cute and smart and way better than that douchebag of a micro penis guy from her last dating attempt on the show.
But back to Lisa Bonet. It's been awhile since her Huxtable days, and now, Bonet is 47-years-old, married to director and former Game of Thrones actor Jason Momoa, and she has a few projects of her own up her sleeve.
She's been into a lot of TV projects lately
Aside from New Girl, Bonet most recently appeared on Drunk History as Rosa Parks. She also has a role in Sundance's The Red Road, where she appeared in three episodes. And as far as her movie career is concerned? Her big focus lately has been Road to Paloma, which her husband Momoa directed, helped write, and starred in alongside her.
Her famous daughter looks exactly like her
Zoe Kravitz — Bonet's daughter from her first marriage to Lenny Kravitz, of course — has grown up to be absolutely gorgeous, and the spitting image of her mom. Bonet also has a 6-year-old daughter, Lola, and a 5-year-old son, Nakoa-Wolf, with Momoa.
Call her Lilakoi Moon now
Yep, that's right — back in 1995, Bonet started doing a lot of yoga and officially had her name changed to Lilakoi Moon, which, at the time, she said she did to "honor my personal life outside of this." Professionally, though, she's still going by her original name, so when the New Girl credits roll Tuesday night, you'll see her credited as Lisa Bonet.
Images: Jennifer Clasen/Fox; Getty Images