'RHOBH' Premiere Brings Lisa and Kyle Together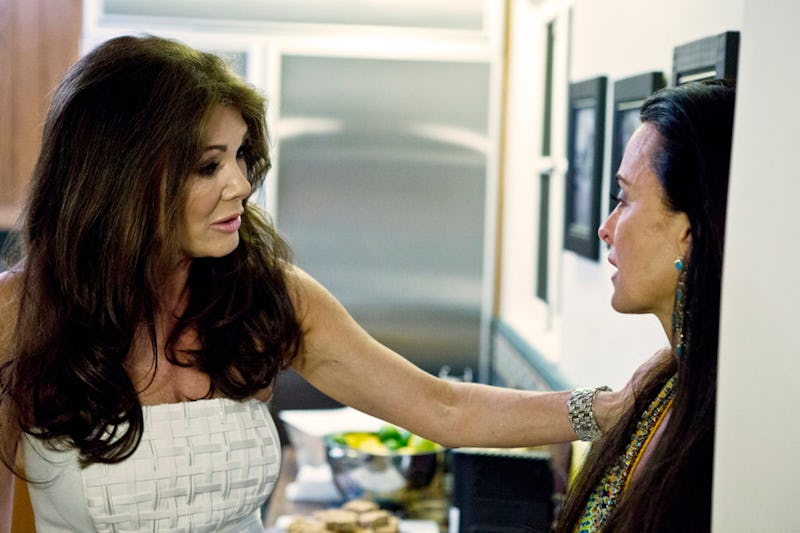 The moment we've all been waiting for is finally here. The ladies of The Real Housewives of Beverly Hills are finally back for Season 5, and everyone seems to be in high spirits even after the tense and rather depressing experience that was Season 4. As we caught up with each of the Housewives and met two new ones, the only thought on my mind was, "How are things between Kyle Richards and Lisa Vanderpump?"
If you recall, last season was rough for Lisa among pretty much all of her cast mates, but it especially put a strain on Lisa's relationship with Kyle. From the get-go, Season 4 was wrought with rumors that Kyle's husband Mauricio had cheated on her. Lisa, who out of all the ladies was one of Kyle's closer friends historically, brought this up on camera. And continued to bring it up on camera. She even entertained the idea that the hearsay could be true by saying she didn't know what to believe.
Kyle was understandably not thrilled with what Lisa was saying about her. The argument came to a head when the Housewives and the Househusbands took a trip to Puerto Rico. By the time the Season 4 reunion rolled around, it didn't look like the relationship could be salvaged.
But as things go in reality TV land, people seem to easily forget about the biggest conflicts they've had on camera and ultimately forgive. That's exactly what Kyle and Lisa did during the Season 5 premiere of RHOBH when they sat down for a one-on-one chat to hash things out.
Unfortunately, those hoping for them to reignite the drama and have it out again are going to be disappointed. Kyle and Lisa basically agreed to put the past behind them and never talk about the events of last season again. Does this mean going forward it'll be all quiet on the Kyle and Lisa front?
For now, it seems that the two have patched things up, but I don't expect it to last. During their conversation, Kyle kept saying she wanted to move on with Lisa, but she kept rehashing the past. Lisa again said that they should stop talking about the topic, which Kyle seemed to finally acquiesce to. Even though Lisa is able to put on a stiff upper lip, Kyle still seems visibly hurt by what happened last season. I think it's safe to say that this will not actually be the last time we're going to hear about this.
Image: Ben Cohen/Bravo; paaradisevalley/Tumblr