Silverman & Rogan Team Up For Epic NSFW Short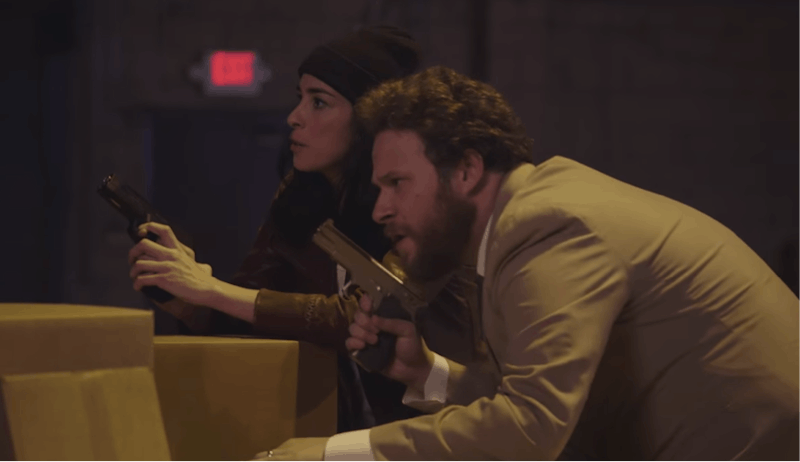 If you happen to be eating, then stop what you are doing and watch this anyway, because I promise the potential nausea is worth every trippy, action-filled second. Sarah Silverman and Seth Rogan star in a short called "Cops Cum Dick And Flying" (such poetry!) which features them as weathered detectives who experience life, love, and every unspeakably disgusting thing you can imagine in between. The short comes from comedy variety show Rubberhead, which made its debut on Vimeo last night with an episode hosted by none other than Sarah Silverman herself.
This sketch is the first one that has been released to the public (it is five dollars for a subscription to the show), but if this is any indication of what kind of comedy this show will feature, then please sign me up. I cannot emphasize how gross or totally random this short is. Like, I'm telling you right now, but I'm not really telling you, because even if I said outrageous things like "romantic dog poop" and "Seth Rogan has a secret second dick," it wouldn't really mean anything until you experienced for yourself. With headphones on, just to be safe.
I'm still trying to determine what exactly it was that humanity did to deserve Sarah Silverman, who also recently brought us to our knees with her hilarious and poignant sketch on the gender wage gap and then totally nailed her epic Saturday Night Live monologue as a first-time host. I can promise you that neither of those things even slightly chart on the shock factor scale compared to this Rubberhead sketch. The show will air weekly and feature works by other comedic partners like Michael Cera, Reggie Watts, and team Tim Heidecker and Eric Wareheim. Get a glimpse of the sketch here, and please remember that YOU WERE WARNED:
Image: Vimeo