You'll Love Her "Lips Are Moving" Style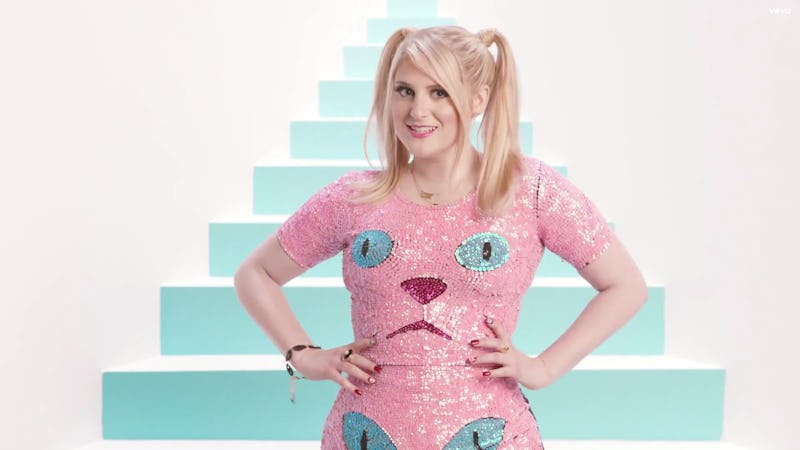 So... has Meghan Trainor earned the title of "Pop Princess" yet? I suppose the jury's still out, as we haven't seen a full album from her yet. But I'd say that her new "Lips Are Moving" music video is definitely a step in the right direction — because, spoiler alert, it was flat-out adorable. And a big part of said adorable-ness was definitely the fashion!
I mean, on the style side of things, she definitely set the bar high for herself with the wonderful, pastel fever dream that was "All About That Bass" — and her second video lives up to that hype. Except this time, she eschewed the Peter Pan collars for suspenders, the pale blue tights for illusion thigh-highs, and the vintage brooches for copious amounts of sequins. I wouldn't exactly say it's more grown-up, because it's very teen queen-esque in aesthetic — it's more of a lateral shift, as opposed to a vertical shift, if that makes any sense.
Basically, it's very Taylor Swift, with a little Katy Perry thrown in. If you were to make a venn diagram of Katy and Taylor, their overlapping space would include cats, sequins, and a flair for the retro (and some backup dancers/ex-boyfriends, shh). Meghan took everything from that middle portion of the venn diagram and made it her own. Let's take a look!
The LBD
Scoop-necklined, long-sleeved shirt with a leather circle skirt and red lips statement sunglasses? Perfection.
The sequined top
Um, adorable! Also, bonus points for the iPad with the outfit on it — it's very Cher Horowitz.
The Rainbow Skirt
No muppets were harmed in the making of this video (I hope).
The Houndstooth dress
You can never go wrong in houndstooth; just ask Dr. Mindy Lahiri.
The Cat Dress
Katy Perry may have worn it first (and for less than $200!), but that doesn't make this ensemble any less fantastic on Trainor.
Images: Meghan Trainor/VEVO