6 Last Minute Thanksgiving Recipes to Save The Day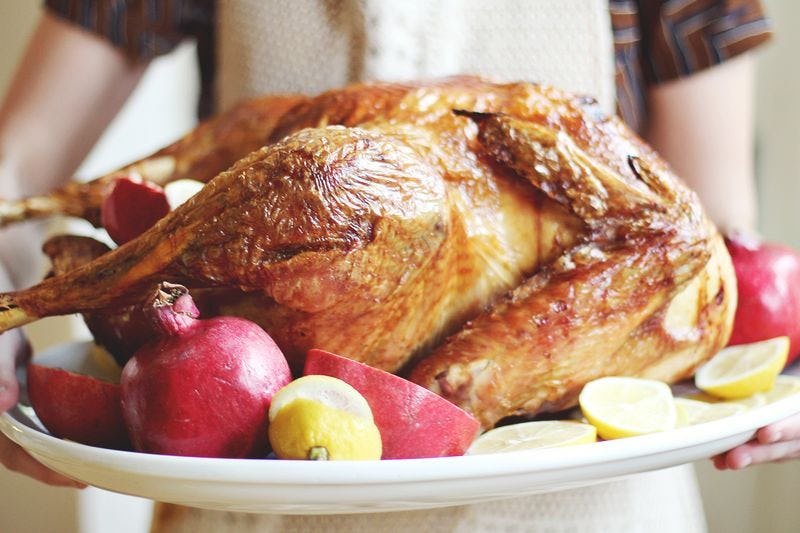 There aren't many times during the year when you have to cook six or more dishes in one day, but Thanksgiving is one of them. Whether you're just helping out at your parents' house or cooking by yourself for Friendsgiving in your college dorm's kitchen, things can go awry quickly. This isn't to say that you'll burn the turkey or scorch the stuffing, but accidents happen (especially when you're trying to get a lot done all at once), and it's a good idea to have a few last minute Thanksgiving recipes as backup. The first time I did Thanksgiving with my friends, we set the oven so low that it took three hours just to cook a 6-pound turkey breast. We ended up eating all the sides and dessert first.
The problems aren't just limited to not cooking your food fast enough or burning it by mistake. Sometimes you get unexpected guests thanks to your brother bringing a date, or you have impatient family members who are starving two hours before the meal even starts. Sometimes turkey dries out, key ingredients get forgotten, or appliances break. Not to worry, my friend. No matter what dilemma you find yourself facing this Thanksgiving, I've found you a backup plan. Here are a few genius last minute recipes you can whip up as substitutes to help you avoid a full Thanksgiving meltdown. Most of the recipes use ingredients you should already have around the kitchen on Turkey Day, but if there's anything you don't have in your pantry, stock up now. You still have some time before the big day, and being prepared is the best way to avoid mishaps (or fix them if things go crazy). Here are six common Thanksgiving fiascos, solved — now that's something to be thankful for.
If the turkey goes wrong
First, don't panic. You can probably salvage your turkey, even if it's overcooked, by cutting it up and soaking it in some broth. But if it's really a mess, make sure you have a few chicken breasts on hand (or could get them at a grocery store that still happens to be open on Thanksgiving), and just like that, your meal is saved. Try these chicken breasts sauteed in sweet red onion and lemon from The Kitchn for a flavorful and easy main dish. They may not be as traditional as a Thanksgiving turkey, but they sure are delicious.
If the stuffing goes wrong
If your stuffing doesn't turn out right, whether it's too mushy or burnt, you can dress up a bag or box of store-bought stuff with sauteed onions, carrots, celery, and some good chicken stock. But if you still want to go homemade without taking too much time, try classic bread stuffing from Brown-Eyed Baker. All you need is 15 minutes for prep and homemade breadcrumbs, but if you have some store-bought ones in the pantry, you can make it work, too!
If the dessert goes wrong
Even if you burn your apple or pumpkin pies, chances are you probably have the ingredients around to whip up this easy Swedish chocolate cake from A Cozy Kitchen. It may not be traditional to have chocolate at Thanksgiving, but people will be thankful for something sweet and gooey. The only thing you may not have around is cocoa powder (but it's good to invest in a can for times like this) — the rest is just butter, flour, sugar, and eggs. Ta-da!
If dinner takes longer than planned
Sometimes the turkey won't brown, or it's taking forever to come to temperature. Sometimes you lose track of time and have to heat up six side dishes at once. It happens to the best of us. While things are cooking, you can prep these simple pepperoni pizza crescent rollups from The Comfort of Cooking to keep guests from complaining. You can actually fill them with anything you want, but string cheese and pepperoni is a killer combination.
If more guests show up than you expect
If the party gets a little too hearty, just whip up an extra side dish. This easy creamed corn from Damn Delicious is a cinch to make, and is rich enough that a little goes a long way. Just mix cream cheese, milk, butter, and cheese with frozen corn, garlic, and spices, and then bake it all up. How bad can that be? Ina Garten and Paula Deen would approve.
If you need a quick vegetarian dish
If you suddenly find out a vegetarian is coming to dinner, this root vegetable gratin from Big Girls Small Kitchen relies on veggies you probably already have around the kitchen. Take leftover potatoes, squash (this calls for delicata, but butternut would work fine), and sweet potatoes, slice 'em up, and layer them with some cheese and garlic-infused cream. If you're even shorter on time, you could just use plain cream and hit it with garlic powder — it won't be as flavorful, but it will do the trick.
Images: A Beautiful Mess; The Kitchn; Brown-Eyed Baker; A Cozy Kitchen; Damn Delicious; The Comfort of Cooking; Big Girls Small Kitchen