Jane And Rafael Might Not Work Out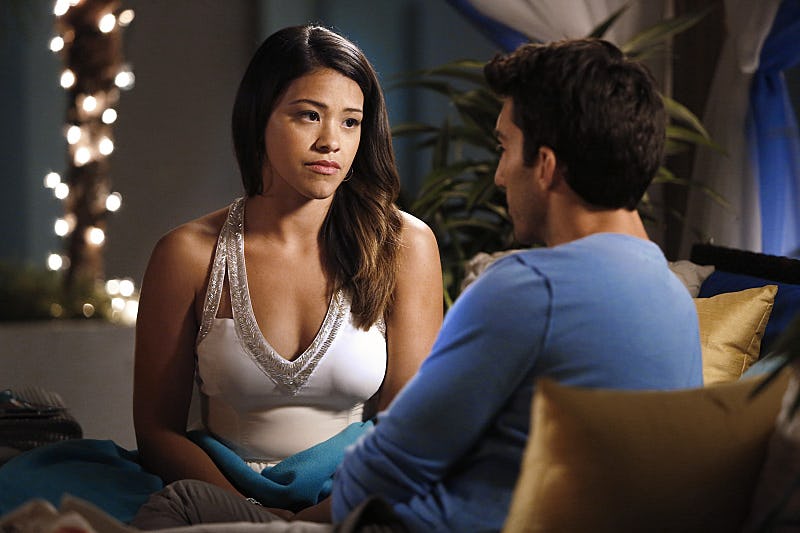 Viewers of Jane The Virgin were finally able to breathe at the end of the sixth episode when Jane seemed to "pick" Rafael over Michael. Finally, Jane was going to be able to focus on one relationship, focus on the growing baby inside of her, and focus on her life — since it has seemed to be about everything but Jane since the season started. Of course, it wasn't that easy on Monday night, when Jane still tried to avoid Rafael's advances in taking her out on a date. That could only last so long though — have you seen the guy? — so she finally agreed to go out on a date with Rafael, but because this is a telenovela, it obviously didn't work out very well.
Jane and Rafael, while it seems like these two are endgame material, don't feel right right now. Has Jane even come to terms with the fact that she is going to be a mother? Or that her father is now in her life, after 20+ years of absence? Give this girl some time to figure out what the heck is going on around her, please! It doesn't help that she just got out of a very serious relationship, I don't blame her for wanting to take a breather.
But in Monday's episode, Jane finally gave in to Rafael, and allowed him to take her on a date. Well, at least that's the direction is was headed. As Rafael was getting ready to leave to meet Jane — she was already at the meeting place... how long was he going to make her wait? — his father walks into his office and fires him. Yes, he fires him on the spot, and yes, he won't make it to the date.
When he calls Jane, he tells her he is on his way to Mexico City... so I'm not sure what is going to go down there, but it will certainly cause Jane and Rafael to have some issues furthering their relationship. [Spoiler Alert] In the preview for the Dec. 8 episode of Jane The Virgin, it seems that the two are reunited and talking about Jane's virgin status — Rafael just doesn't seem to believe her... doesn't he know the name of the show? So hopefully, whatever is going to happen in Mexico City will be solved quickly and allow these two to work on their relationship.
Images: Greg Gayne/The CW