'TWD's Spinoff Just Cast Lord Voldemort Himself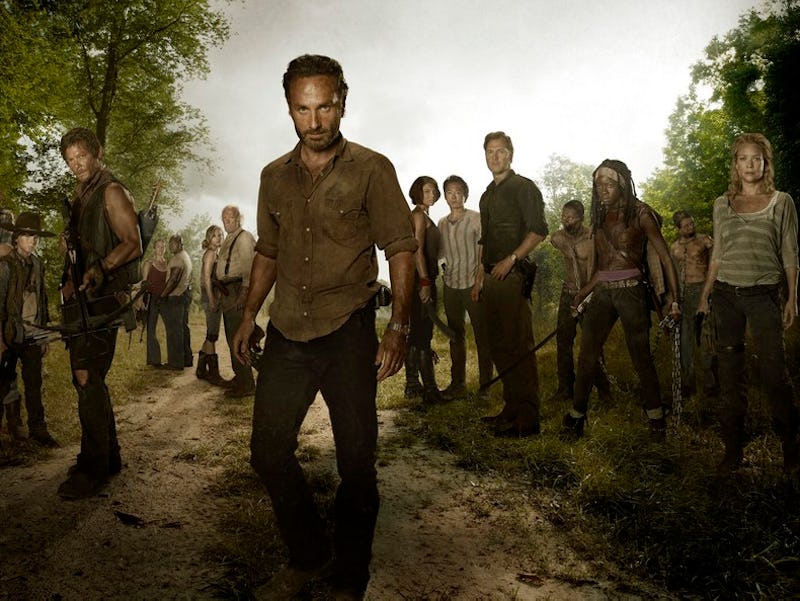 The Walking Dead may have just wrapped up the first half of season 5 with a literal bang (spoiler alert!) (also, sorry, too soon?), but worry not: There is still more The Walking Dead news to be discussed today, like this little report making its way around the web right now. According to EW, The Walking Dead 's in-the-works spinoff has just cast two roles, the first in what I assume to be will be a large group. Into the Storm's Alycia Debnam Carey and Harry Potter and the Half-Blood Prince's Frank Dillane have joined the cast of the series, and it already sounds like their roles are going to be pretty major ones in the show. Also, I should mention that Dillane's role in HP was as a young Lord Voldemort, so, y'know — the walkers definitely have no chance.
Though the series name is rumored to be Cobalt, that's not official (and EW says a source at the network has denied it), but Deadline 's description of the show seems to be: Apparently, the series will follow "a male divorced teacher and a female guidance counselor" as well as their respective children. Dillane plays the son of the guidance counselor, who has battled a drug problem, and Carey plays the daughter of the teacher, who is described as "ambitious."
The show will take place at the same time The Walking Dead started, but in a completely different part of the world — leaving little possibility the characters of this spinoff will really come into contact with Rick Grimes and co. I guess it's possible, since they're in the same universe, but considering the time it takes to travel long distances in a walker-infested world, I'm doubting it.
Anyway, here's a look at our first two stars. Drumroll please...
Yep — that lovely lady on the left there is Carey, and the guy on the right is Dillane — who looks substantially older than when we saw him as teenaged Tom Riddle in Harry Potter and the Half-Blood Prince.
Think the Avada Kedavra curse would work on walkers?
Image: AMC