What Is Ali Doing In The 'PLL' Christmas Episode?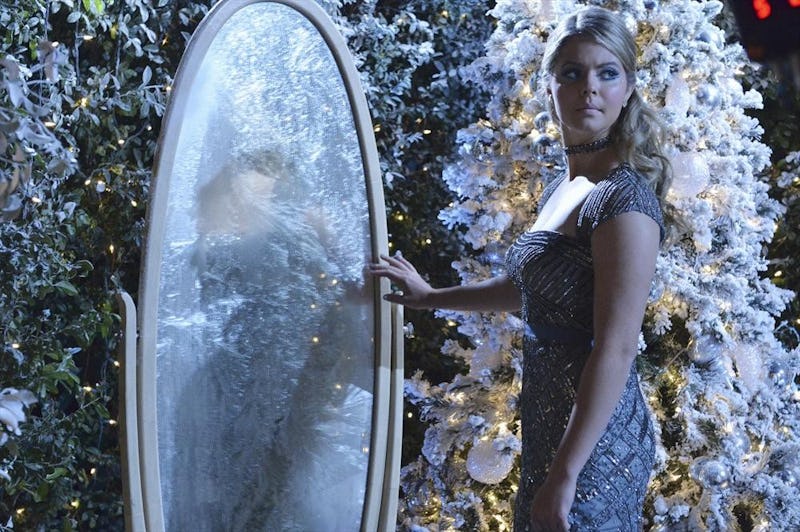 It's someone's turn to torture Ali, and this time around, it might not be the elusive A. The Pretty Little Liars Christmas special "How The A Stole Christmas" airs on Dec. 9, meaning that the show has made us wait a brutal four months for a new chapter of the ABC Family mystery to unfold. When we last left our liars, A-turned-liars-allegiant Mona was murdered by a mysterious blond in a hoodie, leaving Spencer, Aria, Emily, and, of course, Hanna, in shock. The one person who didn't seem quite as shocked to see poor Mona pronounced dead? The evil Queen Bee of Rosewood High, Alison DiLaurentis. The smirk on Ali's face as she watched Detective Holbrook announce Mona's murder made Ali look just a little too satisfied in Mona's worldly departure. Could Ali have offed the original A?
It's certainly possible — Ali is self-preserving at best and a total sociopath at worst. There are a million reasons why she might want Mona dead. The good news? It looks like we might find out for real in the Christmas episode — at least, according to these spoilers. Here's what we know about Ali's appearance in the Christmas episode "How The A Stole Christmas."
Mona Is Back To Torture Ali
Mona isn't letting being dead stop her from having a good time. In fact, she's participating in her very favorite pass time ever this holiday season — torturing the bitch who wronged her. Mona will spend her Christmas borrowing from Charles Dickens' A Christmas Carol — she'll play the ghosts of Christmas past, present, and future in "How The A Stole Christmas." (Oh, and did I mention that she's rocking a fierce costume to do so?)
She Has An Army
Did you think that Ali would ever show up to an event without a gaggle of worshipping girls by her side? Ali has built a new army of pals now that the liars have ditched her.
Her Family Is Hosting The Ice Ball
The ball that we've seen the liars attend in the promos is hosted by the DiLaurentis family. Lord knows that the best way to celebrate your sociopathic daughter's return from the dead, matriarch's murder, and eldest son's (maybe fake) rehab stint is with a Christmas party.
Ali Is Afraid Of Something (Or Someone)
The promos for the PLL Christmas episode reveal Ali running away from someone and stating that she's "afraid — is that what you want to hear?" If Ali is truly terrified of someone, it might mean that she's not actually the one who killed Mona after all — even if she didn't exactly hate the fact that Mona was offed. Of course, then we have to answer the big question of the season: Who really did kill Mona, if not Ali?
Images: Eric McCandless/ABC Family; Giphy