He Wowed With His Top 5 'The Voice' Performance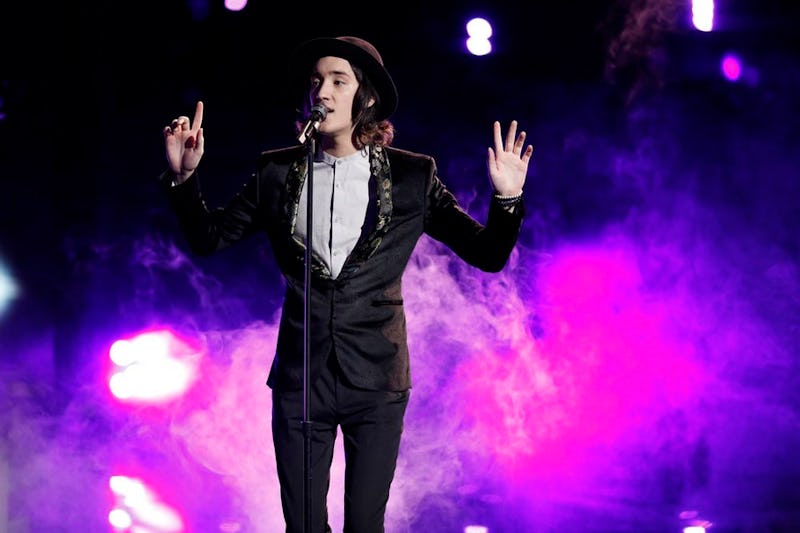 It's the Top 5 and things are really getting intense. There was a major shakeup on The Voice last week, and some of my favorite front-runners (Luke Wade and DaNica Shirey) were sent packing. Taylor John Williams is the last remaining member of Team Gwen, and if you had asked me before tonight if he would be the one to bring her team to victory I would've said absolutely not. But Williams' performance of "Falling Slowly" tonight was emotional, raw, and technically perfect, proving that Team Gwen still has a fighting chance in this game.
Williams still has a lot of tough competition left in this game, but he has proved that he has what it takes to beat it. Before tonight, I didn't see what the big hype was about Williams. Sure he's quirky and has his own style on stage, but there are so many artists like him already in the industry. He always seemed to slip through elimination rounds, but now I see why America saved him week after week. Not only does he take control of all his performances and add his own flair to everything he sings, but he does it with such professionalism and ease. He is the true definition of an artist, and has been since he first stepped on the stage for blind auditions. I just never noticed his brilliance because he's so humble about how talented he really is.
Taylor John Williams has proved throughout this competition that he has what it takes to make his own album. He would totally take control of the entire project and create a work of art that oozes his personality. Williams does have tough competition in Damien and Craig Wayne Boyd, and his uniqueness will only take him so far against such timeless talent. But whether he wins or not, I know Williams will go on to make a fabulous album.
Image: Tyler Golden/NBC