Tamir Rice's Death Has Been Ruled A Homicide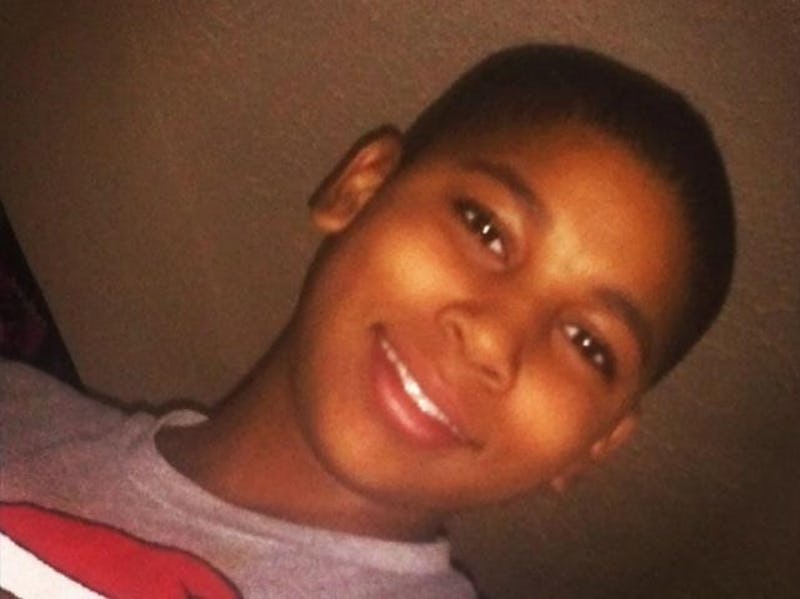 In the myriad assortment of high-profile police shootings that have taken place in the last few months, there's one with legal ramifications still pending, and it's particularly gripping and heartbreaking: the shooting death of 12-year-old Tamir Rice, slain by Cleveland police officer Timothy Loehmann while sitting in a public park with an airsoft pellet gun. Rice's death, which was captured on surveillance video, has inspired widespread outrage and protest, as well as concerns whether the rookie cop will be charged. Well, on Friday, Tamir Rice's death was ruled a homicide by the Cuyahoga County Medical Examiner's office, paving the first steps towards a potential legal action against Loehmann.
To be clear, the ruling of "homicide" is different than a designation of "murder." There's been some confusion on this point, and it's wholly understandable when you look up some widely available definitions. All it actually means in this context is that yes, Rice died because Loehmann shot him. That's about as common sense a fact as it gets, so this news shouldn't come as any surprise.
It's what'll come next that'll really test people's faith in the legal system, and could further a sense of fatigue and despair — will Loehmann be criminally charged for the shooting? After all, the death of Eric Garner was ruled a homicide, and the grisly and incomprehensible scene was similarly captured entirely on film, but a Staten Island grand jury still refused even to charge Officer Daniel Pantaleo.
According to the medical examiner's documentation, the cause of Rice's death was "gunshot wound of torso with injuries of major vessel, intestines and pelvis." Rice didn't die immediately, but was taken to a hospital for emergency surgery and died the next morning. In one of many controversial and inflaming aspects of the case, the two officers on the scene — Loehmann and veteran officer Frank Garmback — failed to provide first aid to Rice for a staggering four minutes after he was shot, until an FBI agent in the area arrived and provided medical attention.
Garback and Loehmann are both on paid administrative leave pending an investigation, and whatever legal consequences emerge for them. The Cleveland Police Department, which was also the subject of a recent, scathing report by the Justice Department, has come under heavy scrutiny for the actions that preceded Rice's death — a 911 dispatcher allegedly failed to relay a caller's message to the two officers that Rice's gun was probably fake, and that he was probably a child.
When the pair arrived on the scene, they abruptly tore their squad car up to within feet of Rice, and shot him in no more than two seconds, throwing the CPD's claim that he was ordered three times to drop the airsoft gun into severe suspicion. Many of these criticisms were voiced in a statement from the editorial board of the Cleveland Plain Dealer late last month.
The shot that struck Tamir appears to have been fired the very moment the officer stands up after getting out of the car. If this is the proper technique for confronting an armed gunman, let alone a 12-year-old boy with a toy gun, one has to wonder what training manual they are consulting. Why did the officers drive right up to Tamir? Why didn't they park further away, climb out of their car and shield themselves with a door or another section of the car, and then order Tamir to drop his weapon?
This story is a must-follow for the foreseeable future — Rice's family has filed a lawsuit against the two officers, and his mother Samaria wants a conviction, and nothing less.
Image: WOIO/Twitter