Burberry's Spring Campaign and the Imagery We Need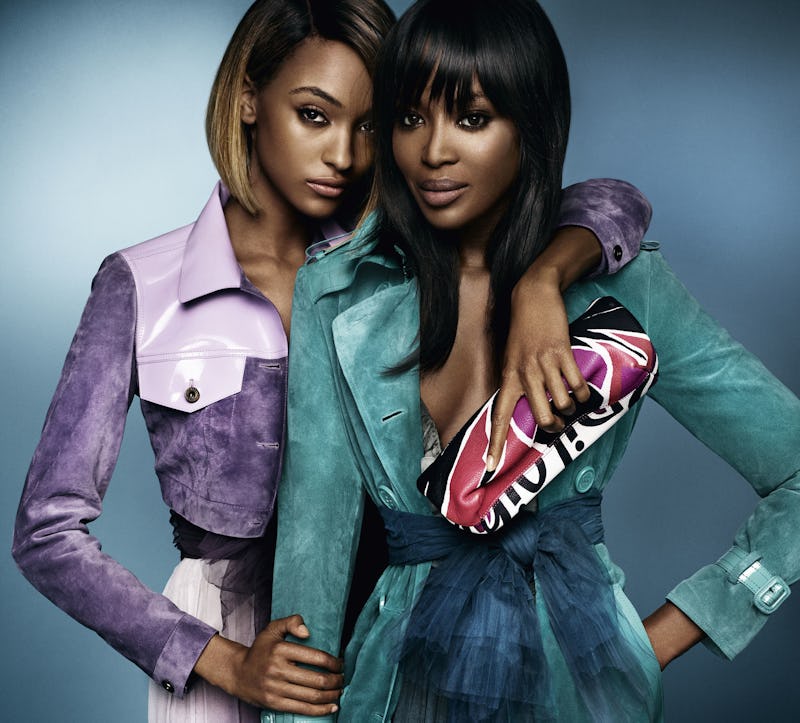 Wowza! What better way to start a Monday morning than with a strong cup of coffee and the new photos (and video!) from Burberry's Spring 2015 campaign? The totally stunning images star supermodel on the rise Jourdan Dunn and the legendary Naomi Campbell. The campaign has me wanting to forget we haven't even passed the winter equinox yet and skip right to spring! It features plenty of bold colors paired with pastels, dreamy contrasting fabrics and a playful new bag that reimagines their signature tartan — I'll take one of those trenches paired with a pastel scarf instead of a parka, please. But this editorial isn't just glamorous and drool-worthy. It's also an important move toward diversity in advertising.
Pairing Naomi and Jourdan together is an absolute work of genius, especially after Burberry featured the duo of Kate Moss and Cara Delvingne in their latest fragrance launch. I don't think Kate or Naomi are going anywhere, anytime soon — so I'll refrain from insinuating this is torch-passing — but seeing these seasoned pros pose with the latest supermodels out of Britain for the iconic designer does give me all kinds of nice feelings. It's sort of the supermodel personification of The Shine Theory. May I even be so bold as to hope for the four Brit supermodels to pose together for a campaign? Can you just imagine?I don't think Burberry timed this to coincide with the release of 2014's fashion magazine diversity report (which determined that women of color were seriously lacking on magazine covers), but it does sort of seem like perfect timing. When one of the biggest fashion houses in the world pays homage to one of the most recognizable supermodels of color known today, and positions Jourdan Dunn as one of her potential successors, it seems poignant. Especially when you consider that Campbell was the last woman of color on Vogue UK's cover — 12 years ago.
It's not exactly news that racism is unquestionably alive and very well, despite the constant work of anti-racist activists for decades. This year, some of the difficult conversations about race bubbled over to the mainstream — as proven by recent events in Ferguson. While there's something of a distance (or disparity) between the seriousness of police brutality and the representation of supermodels of color, it's all part of the spectrum of acceptance. In a culture where people literally have to remind others that #blacklivesmatter, representation of non-caucasian imagery in pop culture and media can play an important role in positive change.
By presenting a variety of people who look and act rather differently, we can maybe begin to change our biases and default assumptions. Courtney Young, the founder of Think Young Media, explains the importance of representation in pop culture in an article for Women's Media Center:
"Popular culture like television has a powerful reach, a pull that can illuminate the humanity of others within a society that often seeks to deny it. Nelson Mandela himself remarked to Phylicia Rashad that, while imprisoned, 'We watched your show on Robben Island. I watched it with my guard and it softened him.' Even the Rev. Dr. Martin Luther King, Jr. recognized the importance of visibility in the pop culture space, which is why he encouraged Nichelle Nichols to remain in her role as Lieutenant Uhura in Star Trek immediately after learning that she wanted to leave to embark on a career in Broadway. Because when the diversity of humanity becomes normalized, so does diversity of empathy and compassion."
It's not just about putting women of color on magazine covers. It's about providing more nuanced representation of all women who are marginalized within out society in some way, and who lack inclusion in mainstream media. Diversity doesn't just mean hiring a few models or actresses of color, although it helps. It's about providing numerous, varying images of women — and people — in general. Asian women, Hispanic women, women with disabilities, plus-size women, Muslim women — the list could literally go on for days. In an article explaining why she can't watch The Mindy Project anymore, Eesha Pandit admits that she knows "Mindy Kaling's job is not to represent me, or any or all other Desi women." But the only way to end that expectation is to give more Desi women their own platform.
When we limit media representation by applauding magazines or fashion shows for featuring women of color and creating whole damned awards celebrating the inclusion of diversity in TV, we make it an exception rather than the rule. This type of mindset makes the smallest inclusions seem like the biggest wins. It fosters the idea that we should be grateful for what we get instead of being "allowed" to expect more and to dream of the ideal media we'd like to see.
So, please give Jourdan that Vogue UK cover already and break the 12-year white streak. Then, keep doing it. Over and over and over again, until it stops becoming cause for celebration and turns into our new normal.
Images: Burberry/Mario Testino; YouTube