Chris Pine Is Actually a Hilarious Character Actor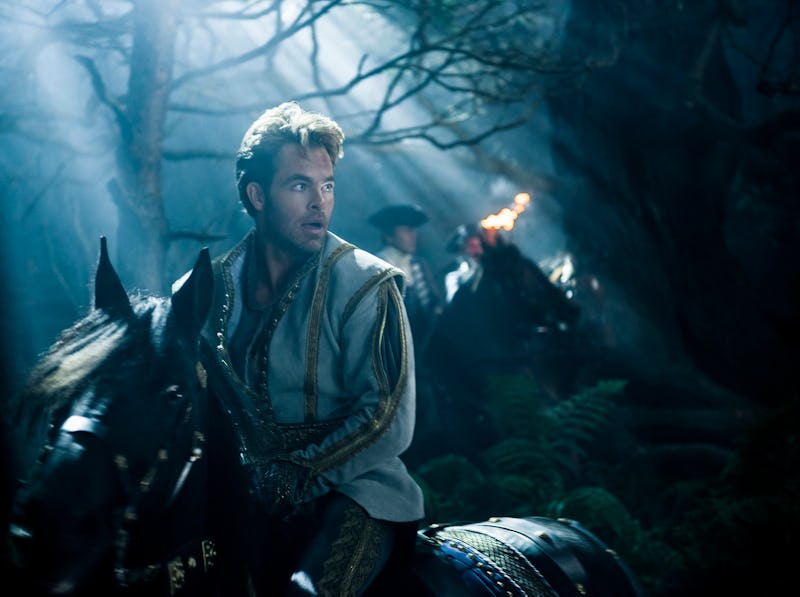 At the beginning of 2014, I would have written off Chris Pine as just another stoic looker with a generous head of hair. No big fan of J.J. Abrams' Star Trek movies, I had yet to discover a cinematic entry that would distinguish Pine from the read of Hollywood's facially intoxicating leading men. And I certainly didn't expect to find it anytime soon… after all, the man didn't have a particularly impressive slate of films set to come out over the course of the year. Jack Ryan: Shadow Recruit? Joe Carnahan's Stretch? Horrible Bosses 2? And his final release, Into the Woods ? Yep, 2014 wouldn't be changing my mind about ol' Piney. Not one bit.
Here I am, a full year later, eating the above words as I retroactively assign them to my circa-January self. In just a few short months, I have shifted gears entirely on this matter: Chris Pine is one of the funniest, cleverest, most charming character actors — yes, you read that last part right — we have going for us right now.
It's easy to see why this profound truth has evaded us for so long. Pine came into the showbiz game with ever advantage: a famous father (Robert Pine, of CHiPs acclaim) and a countenance that could make the Queen's Guard tremble. From the get-go, he was saddled with playing dramatic leads and romantic interests, no one ever assuming that a man with top billing looks might be better served as a supporting player. But he is — and not because he s untalented, but in fact because he's more skilled than anyone really gave him credit for.
I noticed something new in Pine when I caught a January showing of Jack Ryan. Peering through the dull, musky movie was a charm underserved. He had moments of life, of character. Moments I'd applaud, but soon write off, assuming they'd never blossom in a fashion that'd warrant radiated attention. It wouldn't be until the second winter of '14 that I'd realize just what I was missing.
In November, I'd see Horrible Bosses 2, a film that met all but one of my expectations: its villain, Pine, was rather funny. Playing off the nebbishy, average joe heroes of the film, he stood out as a manic, glimmering beacon of energy. Pine's material was the weirdest and darkest the film had in store, and he handled it all with unforeseen aplomb.
Next, I'd check out Stretch, a quiet release from ill-fated workaholic director Joe Carnahan. Though this movie, too, was less than thrilling, Pine's allure became even more apparent. As an "off the grid" lunatic with a malicious streak, Pine showed himself to be leagues more inviting when playing a dislikable cartoon than he ever had been as an amicable leading man. It was then that I was sure: I liked him.
But even this new faith in the name of Pine wasn't enough to prepare me for Into the Woods, a venerable tour de force in comic acting for the lupine-eyed thespian. Disney's adaptation of Stephen Sondheim's sardonic stage musical cast Pine as "Prince Charming," an altogether arrogant and insincere twist on the fairy tale archetype of stories yore. It's a small role, and one built on a single note of narcissism… in short, it could easily fall to dullards in the hands of an actor ill-prepared. But no such fate befall the character.
As Charming, Pine solidified his aptitude at handling broad, wacky, dislikable characters. Between tossing piercing stares at quavering commoners, delivering haughty diatribes about his own bravado, and tearing apart his shirt in fits of heartbroken agony, Pine stood out as the most enjoyable piece of the movie far and away.
Yes, his looks are a large part of the recipe in Into the Woods. And of course his singing voice doesn't exactly hurt the fact that his performance came off so well. But it's the comedy — Pine's tremendous understanding of humorous timing and wry subtlety that makes him such a success in this role. Among talented dramatists and comedians like Meryl Streep, Anna Kendrick, Emily Blunt, and James Corden (each of whom were treats to watch, but none to the degree of Pine), he shattered expectation as the very best thing that Into the Woods had to offer. Hopefully, Hollywood will walk away recognizing that the true key to Prince Charming was Pine's wit. Just maybe he will get more comedy to play with in 2015 and on.
Image: Disney (2); Paramount Pictures; Universal Pictures