Which 'Little Women: LA' Cast Member Is Pregnant?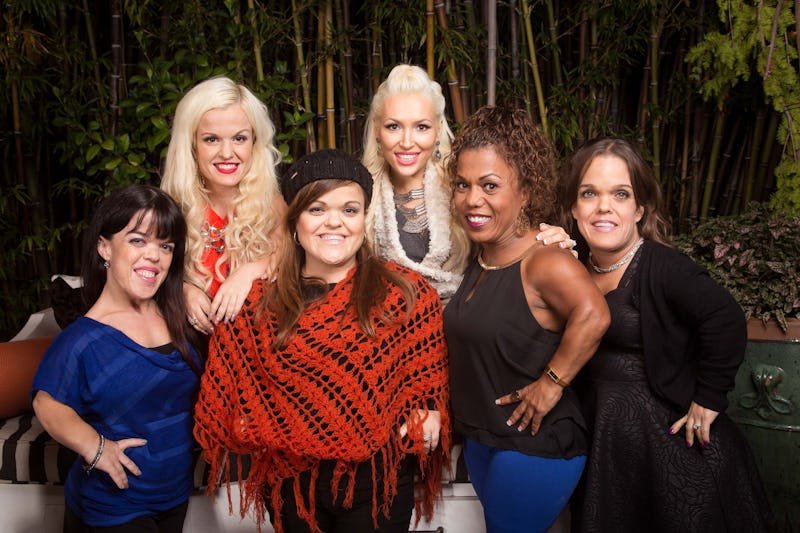 During the last season of Little Women: LA, the ladies fought, shook their booties, and planned what looked like it was going to be the wedding from Hell. But amidst all that, many of them also had babies on the brain. But is anyone from Little Women: LA pregnant now?
If you've seen the promo for Season 2, you probably noticed something huge, and no it wasn't the fact that Meghan Trainor's "All About That Bass" provides the soundtrack to the 30-second spot. There's a baby on the way for the Little Women: LA crew. Mazel! But wait. Who's expecting?
Unfortunately, that's about as much intel provided about Season 2 of Little Women: LA, which returns to Lifetime on Thursday, Jan. 1, 2015. The promo cleverly hides the face of the owner of the baby bump, barely shows anyone's face for that matter, and there are very few full-body shots of the ladies. More on this later.
Well that's a big, stinking pile of disappointment, isn't it? There's really no other information out there about who has a bun in the oven. Clearly, the show wants to keep whoever is pregnant a big mystery until the Season 2 premiere at the earliest. Hopefully, we don't have to wait too long into the season for the big reveal, but until then, I've got a few ideas about who may be pregnant. Let's examine the evidence.
Some Cast Members Wanted Babies Last Season
OK, so as I mentioned, there was a lot of talk about babies during Season 1 among the Little Women: LA cast. A good chunk of the season was devoted to Elena Gant exploring the possibility of starting a family with her husband Preston, from visiting doctors to discussing it with her in-laws. Traci Harrison was about to get married to fiance Erik Tsou, and she contemplated what would come next for her and her spouse.
The possibility of having a baby was also a major part of Christy McGinity's storyline last season. Christy made it clear that she wanted to have a child with her soon-to-be groom Todd Gibel, but they were both worried about the possibility of the baby having double-dominant syndrome, which is when a child inherits the dwarfism gene from both parents and almost always leads to death shortly after birth. Christy even had a pregnancy scare last season, but she wasn't pregnant. Since past behavior often predicts future behavior, I think it's very likely that one of these three women will announce that she has a baby on the way this season.
As for Terra Jole, Briana Manson, and Tonya Banks, they all had some drama in the love department last season, so it seems unlikely that one of them would be pregnant. Terra's relationship with her boyfriend Joe Gnoffo was on the rocks, and the couple seemed a bit distant. Briana just tried to not completely annihilate her ex and remain civil for their young daughter, so she's probably not looking to have another baby any time soon. Though Tonya started dating last season, she showed that she may still have some feelings for her ex, so it's not too likely that she's pregnant either.
All About That Promo
I'm going to be very superficial here and just examine the Little Women: LA Season 2 promo based on which lady looks most like the silhouette with the baby bump. Here's a screenshot of the fateful moment from the promo:
For me this shot immediately rules out Elena, her body type doesn't fit that silhouette. There's also a shot of her pretending to get an injection later on in the promo, and she clearly doesn't have a baby bump. So she's out.
Obviously that leaves five other women as possibilities. Another full-body shot of someone that looks like Briana shows her without a belly, so I would rule her out. Since the other full-body shots don't really show us anything of note, that leaves us with quite a few options.
What the Consensus is
In anticipation of the Season 2 premiere, there's an obviously very scientific poll on the show's official Facebook page asking fans who they think is pregnant. So far, Elena is in first place, followed by Christy, Traci, Terra, Briana, and Tonya as of this writing. The people have spoken.
Their Social Media May Be Telling
Obviously, none of the ladies have made any sort of formal announcement regarding a pregnancy on social media or otherwise. I wouldn't have been blathering on if that was the case. But that doesn't mean there aren't any clues about it.
Traci doesn't look pregnant in any of her photos on Instagram. Neither do Elena, Briana, or Tonya in theirs.
All in all, I really just find Christy and Terra's social media activity telling. Christy's Instagram profile is set to private, which could mean she wants to keep the pregnancy mystery alive by not allowing anyone to see photos of herself while pregnant... or it could just be that she doesn't want anyone unauthorized to see or take her photos. However, it's hard to tell whether or not Christy is pregnant in the photos of her on Twitter, because she's either in bad lighting or behind something. Hmmm, curious.
Terra's Instagram profile is also interesting, because if you look through her photos over time, she trades out her more form-fitting fashion for flowy dresses and peplum tops. It also seems like there's way more photos of her taken from the waist up in recent months. Could she be hiding a baby bump?
The Verdict
I have to say going into this, I really would have guessed that Christy is the one who's pregnant. It just makes sense given her much-talked about desire to start a family with Todd. However, I realize that if Christy was pregnant, that's probably not something she would be able to keep secret, as evidenced by how she was bursting at the seams to tell the Little Women: LA crew about her engagement during Season 1. Still, I'm keeping her right next to Terra at the top of my list of the cast member most likely to make the big pregnancy reveal when Little Women: LA returns.
Images: Richard Knapp, Zach Dilgard (2)/Lifetime; Lifetime (2)