Your 'Little Women: LA' Post-Finale Cast Update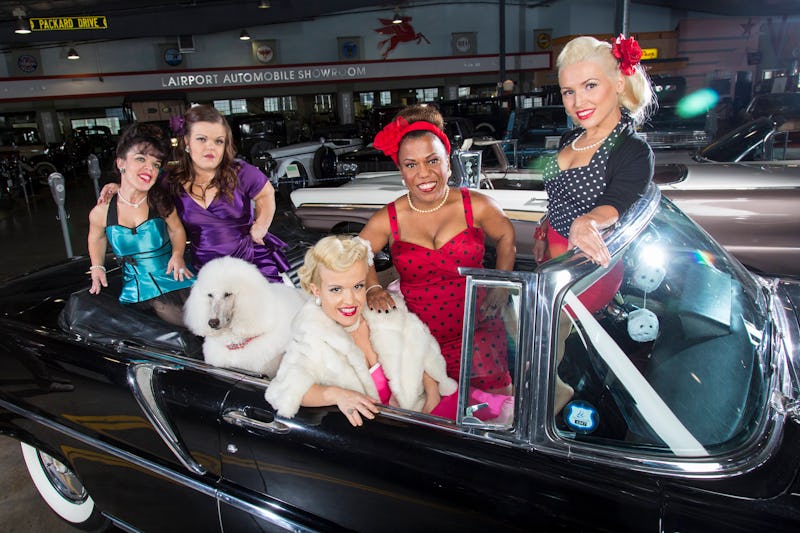 As its first season comes to a close, Lifetime's latest reality docuseries, Little Women: LA , has defied all expectations and become a monster hit for the network. The number of viewers tuning in to see the rivalries and friendships between the women has steadily grown since the premiere, and the finale looks explosive. And all of that success can only be attributed to Little Women: LA 's cast, the women who viewers tune in to see.
Fans watch these women navigate the same interpersonal drama as any reality cast, but also deal with the frequent logistical challenges of being little people. Clothes don't fit off the rack, rude people stare and ask stupid questions, and with the reality cameras following them, people seem to think it's acceptable to take photos without their consent.
The contrast between hyper-confident party girl Terra and the shy, conservative Traci is more polarized than your average show, and yet the two still manage to be friends. Little Women: LA might just cover one small group of friends, but showing the experience of even a few little women makes a serious difference for their representation.
Plus, it features what sounds like load screen music from The Sims 3. I can't be the only person who noticed that, right? If you can't imagine waiting for months to catch up with the ladies, here's all you need to know about what's happening with each member of the cast since Lifetime's cameras stopped rolling.
CHRISTY MCGINITY: The Bachelorette
Throughout the season, Christy couldn't stop talking about how excited she was over her engagement to Todd Gibel. And always one for drama, Christy both pressured Todd into getting married on a whim while in Vegas and then changed her mind at the last minute. But that's for the best, as their actual wedding on May 16, which will be seen in the season one finale, looks so much better. They're dressed up, the venue is beautiful, and they had the chance to invite their families. It seems like both Christy and Todd were able to get the big, happy wedding they didn't have the first time around.
TRACI HARRISON: The Other Bachelorette
The sweet but opinionated Traci is still engaged to Erik Tsou, her equally sweet fiancé who moved clear across the country so they could be together. They are set to marry this August. No word on whether or not Christy was invited. While Christy may have "won," both ladies will now be married in time for Season 2.
BRIANA MANSON: The Solo Singleton
Though she's an accomplished singer and actress and an awesome single mom, Briana often felt like she was an outsider this season as the only single girl. She served as Christy's maid of honor at both the Vegas fakeout wedding and the real deal. While she doesn't seem to be in a committed relationship yet, based on her social media, it could be because she's so busy promoting the show and spending time with her family, including her super cute four-year-old daughter.
TERRA JOLE: The Producer
No reality show cast is complete without "the one who makes a music video," and Terra's terrible single but good sense of humor about it makes her a step above the Gretchen Rossis and the Melissa Gorgas of the world. She's also a producer on the show, so she must be laughing all the way to the bank. She's currently promoting the Little Women: LA press tour that's taking her across the US, from Maine to Michigan, all over her social media.
ELENA GANT: The Vegas Performer
Elena clashed with Terra over their similar backgrounds performing in Vegas as "little" versions of huge pop acts like Lady Gaga and Miley Cyrus, but both got over any competitiveness by the end of the season. When we left Elena, she was wondering whether or not to try to have kids with her average sized husband, Preston. While they haven't officially revealed anything yet, their fifty-fifty chance of passing down Elena's dwarfism gave the performer pause about procreating. But if she does decide to have biological children, she'll have the full support of Preston's wonderful family and hopefully her costars as well.
TONYA BANKS: The Level Head
Tonya took it easy this season. She was a low-key presence compared to most of the others. The brief appearance of her daughter, who flirted away a few of Briana's date prospects, was probably the most dramatic thing Tonya was involved with all year. Her long career as a stunt woman is stable, her relationship with boyfriend Trevor was tested when he checked out other women on the set of Terra's music video, but they're still going strong, and she gets along with the whole cast.
Between new marriages, a few potential pregnancies, and constantly shifting rivalries, there's already plenty of drama brewing for season two. Little Women: LA is already a new reality hit, and looks like it's about to really hit its stride.
images: Jeremy Roberts, Zach Dilgard/Lifetime; Christy McGinity/Twitter; Briana Manson, Terra Jole, Elena Gant/Instagram