The Craziest Holiday Shopping Destinations Are...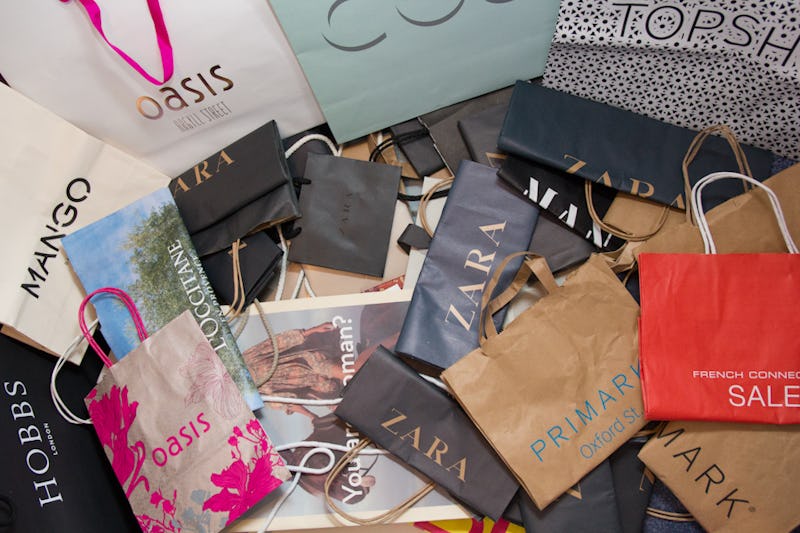 The other day, I braced myself in preparation for the dreaded holiday shopping (and all the must-go shops that I knew would be pure insanity this time of year) at the mall downtown. I had on comfortable shoes, an outfit I could walk around in easily (with a light sweater replacing my coat — because I don't know about you guys, but there's nothing worse than over-heating in your winter coat whilst at the mall, or having to lug it around with you while you shop and attempt to balance massive bags on your already over-loaded arms), a debit card burning a hole in my wallet, and my very carefully thought out gift list. I was ready. Bring it on, bring it all on.
It wasn't until I actually walked into the mall that I was left completely eating my words. Oh, it was brought. People were everywhere, bustling about to and fro — a sea of bags and bodies creating an impenetrable mass. Infuriating Christmas music was blaring, only adding to the anxiety like some ironic soundtrack to the craziness happening around me. But I pressed on — I had to make it. This was the day.
As I started to hit the stores I needed, I began to notice that despite the general craziness of the mall itself, there were certain stores in which the insane frenzy was much more focused and intensified. The stores that are already pretty overwhelming to shop in when it's not holiday season were now overflowing with people. Like ants to sugar, humans were drawn to these shops especially. And as soon as I stepped inside, I was enveloped by the effervescent energy that requires a hell of a lot of bracing for during the shopping battle.
Not every store demands a shopping battle, but there are a select few that remain only for the strong of shopping-heart around the holidays. You have to be determined; you have to have willpower; you have to have a strategy; and you must, must get in and out as quickly as possible. If you can follow these rules, the battle will be worth it in the end. You all know exactly what I'm talking about. So let's take a look at seven of the most intensely crazed but beloved stores with whom we will be going full on love/hate relationship with over the holidays:
1. SEPHORA
Ahhh, Sephora. We all love you so much — and that's just the problem. On a normal day, Sephora is one of those stores you have to brace yourself to enter — you know there is a vast selection of high-quality professional makeup brands and a plethora of products to look at, go through, and heaven forbid choose from. But take the usual frenzy one feels when walking into Sephora on a normal day, and multiply it by 100 — that's pretty much what you're looking at when shopping there during the holidays. Everyone is there, lost in a beautiful makeup trance, whilst simultaneously trying to pick out and purchase gifts. It can be a bit of a mad house, so make sure you go prepared.
2. LUSH COSMETICS
We all love LUSH Cosmetics, and it's the perfect place to go to for gifts during the holidays. They take a lot of their popular products and package them up in pretty little holiday gift sets and they come out with holiday-only special products that are next to impossible to resist ("Snow Fairy" fans, anyone?). The company is fantastic, but sometimes shopping in their stores during the holidays can be intense for the senses. After being in there for mere minutes, everything starts to smell the same. You madly start picking up one soap or bath bomb after the other, sniffing madly to get a sense of the scent (I don't even know anymore!). You end up picking a gift by what it looks like, and throwing all your trust to the helpful LUSH sales associate who's promised you that it smells amazing and works like a charm. Just try not to knock down any of the bath bomb piles on your way out.
3. BATH & BODY WORKS
A lot like LUSH, Bath & Body Works is a House of Smells. They're known for being one of the Houses of Smells, actually — so popular, in fact, that shopping here during the holidays can sometimes be a crap shoot — you get what you get, and you're lucky if you get it. When stepping into this place where pretty smells live, you must remember one thing: grab and go. There's no time to "stop and smell the roses" here — just look at the name of the candle (that also comes in a bath gel, lotion, and plug-in) decide if it works for you, and go with it. There's just simply no time (or room) to smell each and every delicious odor, and with all the arms reaching and grabbing to and fro (and the awesome deals Bath & Body Works offers during the holidays), you're lucky to even get your hands on anything.
4. FOREVER 21
Forever 21 has to be one of the best places to shop during the holidays, if only because they have a vast selection of affordable (and trendy) clothing and accessories. Need an extra little item or two to finish off that gift for your friend? Why not pick them up some pretty (and affordable) jewelry from Forever 21? Great! And after you struggle your way through the labyrinth of racks and the sea of women from ages 10-35 (girls... everywhere) and finally reach the cash register, you can stand there in the "Great Line of China" for what can seem like hours. Oh, and while you're there, you can either attempt to resist or give in completely to the mass of impulse purchase temptations they have lined up beautifully in bins laying next to the aforementioned "Great Line." Ohhh, little darling compact mirrors! By the time you're actually ready to cash out, just be prepared for spending twice as much than you initially planned to.
5. BARNES & NOBLE
Books are, personally, one of my favorite gifts to get over the holidays. And I know I'm not alone in this. In fact, books are the lovable, easy go-to gift that's perfect for mostly anyone for the holidays — and you'll know this better than anyone the moment you set foot in a Barnes & Noble store. And it isn't just the books that people are flocking to this store for, ohhh no. It's the fuzzy, furry blanket sets, the whiskey rocks and beer glasses and the stuffed animals for infants (or, for everyone). So besides your normal bookworms that lurk around this store every normal day of the year, you have every member of the family taking advantage of the amazing deals on "specialty products" suddenly offered by the King of Bookstores. It's a Mecca for special gift ideas.
6. VICTORIA'S SECRET
As a plus size woman, I can't really shop at this store for lingerie (which is a huge bummer). I am, however, obsessed with their scent "Love Spell" (or "Frisky Juice," as I like to call it) and had to make a mad dash into the store for a holiday purchase of the beloved scent that I so quickly run out of. And whoa, was I completely floored when I entered the frenzy that was Victoria's Secret. I was quickly swallowed up by mountains of (glorious!) panties that look like they had been ravaged by wolves (good luck finding your sizes in that, people), distracted by men wandering around with their mouths open looking like lost little boys (poor fellows, overwhelmed already), and women running around, arms outstretched searching through racks above their heads, or down on all fours scrounging through the drawers for their beloved bra size. Victoria's Secret always has some great deals for the holidays as well, so it's battle on to find your size in time!
7. WALMART
This is the Mother of all stores — the one-stop-shopping paradise where we can get pretty much anything for competitive low prices. And it's great for holiday shopping, since Walmart always offers crazy sales and deals that no other store can really offer — and who doesn't love to save money? We all do. That's right, we all do. Walmart is completely overflowing with people around the holidays, and it's one of the most demanding stores to brave since everything seems intensified once inside. As soon as you've battled the impossible task of finding a parking spot (you finally find one at the furthest end of the lot, of course) and walk in those doors, you're hit with that heat blast of air that's indicative of things to come. Soon, you're battling your way through rows and rows of on sale merchandise, overflowing carts of other frenzied shoppers, parents with screaming, greedy children running every which way, the blasting Christmas music that's on loop, and the long, drawn-out lines of consumers ready to pay for their mountain of purchases. Hopefully though, you'll make it out alive and unscathed, and with tons of money-saving swag for your efforts.
Images: Giphy; Flickr