13 Books That'll Make You Feel Like a Kid Again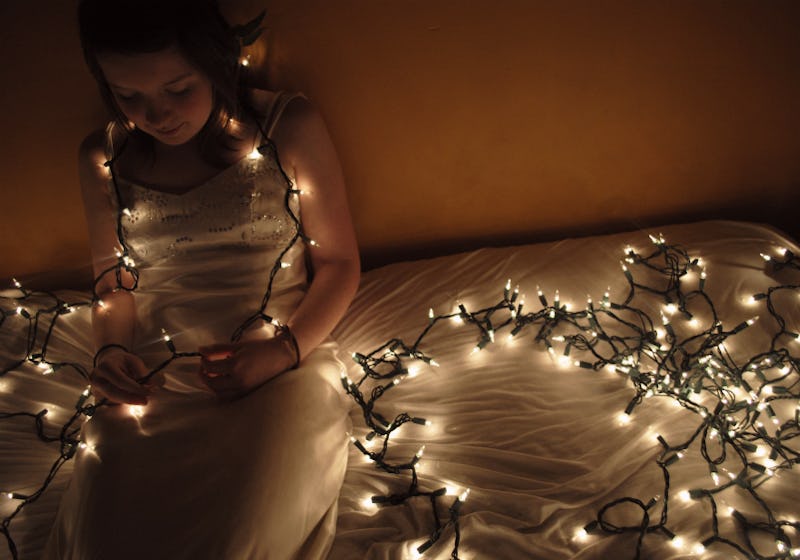 Around the holidays — the malls, the crowds — being an adult kind of sucks. There are so many responsibilities and extra stresses that come this time of year that all make us want to run and hide and escape and fly away from everything we have to do, like entertain, and be social, and deal with family drama.
I get so jealous of my younger family, who still get to enjoy this time of year care-free. Presents, and food, and just chilling — yeah, that's pretty nice. That's why this time of year, I'm all about wanting to be a kid again.
What really kicks me back to my childhood: books, of course. Titles like A Wrinkle in Time and The Giver changed everything for me; they not only relieved my adolescent loneliness, but completely changed my worldview. Books showed me — and probably you, too — that we all have universes inside of us. They also gave me eyes for seeing magic in the world around me, like when I took a trip into the wilderness whether by wardrobe (The Lion the Witch and the Wardrobe), tornado (The Marvelous Land of Oz), or book (The Neverending Story). And that was completely amazing.
If you're sick of being an adult this time of year, too, check out this list. It'll awaken your inner middle-schooler, just when you need it most.
If you loved Matilda…
Young girls, supernatural powers, headmaster villains — what more could you ask for! The Girl Who Could Fly shows all the wisdom and complexity of Matilda, while creating its own unique set of characters that must learn how their strengths can be applied to navigating a harsh and true reality.
If you loved The Giver…
Then read Delirium by Lauren Oliver
The popularity of dystopian novels is due, in part, to their depiction of a wide spectrum of human emotion. In Delirium , as in The Giver, the desire to protect a community goes awry, and it's up to a select few to prove that the chaos of love is more valuable than the comfort of control. Read this book to reset your priorities and to revel in the power of an individual's ability to choose.
If you loved A Wrinkle in Time…
Though A Wrinkle in Time comes to a different conclusion than The Clay Lion , both of these novels' success centers on the endurance of sibling bonds, and both novels explore time travel as a means of recalibrating a painful and inexplicable loss.
If you loved The Princess Bride…
Then read Stardust by Neil Gaiman
For lovers of The Princess Bride's heroic underdogs, humor, and outlandish exploits, Gaiman's illustrated adventure tale, Stardust — set in 19th century England and following a young boy's harrowing quest to retrieve a fallen star from the faerie realm — is a fantastic read from an absolutely beloved author.
If you loved Charlotte's Web…
If Templeton means anything to you, you'll fall hard for The Tale of Desperaux, a feel-good story about two mice and a rat whose lives intertwine across a feudal realm ruled by evil rats.
If you loved The Lion the Witch and the Wardrobe…
Then read Wonderstuck by Brian Selznick
While there are no teleporting closets or talking animals in Brian Selznick's Wonderstruck , the book does create parallel worlds and — as with the siblings who travel to the land of Narnia — unravels its characters' quests for purpose, belonging, and a sense of family.
If you loved The Hobbit…
Then read Seraphina by Rachel Hartman
Shape-shifting dragons, dashing princes, conspiracies, and ancient feuds make Rachel Hartman's Seraphina an imaginative and original tale that any J.R.R. Tolkein fan will love. And with all the page-gripping suspense, and a third book coming in 2015, you'll forget about the hobbit-sized hole in your heart that followed The Return of the King.
If you loved The Neverending Story…
The grit, mystery, and goth in Cassandra Clare's story of good versus evil, The City of Bones, evokes a similar atmosphere to The Neverending Story. Not to mention the main character's epic journey — facing hordes of vampires, werewolves, and demons — to save her mother's life and the world.
If you loved Ender's Game…
Then read Graceling by Kristin Cashore
Readers who enjoyed the moral ambiguity, white-knuckled action, and struggles against authority that made Ender's Game so compelling, this deeply engrossing novel should definitely be next on your reading list. Kristin Cashore's Graceling is about the gifts we don't ask for — which, in main character and warrior-girl Kasta's case, is death.
If you loved The Witch of Blackbird Pond…
Then read Shiver by Maggie Stiefvater
Steeped in fairy-tale lore, The Witch of Blackbird Pond and Shiver feature innocent protagonists who discover humanity in unlikely places (witches, werewolves) and who must face great peril for their convictions. If you've always loved the strange logic of fairy tales and their union to the natural world, then you'll love this book, too.
If you loved Little House on the Prairie…
Set in 1899 Texas, The Evolution of Calpurnia Tate depicts the pastoral settings and heart-warming family dynamics so revered in Little House on the Prairie. The book is told through they eyes of a 12-year-old scientist and explorer, the only daughter of seven siblings, as she navigates her own and society's expectations of womanhood at the turn of the century.
If you loved The Nancy Drew Series…
Nancy Drew with Groucho glasses is probably the best way to describe The Secret Series by Pseudonymous Bosch, an author whose stories may or may not be true, and whose own readers don't even know her/his identity. With custom illustrations and quirky titles like The Name of this Book is Secret and This Book is Not Good For, each book promises to answer the so-called "Big Secret" on which the whole series is based.
If you loved Anne of Green Gables…
Then read True Colors by Natalie Kinsey-Warnock
Like Anne of Green Gables, Natalie Kinsey-Warnock's True Colors is an inspiring coming-of-age tale about a young orphan who, after being thrust into a new family, begins on a life-changing path of self-discovery while searching for her birth mother in 1950s Vermont.
Click here to buy.Images: True Young/flickr; Giphy