The 8 YA Series You Need to Be Reading In 2015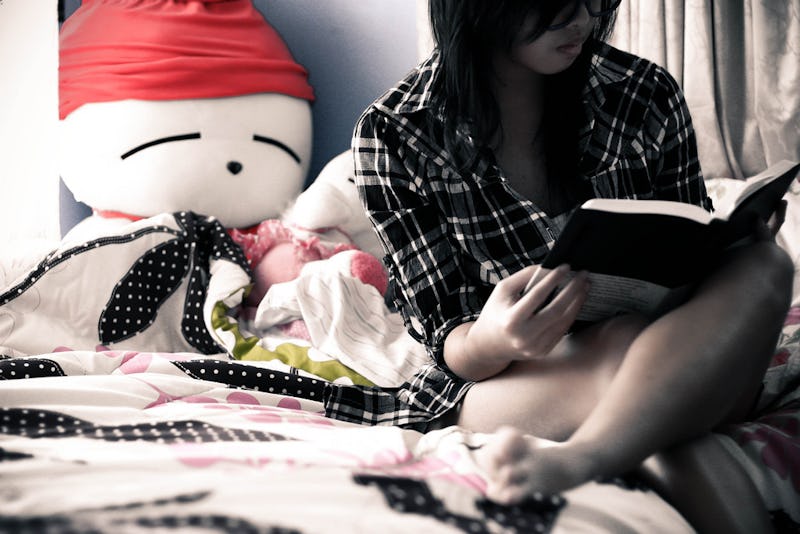 We've already promised that 2015 is going to be a great year for YA fiction. There are a ton of great books coming out, from much-hyped debuts to exciting new novels from your favorite authors.
Another reason why 2015 is going to rock the YA shelves? There are so many series with new installments scheduled for release, including Marissa Meyer's Lunar Chronicles, Maureen Johnson's Shades of London series, Libba Bray's The Diviners series, and Danielle Paige's Dorothy Must Die series. Existing fans of these series are already crazy-excited (just check out the torrent of flailing .gifs flooding these books' Goodreads' pages). If you're one of them, mark your calendars and get your pre-order on... if you haven't already!
However, if some of these series are new to you, don't sweat it — these books aren't out yet, so you've got time to catch up. To help you jump on board these YA trains, I've provided you with an über-guide: what the new book is called, which series it is a part of, when it's hitting shelves, why you should start the series ASAP, and how hard it will be for you to catch up in time.
Consider it my belated gift to you. Happy hibernating!
The Lunar Chronicles by Marissa Meyer
Book #3.5: Fairest (January 27)
Fairest is a prequel to the Lunar Chronicles; it's the epic origin story story of the Lunar Chronicles' arc-villain, Queen Levana. According to Meyer's website, Fairest promises to be an unforgettable tale about love and war, deceit and death."
Haven't read The Lunar Chronicles? Start ASAP because: They go above and beyond your average fairy tale retelling; they're a fun, imaginative, and surprisingly cohesive mash-up of fable, sci-fi and dystopia, with a host of compelling characters.
To catch up now, it's going to be: Hard, but not impossible if you set your mind (and winter break) to it! Meyer's first three books are fairly hefty, but they so breeze along, so if the series sounds like it will grab you, make it your holiday/early-January mission and you'll be ready in time for Fairest's release. As a bonus, you'll then be all caught up in time for the release of Winter, the fourth Lunar Chronicles book, in fall of 2015.
You'll have to read: Cinder, Scarlet and Cress.
The Shades of London series by Maureen Johnson
Book #3: The Shadow Cabinet (February 10)
American teen Rory Devereaux's exchange year in London has turned out to be much more than she bargained for. When both her classmate's and ghost-hunter-colleague's lives are threatened, Rory and her friends have to solve a decades-old mystery, battle a death-obsessed cult, and uncover a secret society.
Haven't read Shades of London? Start ASAP because: It manages to be fast-paced and suspenseful while also being the funniest, most charming ghost hunter story since, well, Ghostbusters.
To catch up now, it's going to be: Not so hard, if you're a fast reader with a free weekend. The previous two books aren't too long, and Johnson's quick plotting (and even quicker wit!) moves you along nicely.
You'll have to read: The Name of the Star and The Madness Underneath.
The Seraphina series by Rachel Hartman
Book #2: Shadow Scale (March 15)
When centuries-old simmering tensions between humans and dragons erupt into all-out war in the kingdom of Goredd, Seraphina Dombegh is drawn into the center of the battle and must look to her own unique history for answers.
Haven't read the Seraphina series? Start ASAP because: Hartman breathes new life into epic fantasy with this breathtaking, original series and its fascinating reimagining of dragons, a genre staple.
To catch up now, it's going to be: Not too hard. The previous book, Seraphina, weighs in at a hefty 500-plus pages but it and a very brief short story are the only preceding works in this series.
You'll have to read: Seraphina and Seraphina: The Audition (short story).
The Half Bad trilogy by Sally Green
Book #2: Half Wild (March 24)
As a war between two powerful witch factions rages through modern-day England, Nathan, the illegitimate son of the world's most powerful witch, Marcus, is on the run for his life, hunted by witches and humans alike.
Haven't read the Half Bad series? Start ASAP because: It's is a compelling, heart-pounding fairytale retelling that harkens back the dark, brutal days of the Brothers Grimm. Save this one for winter's moodiest nights.
To catch up now, it's going to be: Not so hard. The Half Bad trilogy includes one previous novel and a novella, but both are so gripping you'll race through them in time with the pounding of your heart.
You'll have to read: Half Bad, and Half Lies (novella)
The Dorothy Must Die series by Danielle Paige
Book #2: The Wicked Will Rise (March 31)
Amy Gunn had been recruited by the Revolutionary Order of the Wicked for a dangerous mission: to assassinate Dorothy and decimate her allies (the Tin Man, the Lion, and the Scarecrow). But when the Order disappears and Amy learns her Kansas home is also threatened, again she must decide who she can trust.
Haven't read the Dorothy Must Die series? Start ASAP because: Fans of Gregory Maguire's Wicked or TV's Once Upon A Time will love this series, which turns L. Frank Baum's classic story on its head and strips of its candy-colored, MGM-infused cuteness by casting Dorothy as an evil, power-mad tyrant leading Oz to ruin.
To catch up now, it's going to be: Not so hard. Like Half Bad and Seraphina, this series includes one preceding novel and extra material, here in the form of two novellas that are prequels to the first book.
You'll have to read: Dorothy Must Die , No Place Like Oz (novella), and The Witch Must Burn (novella).
The Diviners Series by Libba Bray
Book #2: Lair of Dreams (April 14)
Evie O'Neil newly-publicized supernatural powers have earned her the reputation as "America's Seer Sweetheart" — and a few enemies. But when people start dying all across New York city, Evie and her fellow Diviners have to band together and dive deep into the dream world to stop a killer.
Haven't read The Diviners series? Start ASAP because: It combines Libba Bray's whip-smart writing with a thrilling supernatural mystery plot and diverse cast of characters, all set to the jazzy backdrop of Roaring '20s New York. It's perfect for fantasy, mystery, steampunk, and historical fiction junkies.
To catch up now, it's going to be: Easy! There's only one prior book in this series, and although it might be a whopper of a book, the central mystery will keep you up at night, turning page after page.
You'll have to read: The Diviners.
The Scarlet series by A.C. Gaughen
Book #3: Lion Heart (May 19)
Lion Heart will continue the adventures of Scarlet, the swashbuckling, boy-impersonating, heart-stealing heroine of Robin Hood's band of merry men, this time as a prisoner and spy in the royal court of King Richard and Eleanor of Acquitaine.
Haven't read the Scarlet series? Start ASAP because: See above, re: swashbuckling, stealing, and boy-impersonating. Who doesn't want to read an action-packed revisionist Robin Hood in which the real hero is a smart, courageous, compassionate teen girl?
To catch up now, it's going to be: Not too hard. There are two previous books in this series, so this might not be the work of a single weekend, but you'll have plenty of time between now and May to get started on Scarlet, and once you do, we know you won't want to stop reading.
You'll have to read: Scarlet and Lady Thief.
To All the Boys I've Loved Before by Jenny Han
Book #2: PS I Still Love You (June 2)
After the dust has settled after great love letter mail out, Laura Jean again finds herself in uncharted romantic territory once again when she is torn between two boys — her best friend Peter and someone from her past.
Haven't read the To All the Boys I've Loved Before series? Start ASAP because: Laura Jean is impossibly likable — engaging, silly, awkward, and sincere. Even if you are long past your first love, you'll relate to this sweet story.
To catch up now, it's going to be: Easy! There's just one book in this series so far. Grab it now, set it aside for outdoor reading on the first nice day of spring and you'll be all caught up by June.
You'll have to read: To All the Boys I've Loved Before.
Image: StephhxBby/flickr