How to Dress Like an Empress on New Year's Eve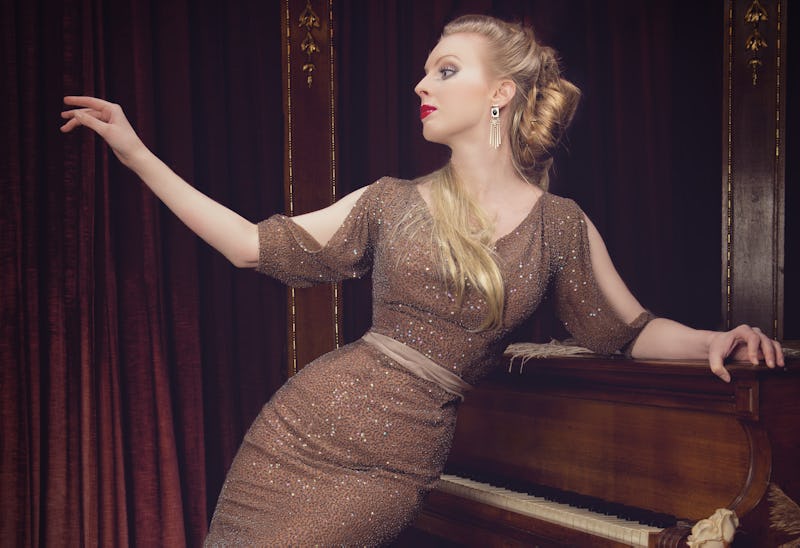 I have always had a soft spot for the empire waistline (not to be confused with the baby doll silhouette). In fact, I have bought countless dresses that are fitted just below the bust and flowing and loose from the there down (I even made one!). The reality is that this style is very traditionally "flattering" for people who are well-endowed in the booty area, but if you're like me and carry your weight on your belly, you can expect to hear the pregnancy question a lot when you go the way of the empire! (Why do I do this to myself!?) But trust me; it's worth it. And the empire waistline might even save your New Year's Eve fashion crisis.
The name of this style comes from the first empress of France, Joséphine de Beauharnais, who despite having numerous marriages and lovers during her life, was also the one great love of Napoléon Bonaparte. He had his fair share of wives and lovers as well, of course, but Joséphine (who he divorced because she couldn't get pregnant) had his heart, and he even mentioned her in his last words on his deathbed.
Just as it should be, the stunning empire was worn by the actress playing Joséphine in the 1954 Marlon Brando film Désirée about the love life of Bonaparte. This dress shows just how versatile and modern the silhouette can be when experimented with:
So what is it about the empire waistline that makes it keep popping up time and time again in our wardrobes, 200 years later?
Well, first thing's first: It's comfortable. In terms of taking fashion inspiration from history, I'd much rather go for the elegant empire waistline than the crazy agony of corsets! I guess I blame Jane Austen. I don't know about you, but I had a major obsession with the dramatic lives of Austen's heroins in my teenage years, including Emma Woodhouse, Elizabeth Bennet and Elinor Dashwood.
The empire waistline also happens to be ideal if you actually are pregnant! This dress is the perfect shape if you want to accentuate your belly as Gwen Stefani wonderfully demonstrated during her nine months. I, for one, really enjoyed being pregnant and wearing such dresses, in horizontal stripes and stretch fabrics that made me feel fabulously huge! If I could harness some of that body acceptance in my non-pregnant state, I'd be sorted!
So I bet you're wondering, "Where can I get my very own empire?" So I've collected a couple of my favorites!
1. JANE AUSTEN STYLE
Au Jour le Jour Long Dress, $415, joox.com
2. BRIGHT GREEN AND WEAVED
Glam of Green Gables Dress in Emerald, $24, modcloth.com
3. FOR GOING BRALESS
For Love and Lemons San Pedro Dress, $56, nastygal.com
4. EMPIRE WAIST MEETS PENCIL SKIRT
Banned Fever Pencil Dress, $60, succubus.nl
5. FOR WEDDINGS OR NYE
Aidan Mattox Embellished Strapless Empire Gown, $116, saks.com
So of course I couldn't write an article about dresses without mentioning my dress-wearing-hero Zooey Deschanel. Her ensembles make me happy every time I see her. Whether she is starring as Jess in New Girl or showing off her music skills as part of indie duo She & Him, she's simply the best thing ever! Fashion icon status all the way. Bonus points because she's such a fan of the empire, too.
Images: Fotolia; Courtesy Brands; Giphy