Brandi & Eileen's 'RHOBH' Feud Seems Far from Over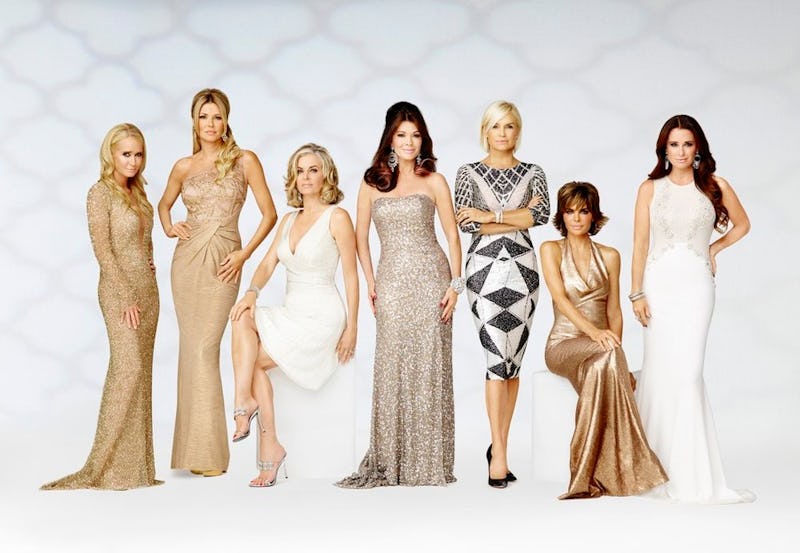 As the old saying goes, "When one feud ends, another feud begins." Well, that at least seems to be the credo of The Real Housewives of Beverly Hills. Now that it looks like Brandi Glanville and Lisa Vanderpump might make up on the Jan. 6 episode of RHOBH, another feud seems to be brewing between Brandi and new RHOBH on the block Eileen Davidson.
If you stuck around for the preview at the tail end of the Dec. 30 episode, you know what I'm talking about. What looks to be a nice dinner with girlfriends turns into Brandi throwing a glass of wine at Eileen. Some context here: It looks like Eileen will recount how she and husband Vincent Van Patten met, which allegedly happened before either of them were divorced from their former spouses. "We weren't happy in our marriages because of how we felt about each other," Eileen says in the preview.
Brandi doesn't take too kindly to this, because her ex-husband Eddie Cibrian famously cheated on her. She says that she considers Eileen a homewrecker, and so she reacts by letting her have a sip of her chardonnay. Well actually, bathing Eileen in it.
I, for one, have been waiting all season long for some major drama to occur on RHOBH, so I can't wait to see what will go down in the upcoming episode. This should provide weeks of cattiness to entertain us all.
I don't know if the two will resolve their issues during the course of Season 5 of RHOBH, but that wine throw heard 'round the world was filmed in late summer, and time does sometimes heal wounds. Hey, if Brandi and Lisa can make up, anyone can. Are Brandi and Eileen still mortal enemies, or have they been able to share a bottle of wine since this encounter without anyone being doused in it?
Well, it doesn't look like the two are in a good place just yet. They have barely interacted on Twitter, which you would think would be a good sign considering the Housewives tend to just use the social network to spar. However, that also means they haven't been sending any electronic love to each other, as they have with many of their fellow cast members, giving them positive shout-outs. This tweet from Brandi on Christmas is particularly telling.
Hmmmm, no merry Christmas for Eileen or Kyle? Brandi and Kyle have already made it clear that something bad happens between them during Season 5, and they have publicly said they don't think they'll ever be friends again. Brandi must still not like Eileen much either.
Eileen also hinted at some problems with Brandi during this season of RHOBH in an interview with PerezHilton.com in November. "I've had a few issues with Kim and Brandi, but it's OK," Eileen said. I recommend you watch the video interview below just to hear how not "OK" Eileen sounds with Brandi. This interview also probably took place after filming on Season 5 of RHOBH had wrapped, so it sure sounds like Eileen had some lingering negative feelings toward Brandi.
In her latest blog post for Bravo, Eileen was also very disappointed in Brandi's actions at Lisa's charity event in the Dec. 30 episode of RHOBH. She wrote:
I'm not quite sure what Brandi was hoping to accomplish. Maybe she's showing us how not to make amends? It does seem that Lisa V. is having none of it, and who could blame her?
A strained relationship between Brandi and Eileen is bad for them, obviously, but it's good for anyone hoping to have an interesting reunion at the end of Season 5 — so all of us watching at home, essentially.
Image: Michael Larsen/Bravo