7 Ways to Make January Seem Less Terrible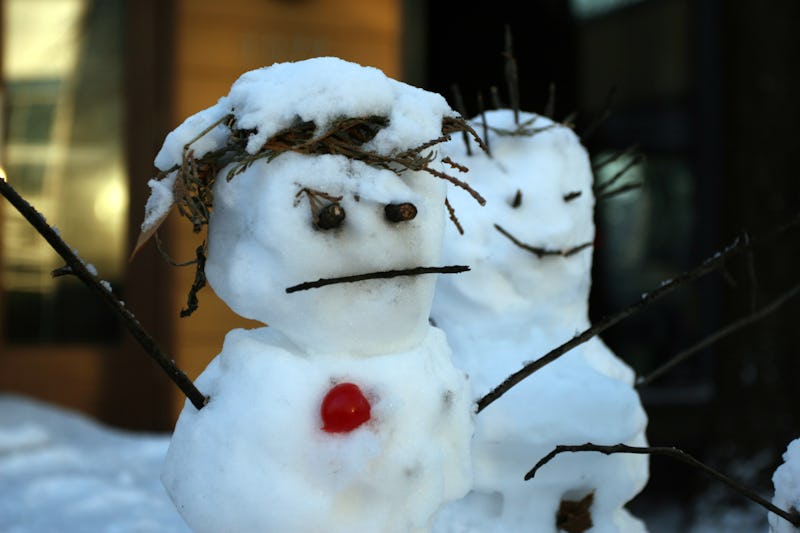 When you saw the New Year's ball drop down towards the rowdy New York crowd at 11:59 p.m. on December 31st, you weren't just welcoming a brand new year — you were welcoming the start of January. Sure, this month is usually tarnished by icy roads, failed resolutions, and the revelation that you'll soon be an entire year older. It also means that you need to ditch the Christmas tree, and deal with a mess of pine needles while hauling it away to the dumpster, all while wearing a coat that seems a bit tight based on all of the junk food and alcohol you've imbibed the month before. In general, you might just think that January sucks.
I, however, love January. And it's not just because it's my birth month, thus the one day where I can eat ice cream cake shaped like a whale, guilt free. January is a time to start fresh, forget about the terrible mistakes I might have made the year prior, and think about how much I can achieve/how much Netflix programming I can watch in the numerous months ahead. You can't make the statement that "this was a bad year" in January, since January is filled with such fresh hope.
If you're still on the fence about it, here are a few specific ways you can be optimistic about January's biggest downfalls.
1. Once again, you're back to your old predictable schedule
Pro: There are no more major holidays that you have to prep for. I mean, Martin Luther King Day is amazing, but chances are you aren't responsible for buying gifts or hosting a mess of unpredictable family members during it. Sure, going back to work will stink in the beginning, but I'm sure you were truly yearning for a schedule that didn't involve your crazy relatives.
2. Post-Christmas, your house is an absolute mess
Pro: What a perfect time to redecorate! For months, you thought about what your living room would look like if you moved a few pieces around. Unfortunately, you didn't have the time — and you likely had a big tree that took up a bunch of room. Now that you've reclaimed your space, think of the clean up as being cathartic, and find a way to truly have a living room that's totally 2015.
3. With the holidays over, you might not see family until Easter
Pro: You might not see family until Easter! You've successfully completed all of your family obligations. Now it's time to focus on you, and spend your time in ways that make you happy. Spend the month using your gift cards on things that might be more fun than practical. Or, maybe splurge on some purchases that will help you relax a bit, like face masks that make you look like a hilarious clay monster, or bath bombs that'll remind you how soothing a quality bath can be.
4. Netflix totally wiped out a bunch of movies in your queue
Pro: ... But they brought in Friends! I'm sure you know by now that our favorite show from the '90s is now on Netflix in its entirety. Thanks, January! (Note: This point, of course, doesn't pertain to future Januaries. Just this one.)
However, this is definitely unfortunate for all of you who really wanted to rewatch Good Burger one last time. I guess you can always cross your fingers for a comeback, right?
5. Snow on the roads makes leaving the house dangerous
Pro: Snow Day! You don't have to be in school to appreciate a snow day. When the roads get messy, it's time for warm blankets and some amazing hot chocolate. We all know that January is bound to bring at least one — and let's hope it's on a Friday or a Monday, to make it a three day weekend.
Granted, not every employee has the chance for paid snow days off, and for these people, snow days are a bit more of a hassle. Don't feel too guilty to make a call and stay home if it's completely unsafe outside. You can take out your frustration on the tough situation during a good old fashioned, neighborhood snowball fight.
6. It's freaking cold outside
No one wants a repeat of last year's polar vortex, but look at this way — the ridiculously freezing air outside gives you more opportunity to snuggle up inside your nice warm apartment with a bottle of wine and a book and your cat and all the things that give you true happiness in this life. Honestly, you don't really have to talk to anyone for the next two months or so if you don't want to.
7. After that long break, you have to face your cringeworthy coworkers and clueless boss
Pro: So you haven't seen your coworkers since that ill-fated company holiday party, and you are actually kind of dreading returning to work. Luckily for you, January is one of the best times to land a brand new job.
Sure, jobs are always a little tough to land, but according to this Prevention interview with CareerBuilder spokesperson Michael Erin, "companies tend to hire more aggressively early in the year." Score!
Leave all of your self doubt back in 2014. This January is your time to shine.
Image credits: Stephen Harlan/Flickr, Giphy (7)